Province also announces those 60 and over can get vaccine through a pharmacy or their family doctor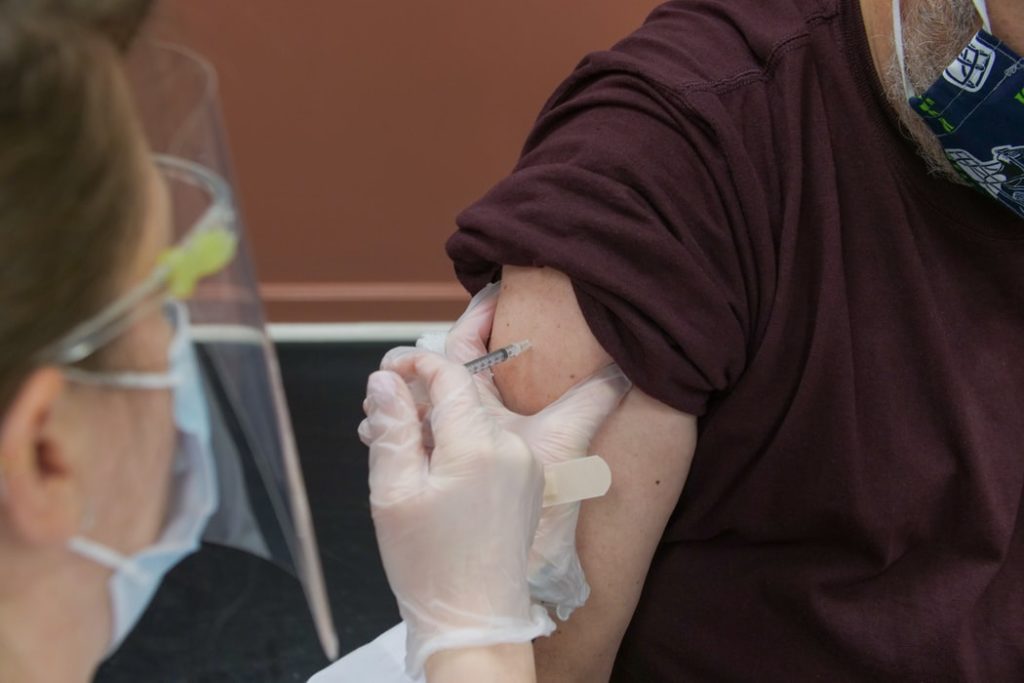 Ontario residents 75 years or older can begin booking appointments to receive their first dose of a COVID-19 vaccine starting Monday, Ontario Premier Doug Ford announced Friday morning in Etobicoke.
The province's online COVID-19 vaccination booking portal opened earlier this week and has since been open to anyone 80 or older.
Ford said that since vaccinations began, more than half of Ontario residents over 80 years old have already received at least one vaccine dose and that the province is ready to expand the rollout.
"Thanks to the efforts of other people in the pharmacy in the army of front line health-care heroes and volunteers, we're getting needles in arms even faster than we could ever imagine," Ford said during the announcement.
Ford also announced that the age requirement in Ontario to receive the AstraZeneca vaccine will fall in line with the new National Advisory Committee on Immunization recommendations that say the vaccine is safe for people of all ages.
There had been worldwide concern that the AstraZeneca vaccine, developed in part by Oxford scientists, was not nearly as effective as other vaccines for those 65 or older. There were also concerns that the vaccine could lead to blood-clotting.
On March 18, Health Canada announced that the benefits of the AstraZeneca vaccine far outweigh any potential risks, adding that the vaccine is safe and effective for people of all ages.
"Health Canada will continue to work with international regulators and review data and evidence as it becomes available, including as it pertains to these rare events," said a statement from Health Canada to Global News.
The Ontario government says that more than 239,000 appointments have been scheduled for those over 80 years of age since the booking portal was launched.
Starting Monday, Ontarians 60 and over will be eligible to book a vaccine appointment at an Ontario pharmacy or through their family doctor.
The province also announced that an additional 350 pharmacies will begin offering immunizations in the next two weeks, with an expected total of approximately 1,500 that will be offering vaccinations by the end of April.
"Pharmacies are absolutely vital in our provincial vaccine plan, as they put thousands of needles into people's arms across Ontario every single day," said Ford. "Pharmacies are helping us to quickly ramp up capacity to put this awful pandemic behind us."
Ford also praised front line health-care workers for the work they've already done in vaccinating the most vulnerable Ontarians.
"Yesterday was a record day," Ford said. "We administered over 61,000 doses, bringing our total COVID-19 vaccines to over 1.4 million doses.That's more than any province in the entire country."
Ontario Health Minister Christine Elliott, who was alongside Ford when the announcement was made, was asked about the concerning trend of hospitalizations of young people due to the spread of several COVID-19 variants in the province.
"We are seeing that the variants of concern are striking more young people and we're following that very closely," said Elliott. "We are ready for an upswing. We're working to contain it so that that doesn't happen but we're ready."
To book a COVID-19 vaccine through Ontario's online booking portal, click here or call 1-888-999-6488.
The province is expected to announce which pharmacies will begin offering immunizations in the coming days. For a list of pharmacies currently offering COVID-19 vaccinations, click here.