The performance aims to amplify gender-marginalized voices and raise money to support Indigenous women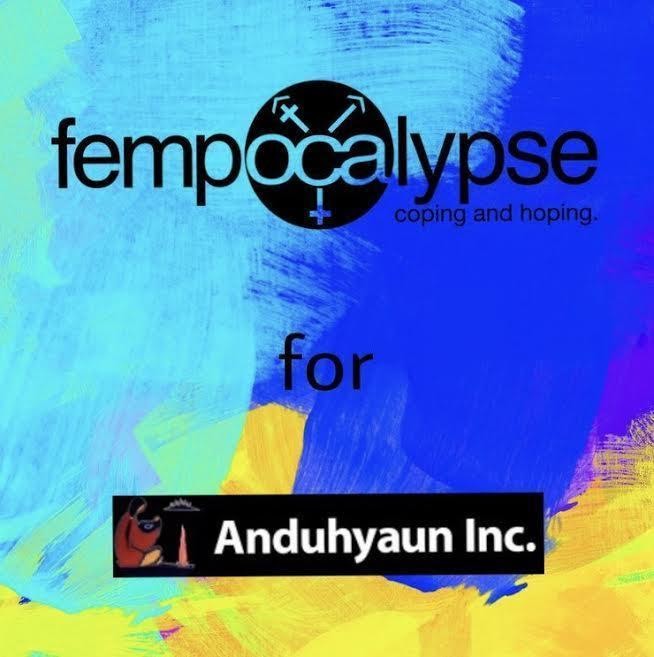 The live performance industry has been hit hard by the COVID-19 pandemic, with many theatres and performance artists being forced online or out of work altogether.
Theatre in particular is fueled by live, in-person performances and audience connection, which is difficult to replicate online.
Despite the challenges, many theatre directors are adapting to the new reality of online performing with new and creative methods.
One example is "Fempocalypse," an upcoming live, virtual cabaret and fundraiser organized by Nightwood Theatre's Young Innovators Program. 
"I don't think that digital theatre always gets it right, but I do think that a cabaret is a great format for digital live entertainment because there's such variety in what you're seeing," said Veronica Hortiguela, a Ryerson school of performance graduate and a performer in the cabaret.
Nightwood Theatre, known as Canada's foremost feminist theatre company, is located in Toronto's Distillery District. 
Each year, Nightwood runs the Young Innovators Program, which seeks to give up-and-coming women and gender-marginalized people opportunities to break into the industry by teaching relevant skills and offering experience in theatre creation and production.
The participants end the program each year with a fundraiser and final performance – usually a live cabaret – organized completely by the young innovators.
The program and cabaret were forced to be online this year, but the program still found ways to fulfil its mandate to help its young innovators learn and gain experience in the theatre world.
"(I've learned) how to connect with an audience that is feeling very alone or burnt out in a way that's really rooted in community," said Young Innovators Program participant Natasha Ramondino. "It's forced me to look at things a little bit more outside the box and think of things through a broader creative lens."
The cabaret will consist of six separate acts, each being five to seven minutes. The performance styles will vary from act to act, but each performer will be guided by this year's Fempocalypse theme: "Coping and hoping."
"We were really impressed by the honesty that the artists gave us about their creative process especially through the pandemic," said Ramondino. "I think we've picked a very diverse and interesting group to showcase on the night."
As part of the Fempocalypse fundraiser, the participants also organized an online gallery that displays visual art from local artists as well as a silent auction with the help of Canadian businesses.
All funds raised are being donated to Anduhyaun, a not-for-profit charitable agency originally created to respond to the needs of Toronto's Indigenous women by opening a hostel in 1973. It is now one of Canada's oldest organizations supporting women and children recovering from the traumas of violence and homelessness with a network of shelters and a transitional housing program.
The need for support for Indigenous women and children has only increased during the pandemic, due in part to the global rise of domestic violence, said an Anduhyaun spokesperson.
"At the very beginning of the pandemic our numbers decreased, concernedly, implying women were isolating at home with their abusers under the stay-at-home/emergency orders," the spokesperson said. "Calls did increase over time and the shelter has been busy over the pandemic, but we were also forced to reduce our intake capacity to allow for social distancing."
Anduhyaun, which means "our home" in Ojibwa, is in the process of building a new shelter to serve Indigenous women and children. Much of the funds they receive from Fempocalypse will go towards construction of the new shelter, set to begin later this year.
Ramondino said that she and her cohort of young innovators are very passionate about supporting Anduhyaun and supporting Indigenous women and other marginalized groups in all facets of life, including the theatre industry.
"I think we would be remiss to talk about the future of feminist theatre without speaking to intersectionality," said Ramondino. "Our obvious priority has to be rooted in amplifying the artistic voices of Black, Indigenous, people of colour, the LGBTQ2S+ community, and folks of all abilities."
Hortiguela says that it's important for theatre companies to organize events and performances like Fempocalypse that put the voices of young artists and feminist themes centre-stage.
"Fempocalypse is unique in that it puts at the forefront the voices of female identifying artists, which is not always a priority in our industry unfortunately," said Hortiguela. "It also is promoting young artists which I think is really terrific because I do think that young people have incredibly valuable ideas about how to push the industry forward."
Fempocalypse's online cabaret will take place at 7 p.m. on Saturday, March 13. Their silent auction and visual art gallery are already accessible online. For more information, visit the Fempocalypse 2021 Facebook or Instagram pages and at anduhyaun.org.