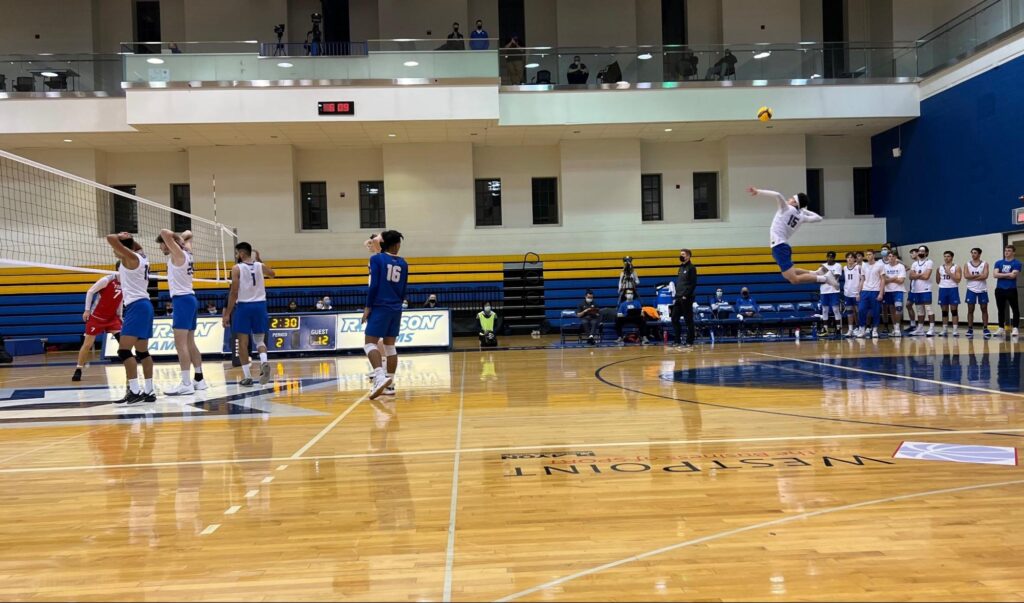 After dropping their first two games in Kingston against the nationally ranked Queen's Gaels, the Rams trounced the York Lions in front of a full crowd at the Mattamy Athletic Centre. 
The Rams spent all week preparing for the game, according to interim head coach Niko Rukavina.
The focus was on digging and defensive drills after last week's dismal showing at Queen's. 
"When you lose games, it's almost a bit more motivation to work on specific stuff," he said.
It seemed to work: The Rams held the Lions to under 20 points in all three sets — even keeping them to 14 points in the final set. 
The Rams served four service aces, leaving the Lions to struggle to orchestrate three plays in a row.
Two came from second-year middle Alex King, while first-year outside hitters Jacob Walker and Lucas Yang had one each.  
While the Rams struggled to finish sets off against Queen's, Yang said the team learned from the mistakes and kept consistent against the Lions.
"They didn't get on too many runs, and we got on a lot," he said.
Yang had eight kills in the game, closely trailing Walker, who had a game-leading 14.
Yang credited third-year setter Saad Shaikh with spreading the ball to every player on the court, which helped Yang and Walker capitalize on one-on-one opportunities.
It was "awesome" to play in front of Rams' supporters, said Walker.
This was his first time.
The first-year student never had the chance to play in front of fans due to the cancellation of OUA-sanctioned activities during the 2020-2021 school year.  
"The fans helped us out so it was just a good thing," said Walker. "It was fun being with the guys, it was a good team win."
It was clear that the fans were just as excited to watch the game as the Rams were to play.
The crowd went crazy when a York player accidentally punched a stray ball into the stands, smacking a wall and narrowly missing fans' faces.
Rukavina said it was nice to be back at the MAC.
However, he said the team sometimes got a little too excited.
"It was almost like I wanted to control the excitement a little bit," said Rukavina. "Sometimes when you're playing at home, and it's a new team, you can get a little bit overexcited."
Still, he said his team handled themselves well and it was nice to clinch a win in front of friends and family.
The Rams face the University of Toronto Varsity Blues on Saturday.
The Varsity Blues are currently ranked fourth in the league. 
"I'm looking forward to the challenge, as they're a more veteran team," said Rukavina. "They're not going to let up as easily… It's definitely the challenge of playing one of the better teams in our league, another Toronto rival."