Listen to the audio version here:
Toronto housing prices are so high right now that some students say they are forced to seek shelter services. As a result, experts and advocates are urging the provincial government to introduce new legislation to stop unnecessary rent increases.
"You need to be earning over $100,000 a year in order to afford [a two-bedroom] apartment," said MPP Jessica Bell at a Toronto press conference earlier this month. "It has become too expensive for the people that run this city – from our students to our paramedics — this government has not been a friend to renters."
One individual who is very familiar with the issue of affordable housing is Rahul*, a recent Toronto Metropolitan University (TMU) graduate in his 20s. He stayed at the youth shelter Covenant House for 18 months during a gap in his post-secondary education — after he dropped out of his previous program, and right before starting at TMU (OTR is only using his first name given the sensitivity of this subject).
"There has to be policy changes. The government [has to] front some of the costs if we want to see changes," he said.
Rahul says that a lot of the students at Covenant House, or 'Covey,' as he endearingly calls it, are not who you would expect.
"There were a lot of gifted kids there," he said. "Basically just people who ran into some bad luck in life. The common stereotype of the homeless youth being a psychopath and crazy, degenerate, those are far from truth."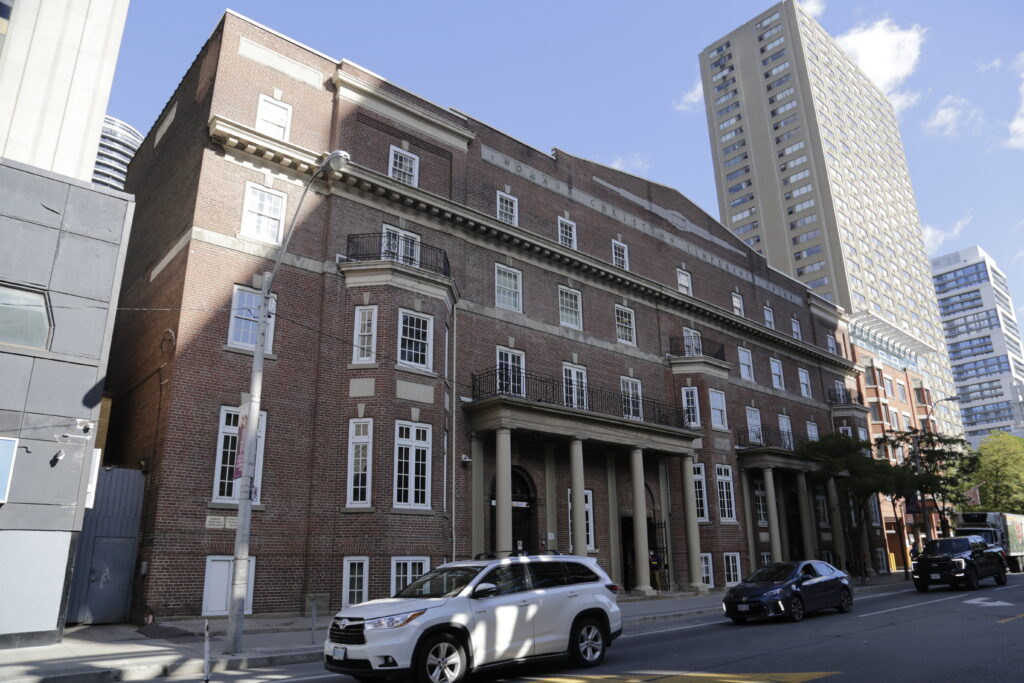 According to Rahul, Covenant was his saving grace when he was at his most vulnerable. His alternative was living on the streets — which he did for a while before arriving at the shelter.
"I would basically go hang out at [the] library until closing [at] 1 a.m. or so," he said. "Then I would leave the building when it would close and I would walk around downtown, explore the streets, explore different places … and come back again at 6:30 a.m. to line up for the library to open up."
Rahul describes his time as a homeless student as "Straining … and not just physically, but also mentally."
Nemoy Lewis, an assistant professor in TMU's Faculty of Urban and Regional Planning, says that the housing instability some students face for wanting to attend some of "the most prestigious institutions in this country" is a clear indication of gaps in the system.
"We've seen some of the ads where folks are renting out hallways, folks are renting out the small closet space," he said. "And so it speaks to the sort of sacrifices that students have to make."
Homelessness advocate Daniel Trayes, 44, says that all levels of government — federal, provincial and municipal — need to "get [people with] lived experience in there; that's what has been lacking."
While provincial governments are constitutionally responsible for housing, both municipal and federal governments are also involved through policies and benefit programs that fall under their jurisdiction.
As someone who was homeless in Toronto for almost 20 years, Trayes is critical of the current government, saying it doesn't do much for financially insecure people who cannot even afford to buy into the current housing and rental market.
He suggests offering "more money, more services, directly guided towards what you need, whether it be being a student, whether you're a senior, whether you're disabled, or whether you're just an average Joe, that needs a little hand up. It's not about handouts, it's about a hand up."
The federal government has introduced different funding initiatives to supplement its residents' rental payments. The most recent: a one-time $500 payment "to provide direct support to low-income renters."
But Trayes says the problem with the initiatives and bills proposed so far is that they only help a small number of people.
"[The provincial and federal government] have brought in all these rules just on the cuff and without any public consultation," he said. "When these [politicians] speak [about] 'affordable housing', [they mean] the middle class that can afford a $2,000-a-month apartment."
Housing costs should not exceed 32 per cent of your pre-tax monthly income, as advised by the Canada Mortgage and Housing Association, but even middle-class Torontonians have a slim chance of finding affordable housing. In 2021, the city reported that the median household income was $84,000.
The average one-bedroom and two-bedroom rent prices are $2,034 and $2,708, respectively, according to a 2022 report by GTA housing site Toronto Rentals and real estate firm Bullpen Consulting.
Taking all this into consideration, a Toronto renter would need to make $101,550 a year to afford the average two-bedroom apartment, and $76,275 for the average one-bedroom. That leaves half of the city's households with at least a $17,550 per year income-gap when it comes to being able to afford a two-bedroom apartment.
The Ontario NDP has proposed a bill that looks to stabilize the housing market by linking a landlord's ability to increase rent to their units.
This bill, titled the Rental Affordability Act, was originally put forward in 2021 but never made it past the second reading. It has since been reintroduced by MPP Bell, alongside MPP Bhutila Karpoche.
The bill is in its early stages of consideration. The Legislative Assembly of Ontario reports that bills can take months to reach a resolution — or it could be tabled indefinitely.
Lewis says while the bill is a step in the right direction, it is not enough on its own to truly make an impact. "When we are introducing these policies, we have to also complement or couple [them] with policies that help bring a new supply of affordable housing to the market."
He says that access to more affordable housing will not only help students and others who are lower-income, but also set the stage for more stable communities.
"We [won't be] having folks [moving] in and out of particular communities because [now] they can afford to live [there] for the long term. It definitely helps to bring stability to communities and lower the level of transition happening year to year."