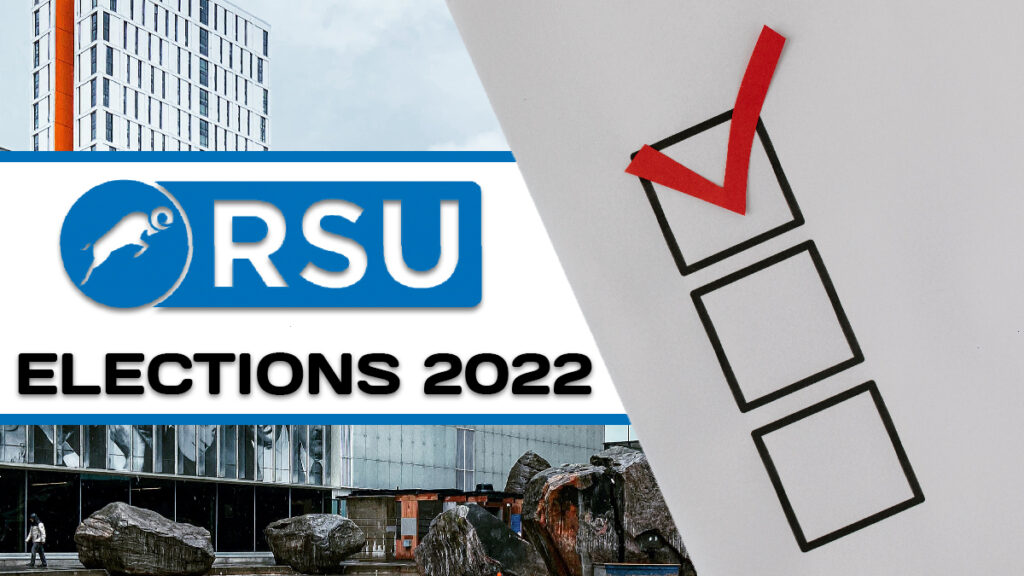 It's that time of year when students have to make decisions about the type of governance they want to see in the Ryerson Students' Union offices.
On The Record has put together all the important information student voters need.
Important dates
The timeline of the election will look different this year as the entire process, from nominations to final voting date, occurs within a 10-day span. There will be two fewer days of campaigning than there were last year.

Election Debate – Feb. 1, 2022, at 3 p.m., via Zoom (https://zoom.us/j/99338210538?pwd=SnQ0MDJ3SGJlOXErQ2lJak9pZDFhdz09)
Voting Days – Feb. 2 – Feb. 4
All students will be voting through the my.ryerson portal in a similar process as last year.
The polls will close at 4 p.m., on Friday, Feb. 4, and the results of the election will be released by 6 p.m. that day, according to the Chief Returning Officer.
Campaigning
Candidates will only have two days to campaign, which will mostly be done online due to the nature of the school's reopening plan.
There are two slates — or groups of candidates running under a common platform — as well as some candidates running as independents.
To read through Forward's platform: www.voteforward.ca
To read through Revolution's platform: https://www.instagram.com/_teamrev/
Candidates and slates breakdown
You can find more information on each candidate on the RSU site or at http://www.rsuonline.ca/get-involved.
PRESIDENTIAL CANDIDATES
Marina Gerges – INDEPENDENT
Ahmed Ali – REVOLUTION
Siddhanth Satish – FORWARD
VP EQUITY CANDIDATES
Areesha Qureshi – REVOLUTION
Hilla Yaniv – FORWARD
VP STUDENT LIFE
Ozioma Molokwu – INDEPENDENT
Abaan Ahmed – REVOLUTION
Nikita Khan – FORWARD
VP EDUCATION
Umar Abdullah – REVOLUTION
Tarman Kaur – FORWARD
VP OPERATIONS
Salar Hussain Syed – REVOLUTION
Amir Dehandi – FORWARD
FACULTY OF SCIENCE – DIRECTOR
Shirin Kalavi – INDEPENDENT
Angie Awadallah – INDEPENDENT
Jash Faldu – REVOLUTION
Mahin Haider – REVOLUTION
Marieyam Khan – FORWARD
Zaid Ahmed – FORWARD
FACULTY OF COMMUNITY SERVICES – DIRECTOR
Minkyoung (Alisha) Kweon – INDEPENDENT
Zroha Khalid – REVOLUTION
Marium Mazhar – REVOLUTION
Gabriela L'orfano – FORWARD
Maham Malek – FORWARD
Rawan Izzeddin – FORWARD
Ruth-Ebony Lyttle – FORWARD
TED ROGERS SCHOOL OF MANAGEMENT – DIRECTOR
Niraj Vaya – INDEPENDENT
Hifza Badar – INDEPENDENT
Sahil Kumar – INDEPENDENT
Ahsan Sajjad – REVOLUTION
Raisa Rahman – REVOLUTION
Aman Mathur – FORWARD
April West – FORWARD
Nirusha Shanmuganathan – FORWARD
Waqar Syed – FORWARD
FACULTY OF COMMUNICATION AND DESIGN – DIRECTOR
Gus Cousins – INDEPENDENT
Tristan Meyer Odell – REVOLUTION
Rania Elhilali – REVOLUTION
Musa Attique – REVOLUTION
Dalia Chami – FORWARD
Khushi Popat – FORWARD
Kushil Doshi – FORWARD
Vincent Lecompte – FORWARD
FACULTY OF ENGINEERING AND ARCHITECTURAL SCIENCES – DIRECTOR
Success Daka – INDEPENDENT
Waleed Idrees – REVOLUTION
Abdul Hanan Moheb – REVOLUTION
Hafsa Siraj – REVOLUTION
Chehada Asaf – FORWARD
Joshua Lyttle – FORWARD
Odeha Onyegbule – FORWARD
FACULTY OF ARTS – DIRECTOR
Aia Bakir – INDEPENDENT
Kiera Gray – FORWARD
Sasha Ruptash – FORWARD
INTERNATIONAL STUDENT REPRESENTATIVE
Olivia Okoro – INDEPENDENT
Ahoor Razavi Rezvani – REVOLUTION
Mahima Singh – FORWARD