Small currently has the best record of a CEBL head coach through two seasons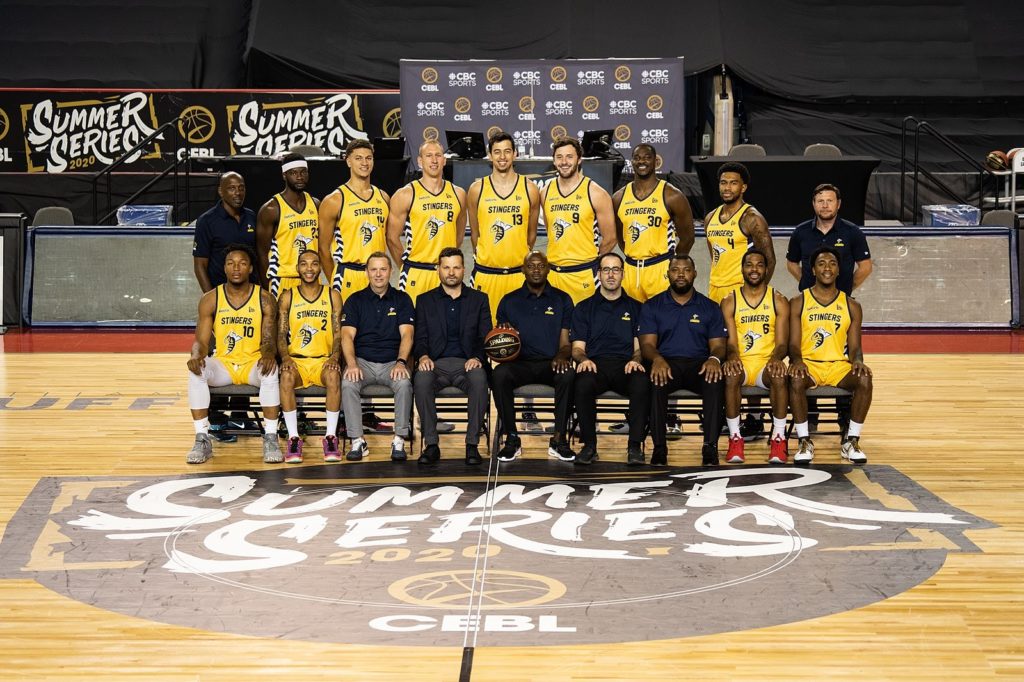 Former Ryerson assistant coach Jermaine Small is eager to lead the Edmonton Stingers to yet another Canadian Elite Basketball League (CEBL) championship after tasting glory last summer.
Small guided the Stingers to a 7-1 record in the CEBL Summer Series last August en route to the team's first title.
For him and his players, this upcoming season is about proving to themselves that it wasn't just a fluke.
"We're walking in with something to prove, not to the rest of the league but to ourselves," said Small. "We're not worried about who's coming, who's playing. We're really focused on proving it to ourselves that we could do it in a regular season."
After two seasons in the CEBL, Small holds the best record among coaches at 17-4. He's focused on creating a winning culture with the Stingers while also taking a minute to appreciate and be grateful for what his team managed to accomplish last season.
"It's something that can never be taken from you," said Small on winning a title. "It's made me want more, in all honesty. Once you're at that stage, you don't ever want to come down."
Before becoming the head coach and general manager of the Stingers, Small spent three seasons as an assistant coach with Ryerson's men's basketball team under former head coach Roy Rana, who now coaches in the NBA.
During Small's time at Ryerson, the program shifted from just an average university basketball team in the province to one of the most respected teams in the country. Small was in charge of the team's player development, recruiting and hosting summer camps. His success earned him a position with Queen's University as a full-time assistant coach in 2014.
Initially, Small was an assistant coach with the Stingers for the CEBL's inaugural season in 2019 but he took over as head coach and general manager eight games into the season after coach Barnaby Craddock stepped down.
Small led Edmonton to a nine-game win streak that year and a 14-6 regular season record. After a successful first year coaching in the CEBL, Small was also named the head coach of the University of Lethbridge in March 2020.
In a year that was supposed to see him take over a new university program while juggling his CEBL duties, Small was left sidelined due to the pandemic. Away from the game for much of the year, Small has remained eager to get back onto the court, turning his sights on chasing another championship in the CEBL.
At least two Ryerson alumni will be joining him on the Stingers: guards Adika Peter-McNeilly and Jahmal Jones — two players he coached while at Ryerson.
Peter-McNeilly became the first player in Ryerson program history to be named a U SPORTS First Team All-Canadian and has been a reliable player for Small, playing for Edmonton in every CEBL season to date. During the CEBL Summer Series, he averaged 10.6 points, 3.8 rebounds, 2.0 assists and 1.5 steals per game.
The other notable Ryerson alumnus Small has recruited this season is Jones, who graduated from the program in 2015 and still holds the all-time record for assists and steals.
Small had attempted to recruit Jones to play for the Stingers since the inception of the CEBL and was thrilled when he received a call from Jones' agent letting him know he'd be joining Small's roster for the upcoming year.
With reigning CEBL MVP Xavier Moon as the team's starting point guard, Small plans to have Jones come off the bench alongside Peter-McNeilly to reignite that Ryerson connection while still having them play starter minutes.
"To me, they're both sixth starters. I trust them and I know they're both experienced," said Small. "And of course, (these) two will be on the floor at the same time because they played together already."
With arguably two of the fastest point guards in Moon and Jones, Small sees his team potentially being one of the hardest to stop in transition. He'll look to rely on veteran players, with the Stingers bringing back a majority of last year's championship roster.
Right now, Small's main focus has turned to filling out the remaining roster spots with import players before the start of the season. With the uncertainty of the NBA hosting a Summer League, it could potentially result in many players considering the CEBL instead.
Small's main goal remains creating a winning culture with the Stingers.
"I think we've built something pretty strong here," said Small. "I just want to continue to build on it. Our group knows we just got to focus on the process and be grateful for the opportunity to play."