Metrolinx is taking this step to bring more payment options to transit customers across Ontario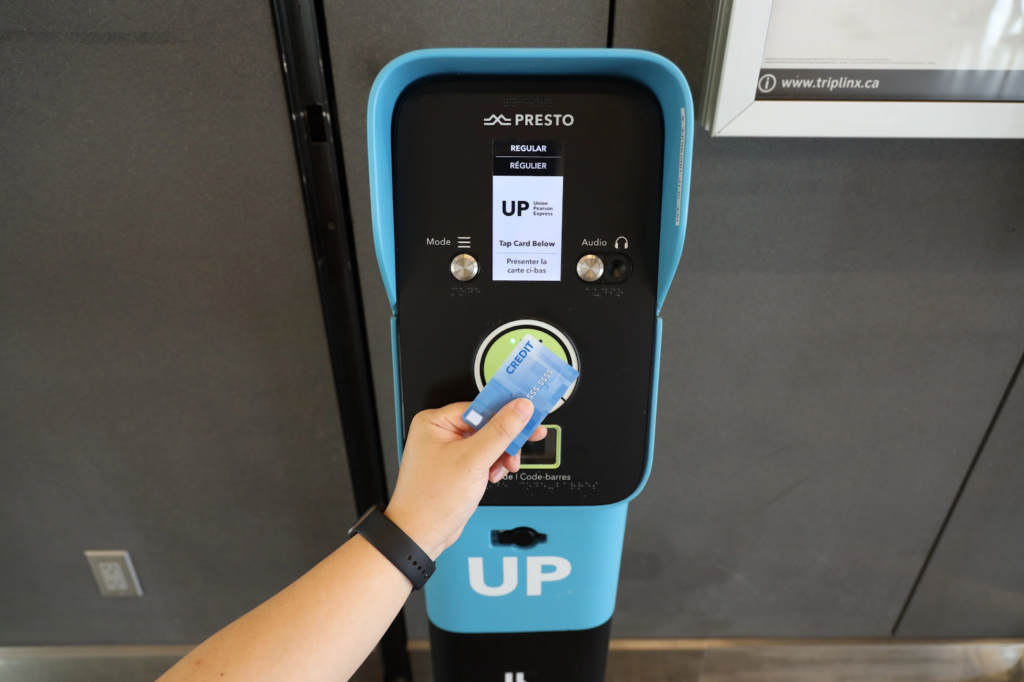 People can now use their physical credit card or the credit card in their mobile wallet to pay for their fare on the UP Express as part of a pilot project, according to a press release issued by Metrolinx on Thursday.
People who use UP Express can tap on a Presto device with a Visa, Mastercard, or American Express credit card or their phone or watch with a mobile wallet like Apple Pay or Google Pay for the same price as an adult fare.
Nitish Bissonauth, a spokesperson at Metrolinx, said contactless payment is being launched on UP Express because the government agency thinks now is an ideal time.
"We are doing this now because ridership is low, but we want to be prepared once customers return to our service," said Bissonauth. "It's for us to improve on what we already have."
Metrolinx CEO Phil Verster said in the press release that Presto is testing this payment option on UP Express to enhance people's experiences and to guide the rollout across the region.
"Our customers have asked for more ways to pay, and we're so excited to roll out the next stage with Presto contactless payment on UP Express," said Verster. "We are eager to build on this launch and deliver this to our customers around the region."
People need to take the card they are going to pay with out of their wallet, purse, or phone case when tapping onto a Presto device. Taking a card out prevents card clash, which ensures the correct payment method is charged.
People must tap on and off in the same way. They can pre-set their preferred credit card in a mobile wallet or on their mobile device for easy access and use any time they want to.
Presto and e-tickets remain available as options for people to pay their fares.
Presto plans to add Interac debit as an option to pay for travel on UP Express in the spring, the first time a transit agency in Canada will offer a contactless debit option.
This payment option will be rolled out by credit, debit, and mobile wallets to more transit agencies across Ontario in a phased manner. Bissonauth said he does not know when contactless payment will become available in the Toronto Transit Commission.
He said contactless payment will provide people with more options.
"The goal is to make this a more seamless experience for customers, but also provide more options," he said. "We know there are some people who are infrequent riders."
Metrolinx is the government of Ontario agency that co-ordinates transportation in the GTA and Hamilton areas. It oversees the Presto payment system.