Campaigns run until March 19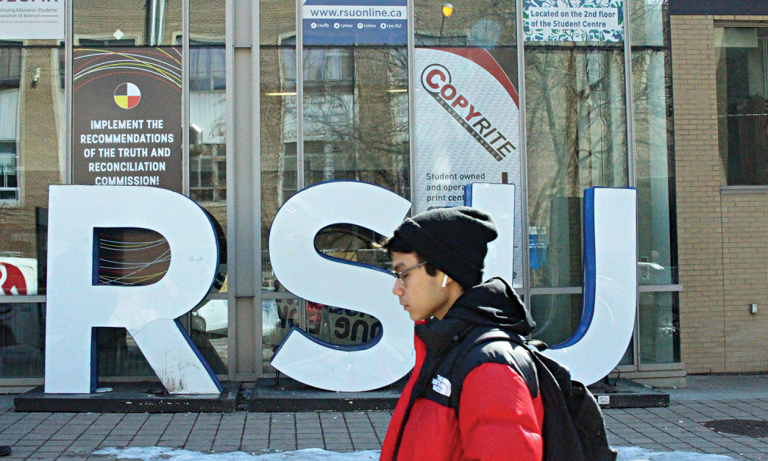 The campaign period for the annual Ryerson Students' Union (RSU) elections officially began Monday morning. Voting will begin Wednesday March 17 and conclude on Friday March 19.
There are two slates running in this election cycle – For the Students and Adapt. Both slates will be allowed to campaign until voting closes.
The next event on the RSU campaign calendar is the official candidates' debate, which will take place Tuesday March 16 at 5 p.m. The event will be conducted via Zoom. You can join that event here.
According to voter data compiled by the RSU, only two per cent of eligible students voted in the last presidential election; seven per cent of eligible students voted for president in 2019. It is still unclear how Ryerson's virtual learning format will impact voter turnout.
Below is a full list of candidates, organized by the position they are running for. Each candidate is labelled by their slate. To get more information on the election or to read the complete candidate biographies, visit the RSU election website here.
President
David Jardine (For the Students)
Siddhanth Satish (Adapt)
Vice-President Operations
Jenna Jiang (For the Students)
Vaishali Vinayak (Adapt)
Vice-President Education
Alexandra Nash (For the Students)
Tarmanjit Mann (Adapt)
Vice-President Student Life & Events
Ashan Mahendran (For the Students)
Akibul Hoque (Adapt)
Vice-President Equity
Zanele Chisholm (For the Students)
Maleha Yasmin (Adapt)
Faculty of Arts Directors (2 positions)
Sarah Ahmed (For the Students)
Sharif Van Uum (For the Students)
Hafsa Ghasemzaei (Adapt)
Areej Khalid (Adapt)
Ted Rogers School of Management Directors (4 positions)
Zainib Shah (For the Students)
Eliana McKenzie (For the Students)
Hussnain Khalid (Adapt)
Hilla Yaniv (Adapt)
Darsh Gajera (Adapt)
Silver Idele (Adapt)
Faculty of Communication & Design (3 positions)
Sonia Bargança (For the Students)
Olivia Mcleod (For the Students)
Mercedes Gaztambide-Spillane (For the Students)
Priyanshi Mistri (Adapt)
Bilqis Meer (Adapt)
Essha Khan (Adapt)
Faculty of Community Services (3 positions)
Daniel Barkin (For the Students)
Oren Jungreis (For the Students)
Dusty Luck (For the Students)
Sabrina Ahmed (Adapt)
Parneet Brah (Adapt)
Joel Kuriakose (Adapt)
Faculty of Engineering & Architectural Science (3 positions)
Kelvin Hoang (For the Students)
Cassidy Rose (For the Students)
Michaela Joseph (For the Students)
Umar Abdullah (Adapt)
Salar Syed (Adapt)
Muhammed Maaz Rashid (Adapt)