Undergraduate students in film and fashion are spending thousands of dollars in addition to tuition to try to succeed in their fields — a practice they call 'demotivating and disheartening'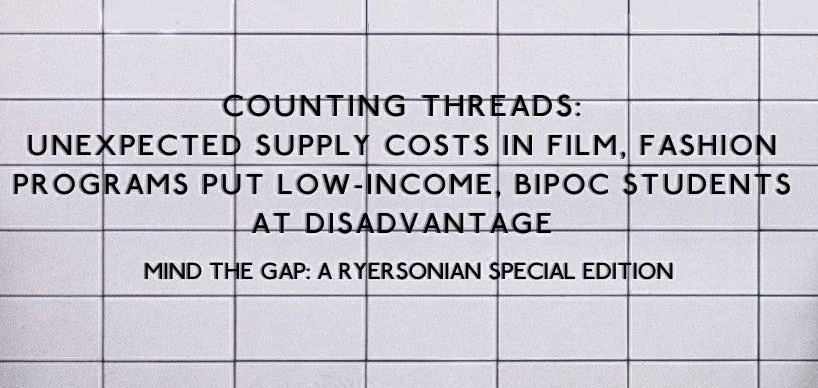 During his gap year in 2018, Halen Kelmeckis held four part-time jobs, working back-to-back shifts — sometimes overnight — to make enough money to support himself. He was readying for a move from Burnaby, B.C., to Toronto to attend Ryerson's film program and wanted to be financially ready.
But when Kelmeckis got to Ryerson, the money he saved only got him halfway through his first year before he had to drop a mandatory course because of the cost of supplies. By the end of the semester, he decided to defer his degree indefinitely to save up and re-evaluate finishing the program.
Kelmeckis had expected additional costs and even looked through financial information for prospective students to better budget for them. But he assumed that most extra fees would be included in the ancillary fees charged as part of tuition. According to Ryerson, ancillary fees can include things like the material used in the production of course projects.
Instead, Kelmeckis says he found out the roughly $1,150 required for purchasing and processing physical film and an art kit — mandatory for first-year production and visual studies classes — were to be paid-out-of-pocket. He said it felt like something that the school acted like he should already have known.
"What mainly surprised me was how it was brought up. Professors just made it seem very nonchalant, and were very casual about it," he said, adding that students with a lower income face additional barriers. "The underlying costs that you don't learn until you're in the program, it hinders people… and it's stripping away the ability … for us to have any say in how our stories are put out."
John Tarver, the film studies program director at Ryerson's School of Image Arts, said students have only recently brought objections to the costs in one specific course to his attention. He says he's willing to speak to individual instructors about adjusting costs for any course.
"If there's a course where the students feel that the expenses are overly burdensome, then absolutely, we'll look at it and we'll make adjustments," he says. "I firmly believe that we shouldn't be burdening our students unnecessarily."
Costs for books and supplies at Ryerson can range from $1,100 to $9,900 on top of tuition, depending on the program of study, according to the university's admissions information. According to Common University Data Ontario (CUDO), a data collective run by universities in Ontario, the books and supplies costs for first-year undergraduate arts and sciences students at Ryerson ranged from $700 to $1,500 during the 2018-19 academic year.
Despite these wide ranges, program-specific details are only publicly available for tuition and fees, which range from $7,000 to $11,000 for domestic full-time students and start at $28,000 for international students.
The university "provides updated costs in compliance with OSAP regulations," said a university spokesperson in an emailed statement, but Ryerson has no obligation to track those costs over time. Ryerson president Mohamed Lachemi says tuition and fees are approved by Ryerson's Board of Governors and subject to provincial regulations. Neither the spokesperson nor Lachemi would confirm whether the university collects information on program-specific books and supplies costs.
Students in the film and fashion programs say their success both in university and, consequently, in their respective industries is dependent on the quality of the costly projects produced. For them, the additional out-of-pocket cost of supplies for those projects — like thousands of dollars in thesis funding and fabrics — add up quickly and can perpetrate inequality.
Kelmeckis says a big part of why he wanted to go to school in Toronto was for diversity and inclusivity in perspectives, which was important to him after growing up as one of the only Black and trans people in his school in B.C. After being admitted into the program, Kelmeckis found himself among a handful of students pitching Black Indigenous People of Colour (BIPOC) and queer stories in his lectures — ideas which he felt were often swept under the rug or subjected to more scrutiny than his white peers.
There is a persistent gap in wealth and barriers to economic opportunity for BIPOC in Canada, according to 2019 Canadian Centre for Policy Research data, with racialized populations earning less in wages and having higher unemployment rates than non-racialized populations.
"The idea that Toronto is the most multicultural place in Canada and the fact that I could count all of the specifically Black students in (my lecture) including me, on both my hands…. that just shows how (finances) can already cut out other people's stories without them even get a chance to get in the door first," Kelmeckis says.
Students like Karina, a fourth-year fashion design student who the Ryersonian is not naming for fear speaking up could jeopardize her access to faculty recommendations, ended up paying for the unspoken and constant pressure of being a "good designer" — not only with money, but with sleep and her mental well-being too.
Coming out of high school, Karina says she expected additional costs and a heavy workload, but with the projects requiring thousands spent on fabric, fashion scissors, sewing machines and more, she realized the only way she was going to graduate was by pulling regular all-nighters in the sewing labs.
"I hate it," she says. "It's very stressful, it does take a toll on your mental health…you already get back pain because you're sewing but you get additional back pain because you're up all night."
Fashion, like film, has projects that aren't officially graded on how much money you put into them. But students like Karina say that in reality, you're more likely to be successful if you can pay for things like pressing a garment before submitting it, or quality fabric for projects like evening wear. Contracting people to professionally apply buttons, which can speed up the process and which some students say their professors recommend, sometimes even require, can also be key to higher marks.
But these costs add up. There's the $700 and more on kits that students had to buy in their first year (although it's unclear after the program's recent restructuring whether or not this is still a requirement), and software like Adobe InDesign that can cost $20 to $50 per month for production in second, third and fourth years. An industrial sewing machine, which Karina says professors recommended she use and is sometimes explicitly required, can cost $500 to $1,000 second-hand.
Fashion design students have also been expected to cover the cost of their own muslin — a cheap cotton fabric that acts as a "rough copy" for designing and costs roughly $5 to $10 per yard. Additionally, for mandatory projects like an evening wear collection produced in second year, Karina says yards of fabric alone adds up to roughly $100 to $200 per garment even if you don't opt for higher-end material.
"These are all things that are considered in quality control when your profs are marking your garments and if you have the money to have all of these great fancy things — I think by default — you would end up getting a higher grade," she says.
In response to a question about how the fashion program works to ensure a level playing field, Ben Barry, chair of the program, says, "There's no question that having the responsibility of students to purchase their own fabrics allows students with more privilege to be able to buy more fabrics."
For the first three years of her degree, Karina says she had 400 hours of mainly unpaid internship hours to complete before graduation. This, in addition to the course load and her hour-and-a-half commute, made it nearly impossible for her to have a part-time job to pay for the additional in-program costs.
When Karina mentioned to her peers the possibility of challenging the amount of unpaid hours fashion students were being asked to do, she found most people "didn't want to go through the emotional labour of trying to fight with faculty on top of everything."
Although mandatory internship hours have been reduced to 200 and made to be more flexible as a result of the pandemic, Karina says with labs closed, students are limited to their own materials and available space. Last semester, the program provided fashion students packages with sewing materials and some fabric in response to COVID-19, as well as adding two extra weeks with no course content — but it's support that Karina and other students say is long overdue.
Barry says a solution to the inequity in the program caused by the cost of fabrics and materials is to create and extend bursary programs and provide "access so students are able to fully materialize the collections that they want to design."
The university gave emergency bursaries to fashion students because of the pandemic, but students say the university needs to make permanent changes to address long-standing inequality in the program. Barry, who will leave to become dean of fashion at the Parson's School of Design in New York this summer, says he hopes Ryerson can extend the emergency COVID-19 bursaries for students past the pandemic.
Barry says each school at Ryerson is responsible for determining the cost of books and supplies, which is reviewed annually by the program. The fashion program reviewed its costs in the first week of March, however Barry says that will not result in any changes to what students are required to pay for themselves.
Barry says the revised curriculum has not changed "the items that students are responsible for," but has reduced internship hours and made them more flexible, meaning students can attend internal workshops at Ryerson to fulfil the requirement in addition to working for external companies.
Justin Persaud, a fourth-year fashion design student, remembers his shock when he took a course run by the Ryerson's theatre program and all the materials for their garments were provided. In the moment, he felt "a little cheated."
"I felt like I couldn't be greedy," he says. "I would apologize all the time for using the stuff and the teacher there… was like, 'no, no, like you're paying for it, use it up.'" He adds that providing things like paper and muslin would be a relief for students and allow them more flexibility in the kind of fabric they want to buy.
Persaud also says that pushing yourself to do innovative things in the fashion program comes with costs — including shipping, because limited resources at stores in Toronto leave people ordering specific fabrics from places like New York or Montreal.
"I know …(people that are) so talented," Persaud says, "and they can't afford to do or learn certain techniques that they want to do."
Fourth-year film student Julia Batista says she doesn't understand what her tuition is going towards when she has to come up with thousands of dollars of funding to produce her own thesis film.
"The professors tell you 'you can't go over $10,000 for the thesis film,' but it's not Ryerson's $10,000," she says. "It's your $10,000 that you have to get from somewhere."
Batista says that in the program, most of the roughly 10-minute thesis films cost about $6,000, an amount that most students have to come up with through crowdfunding. Grants or other funding options are limited. The Ryerson Communication and Design Society (RCDS) can't fund any project that is for academic credit and student work is ineligible for many local arts grants. Additionally, for many students, Batista says thesis films are launching pads for potential success in the industry.
While Batista says she recognizes it's not realistic for the school to cover the cost of every film, there are other measures, like faculty helping to put on fundraising events, that she feels could "go a long way."
"I don't know the inner workings of their finances, but I think there's definitely some solutions that just are not at all on the table right now, and us paying for this thesis is being completely normalized," she says.
Batista adds that students who take on larger roles — directors, producers or writers — are responsible for coming up with a larger share of the funding, so if you want to have creative influence over your own film, you end up paying more.
"It's all connections, prosperity, financial prosperity…It's not like you can't do it without, but that is absolutely a huge advantage in the industry. And clearly it starts from the very beginning," Batista says.
UCLA's 2020 Hollywood Diversity Report found that while representation for women and people of colour has increased in acting roles, representation in writing, directing and executive roles still has "a long way to go."
People of colour directed 14 per cent of top-grossing films in 2019, and women directed 15.1 per cent, despite making up roughly 40 and 50 per cent of the U.S. population respectively.
While Tarver, the program's director, doesn't teach classes in the film studies program where students produce thesis films, he says that in his experience, there is a common misconception that more production value will improve students' grades or success in the program.
"Throwing all the money and production value in the world at a bad script will never make a good film," he says. "I don't think also that it does really anything for somebody's career, quite the opposite. If a student can make an amazing film with very little money, that's something that often a producer will look at."
Production courses where students make films often have spending caps, Tarver says. In a third-year production class Tarver taught seven years ago, there was originally a $1,000 contribution limit per person. The program has since lowered that to $800. In addition, Tarver says that making a good film with very little money is a "marketable skill."
In an email to the Ryersonian following his interview, Tarver said film faculty regularly advises students on how not to spend a lot of money on film projects.
Evangeline Brooks, who graduated from the program in 2020, says it became clear to her after her first year that people who had the means to invest in larger films in the program were more successful in the industry.
"Nobody tells you to start saving," she says. "And if you have the money to spend on better projects, you might get better grades, but I think that the biggest benefit is you have a portfolio that makes you look more desirable to outside work."
Brooks remembers sitting in a theatre during the school's film festivals and seeing grants awarded to non-racialized people who — to her — already seemed to be in positions of privilege. While watching, she thought to herself that if this is what it would be like in her fourth year, then she didn't want to be in the program any longer.
"It's just rewarding people for playing along with the parts of the industry that we want to change, and that we should be working to change while we're young in school," she said.
Brooks switched to the integrated digital option, a specialization that film and photography students can take that focuses on digital media. The move was to "escape" the inequities and be more independent in her creative endeavours, she says.
For all that Tarver says money is not a requirement for a good film, some students and graduates of the program told the Ryersonian that they didn't feel that was underscored by their instructors. Brooks, who is now working in film, says she wishes there was less of an emphasis on industry standards from faculty and higher-ups in the program. She would have liked to see more of a focus on learning to explore the aspects of film that you don't need money to master.
"They're just so blind to the inequities that they perpetuate within their own program," she says,
adding that these attitudes and behaviours are instilled in students who, in turn, carry it into the working world.
"I think a lot of us go into film really bright eyed and like really excited to change things within the industry … but then they just really beat it out (of us) when (we) get to school."
Kelmeckis, who saved up for so long to attend the program but wound up deferring in 2020 because of the unexpected program costs, says he doesn't expect to go back to film school any time soon.
This story was updated on March. 16, 2021 at 11:11 p.m. EST. An original version of this story incorrectly stated that Kelmeckis paid roughly $450 for supplies in first-year film production courses. For clarification, Kelmeckis paid roughly $1,150 for materials for production and visual studies classes, not just production classes. We apologize for the error.