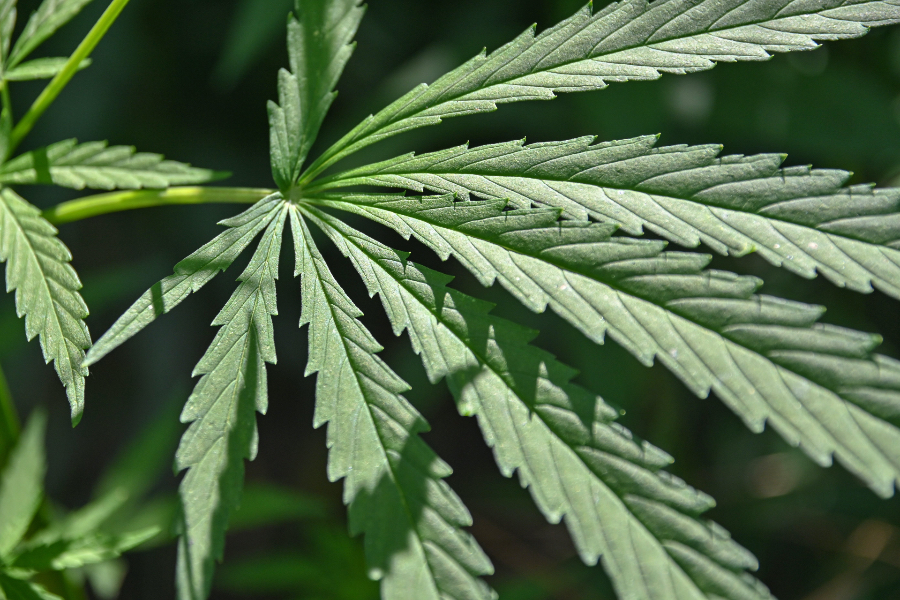 Listen to the story here:
After five years of cannabis legalization in Canada, nursing students are still experiencing a lack of clarity regarding medical and recreational cannabis. 
A new study conducted by TMU's Daphne Cockwell School of Nursing (DCSN) revealed that 91.3 per cent of Canadian nursing students reported a gap in undergraduate curriculum on medical and recreational cannabis. The research team was led by principal investigators Dr. Margareth Zanchetta, an associate professor at DCSN, and Dr. Kateryna Metersky, an assistant professor at DCSN.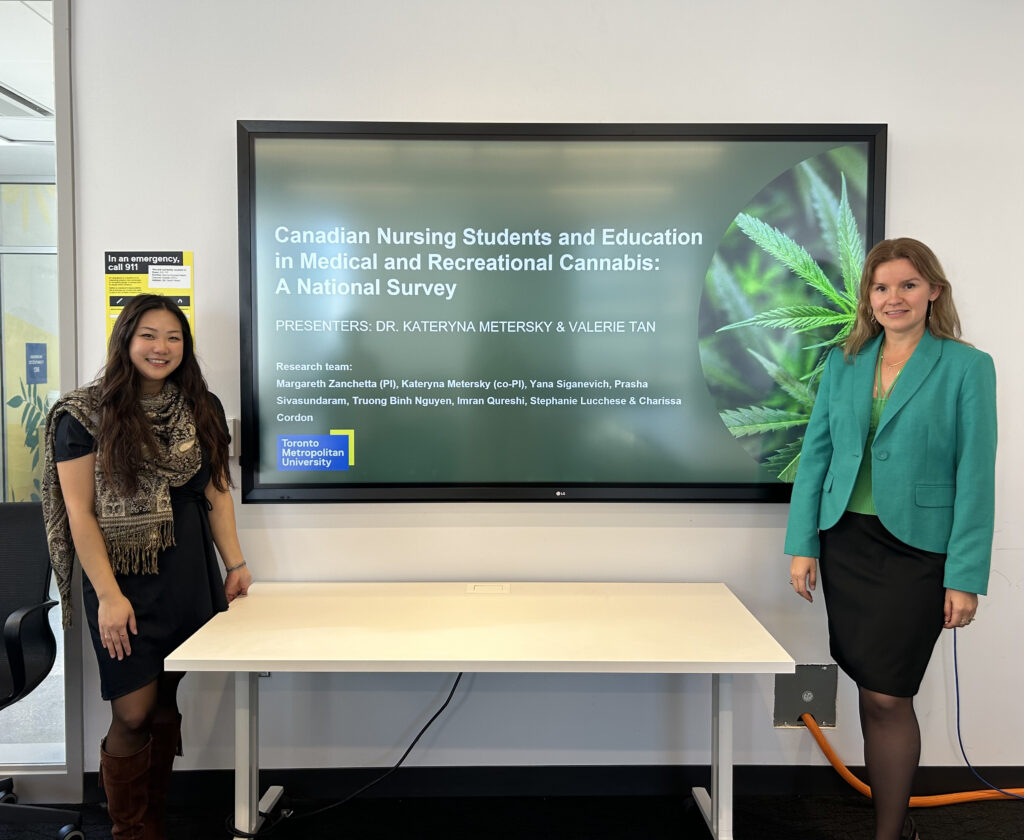 Metersky and research assistant Valerie Tan presented their research findings at the Daphne Cockwell Health Sciences Complex for the Wellesley Forum this week.
Canadian nurses play a critical role in the safe usage of medical cannabis and recreational cannabis in clinical practice, Metersky said.
She noted that during their research, the team was cognizant of questions such as if there is education available, and how widely people knew about it. They also wanted to look into what else people may be seeking.
Currently, the available Canadian nursing curriculum on this topic is "focused on just medical cannabis," said Metersky. "[They don't] talk about various nuances or how to deal with recreational cannabis use in clients."
Metersky said that before the legalization of cannabis, she saw her nursing students and medical teams struggle with how to approach a client who used cannabis and the care they wanted to provide.
"How do we look at potential drug interactions and patient responses to what we are proposing and how we're going to be approaching this patient care? What about safety for us as healthcare providers and the patients as well? How do we support this client?" she asked.
In 2018 the Government of Canada passed Bill C-45, the Cannabis Act, which legalized the purchase of limited amounts of cannabis and consumption in locations authorized by local jurisdictions.
Since the legalization of cannabis in Canada, Metersky said, "There are a lot of complexities both ethical [and] legal as well as our own values, beliefs and upbringing on how we approach the care that we provide. So it is one of those quite complex topics in nursing practice," she said.
The study also revealed that most of the nursing students surveyed received their knowledge about cannabis from informal and non-professional sources of scientific information.
58 per cent of respondents said they obtain information from their friends and family while 35 per cent turn to dispensary owners. Another 35 per cent gather knowledge from news media, and 19 per cent turn to lectures and educational programming.
"This means that nursing students and potentially even clinical nurses at the bedside might be choosing to get information from unregulated or unvalidated sources," said Tan.
Dr. Barbara Chyzzy, an assistant professor at the DCSN, said that education on medical and recreational cannabis is something they have an obligation to keep up with.
"We need to be responsive to what is happening in society. This is an important topic, so even though the curriculum is full doesn't mean that we cannot be introducing this topic into case studies," she said.
As the Year 3 Lead of the undergraduate Collaborative Nursing Program, Chyzzy said this topic would fit in with the courses they offer, such as those focused on mental health and substance use, community health and perinatal care.
"It's nice to see the gaps that were found in knowledge through this research. I'm sure there's gonna be a bigger conversation nationally with schools of nursing," said Chyzzy.
Daniela Paredes, a first-year nursing student at TMU, said that it is beneficial to learn how to approach clients when dealing with medical or recreational cannabis. 
"As nursing students in clinical practices, it's important to know. And currently we don't have this topic [deeply] embedded in our curriculum," Paredes said.
Metersky also hopes the research will prompt nursing students to talk about how to deal with medical and recreational cannabis use in a clinical setting.
"We've identified various gaps, so now we have an idea of how to now look at the curriculum and see what we can put forward based on the results of the study," Metersky said.
The study, titled "Canadian nursing students and education in medical and recreational cannabis: A national survey," consisted of an online survey completed by 153 nursing students from across Canada. The research manuscript will be submitted for publication very soon, but has not yet been released to the public.