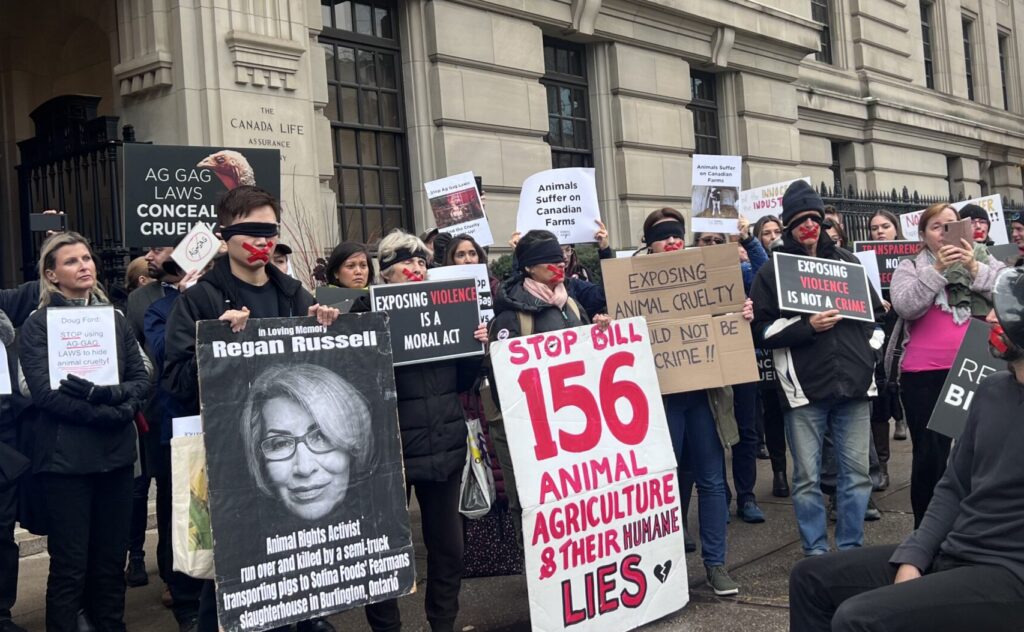 An animal rights organization held a rally on Monday in support of a legal challenge of Ontario legislation preventing filming animals on farms.
The rally, organized by Animal Justice, took place in front of the Superior Court of Justice in Toronto as Animal Justice, an animal law advocacy organization, tries to overturn the Security from Trespass and Animal Safety Act laws passed in 2020. The three-day court battle is set to proceed from Oct. 30 till Nov. 1.
"We're here today for the animals. We're here for the people that are trying to protect the animals," said Kimberly Carroll, Animal Justice academy director, at what she described as a historical court case in the movement. "This bill is trying to keep animals pinned. We need to strike this bill down."
Bill 156 prohibits trespassing on private animal farms and interactions or documentation of the animals without prior authorization.
"What are farms trying to hide?" chanted Carroll along with other protestors.
Animal Justice executive director Camille Labchuk said illegalizing undercover filming at animal farms covers up animal cruelty rather than protecting animal rights.
"When people hear about this law, and they hear that the government is actually passing laws to make it illegal and to punish whistleblowers in the food system, the public is shocked," Labchuk said.
Labchuk said the public wants more transparency when it comes to Canada's ineffective animal protection laws
Lawyer Heather Gunter represented intervenors' the Regan Russell Foundation, an organization in the name of Russell who was ran-over and killed by a transporter during a peaceful protest at a pig farm.
"This mischaracterization of the circumstances of Regan's death was used to justify the conception, the passing of and the need for this act," said Gunter in front of Ontario Superior Court of Justice judge Markus Koehnen regarding assumptions that Russell was at fault in the accident. "So, we say that one invocation of her death to support the legislation that she died protesting is one too many."
Gunter said Russell's death must bring attention to the risk of public safety when exercising freedom of expression in a democratic country rather than justify the bill.
The court hearing is expected to end on Wednesday. It may take three to six months to reach a final decision.