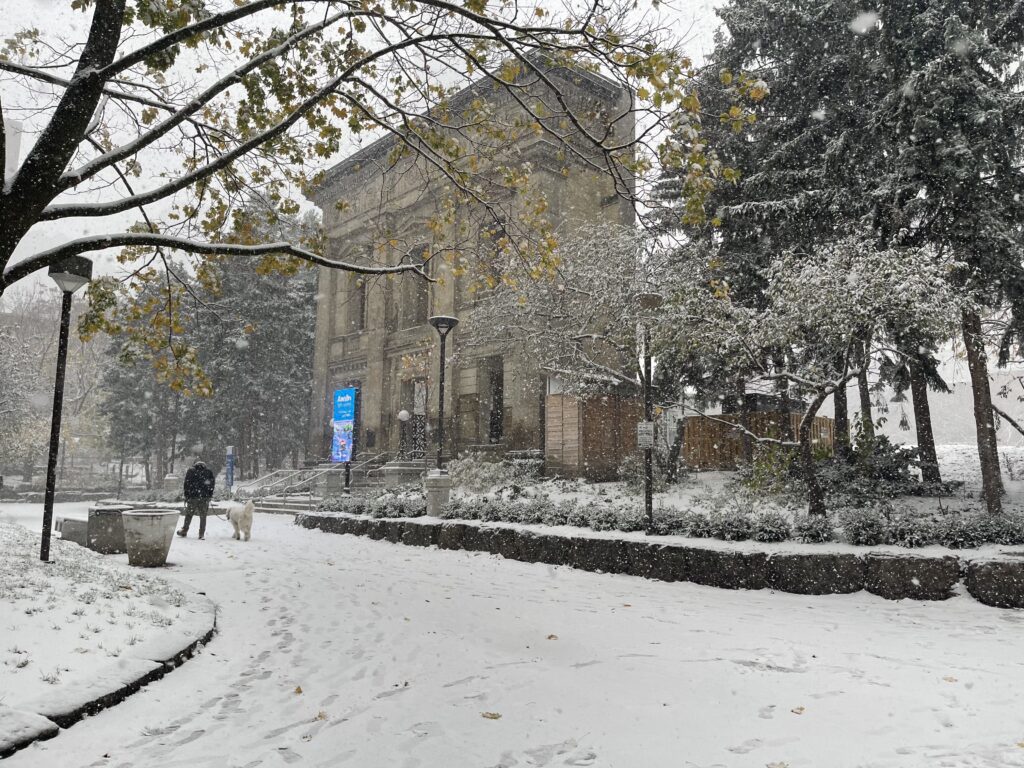 Listen to the full story here:
With winter weather bringing ice and snow to the streets of Toronto, accessibility issues are now a worry for anyone visiting Toronto Metropolitan University (TMU) campus. But for students with disabilities, these issues are a seasonal addition to a campus that already has limits on its accessibility.
Students with mobility issues have to contend with blocked accessibility ramps, out-of-service elevators and malfunctioning door buttons all year round. Weather hazards such as ice and snow banks act as another barrier to an accessible campus, according to Angelo Luu and Jessica Maria Varghese, members of The Access Centre, the accessibility branch of the Toronto Metropolitan Student Union.
"One day the accessible entrance could be open, the next day someone has put construction material in front of it. And then that stays there for months on end," said Maria Varghese.
These sorts of barriers, which hinder people with disabilities throughout their daily life, are ones the province of Ontario has long hoped to eliminate through the Accessibility for Ontarians with Disabilities Act (AODA).
Passed in 2005 by former premier Dalton McGuinty, the AODA outlines the province's plan to ensure an accessible, barrier-free Ontario, on or before Jan. 1, 2025. It requires services and physical spaces in Ontario such as places of employment, customer service, and transportation, to treat people with disabilities with respect and ensure that their facilities are accessible for anyone, regardless of mobility level.
On the University's website, and in an email statement to On The Record from president Mohamed Lachemi, TMU says it is committed to the principles outlined in the AODA.
These guidelines include informing recent additions to the Ontario Building Code requiring most buildings to be constructed or renovated in a way that allows anyone to access them, regardless of their mobility level. This includes providing an accessible washroom in almost every building, at least one of those washrooms per three storeys in buildings that height or over, and at least one barrier-free entrance depending on how many pedestrian entrances a building has.
It also requires that, under the customer service support, any temporary obstruction must be brought to the attention of customers.
An upcoming amendment to the Act, informed by a list of recommendations published by the AODA standards development committee, will add an education support section to inform all levels of schooling to better serve people affected by accessibility issues. The amendment identifies nine barriers to accessibility in post-secondary education including attitudes, assessment, social life, and financial barriers. Once passed, the education support will aim to address these issues and provide an equitable experience for people with disabilities attending pre and post-secondary education.
According to Lachemi, the University has a plan in place based on the education amendment to the AODA. This plan hopes to address all the barriers identified in the amendment proposal.
Though, it is unclear if the temporary obstruction practice will explicitly apply to educational institutions once the amendment goes through.
Luu, who uses mobility devices, says the school does comply with the existing guidelines, but that being AODA compliant and being accessible is not necessarily the same: the standards and requirements the AODA informs, if followed to the letter, may not be enough to ensure full accessibility or equity.

"The larger issue at hand is, if accessibility and things like barrier-free entrances aren't built into everything, if disabled people's accessibility needs aren't put at the forefront, then, regardless of whether or not something is AODA compliant, that's not necessarily going to translate into real accessibility," said Luu.
In his emailed statement, president Lachemi wrote that while TMU is AODA compliant, the school is aware that simply being compliant will not result in a truly barrier free environment.
The president also noted ongoing and completed plans to increase accessibility around campus. On top of renovations to the outside of campus and the Chang school building, Lachemi says the school has working groups whose job is identifying areas where accessibility improvements are needed.
These groups highlight areas that classrooms and buildings need to improve upon such as automated door openers, height-adjustable desks and lecterns, interior ramps, and wheelchair-accessible seating.
Luu and Maria Varghese are also both working on plans to improve accessibility around campus through The Access Centre team. Their plans include running focus groups for new students to learn about accessibility around campus, and running a campus alerts style service for accessibility outages such as out-of-service elevators and blocked paths.