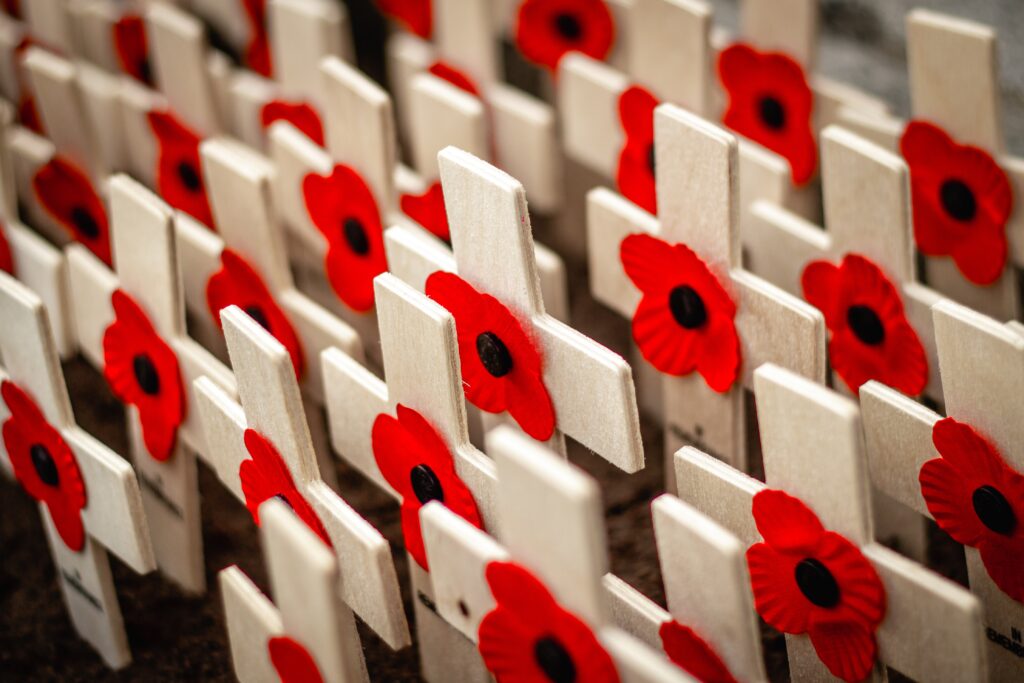 This Remembrance Day will mark the 100th anniversary of the remembrance poppy in Canada.
Worn above the hearts of Canadians, this symbol commemorates the heroism of soldiers who died serving in the First and Second World Wars, as well as those who serve in the Canadian Armed Forces.
This tradition is largely attributed to Anna Guérin, a woman who was inspired by Canadian poet John McCrae's 1915 war-time poem In Flanders Fields to sell red fabric poppies.
It was in "honour [of] veterans who lost their lives in the First World War and to help raise support funds to help others in the aftermath," according to a video by The Royal Canadian Legion. 
A French war widow, Guérin created a charity to help rebuild regions in France affected by war devastation.
Her poppy initiative was just one impactful factor of her work, which garnered the attention of several other widows in France and Britain who volunteered to make and distribute poppies in 1921.
According to the Royal British Legion, each poppy made in France had a small banner attached to it bearing the words, "Made by the Women and Children. The devastated areas of France."
With this initiative succeeding in France and Britain for several years, Guérin eventually travelled to Canada to share her work.
The Royal Canadian Legion soon endorsed the poppy as the "official symbol of remembrance" and purchased them from Guérin's charity until 1966, when it began commissioning national companies to create and distribute poppies, according to the No Stone Left Alone Memorial Foundation. 
"I'm happy the poppy has actually lasted this long in Canada as recognition for our veterans," said Mike Turner.
Turner is a veteran and the first vice-president and veteran service officer of the Royal Canadian Legion, Branch 11, in East York.
"I don't feel as if the Canadian population, especially the newer generation, really acknowledges the sacrifices that have been put on Canadians in the past for our freedoms." 
Turner said he hopes that Canadian schools can work towards including more education and recognition for veterans who served in the world wars, as well as those who have served, or currently serve, in the Canadian Armed Forces.
"There are several other conflicts that Canada has been a part of," he said. "I would like to see more education on that."
The Royal Canadian Legion expects to distribute approximately 20 million poppies this year through the annual National Poppy Campaign.
This campaign, facilitated individually by local branches of the legion, uses funds collected through poppy purchases to directly support veterans and their families.
This support includes funding for food, medical supplies, clothing and home repair grants to families in need, as well as accommodation for housing and care facilities, veteran education and more. 
A 2019 study from Veterans Affairs Canada (VAC) highlights a growing need to support veterans across the country.
The VAC created the Veterans Suicide Mortality Study as a part of a joint suicide prevention study with the Department of National Defence to observe the rates of suicide in Canadian veterans from 1976 to 2014.
The 2019 follow-up findings determined that the suicide risk among both male and female veterans in Canada is higher than the general Canadian population, citing veteran suicide as a "critical public health concern."
"Every veteran we lose is a profound tragedy and we need to continue to do everything we can to prevent veteran suicides," said Lawrence MacAulay, the minister of veterans affairs and associate minister of national defence, in a 2020 report from the VAC.
"As part of that effort, the Veteran Suicide Mortality Study is an important tool in helping us better understand the complex and tragic reality of suicide within the veteran community." 
Turner, who has experienced the loss of fellow veterans, highlights the importance of acknowledging this reality on Remembrance Day.
"A lot of people just think of [Remembrance Day] as a day to remember those who died in the past," said Turner. "For me, it's remembering those who I served with. Every single year I will lose a fellow veteran that I served with either because of age or cancer, or sometimes even PTSD and suicide." 
Doing one's part to help support veteran lives can start with the purchase of a poppy this 100th anniversary.
The Royal Canadian Legion's Poppy Campaign publishes a list of 2021 national partners featuring businesses across Canada that will offer poppies on site for purchase this month.