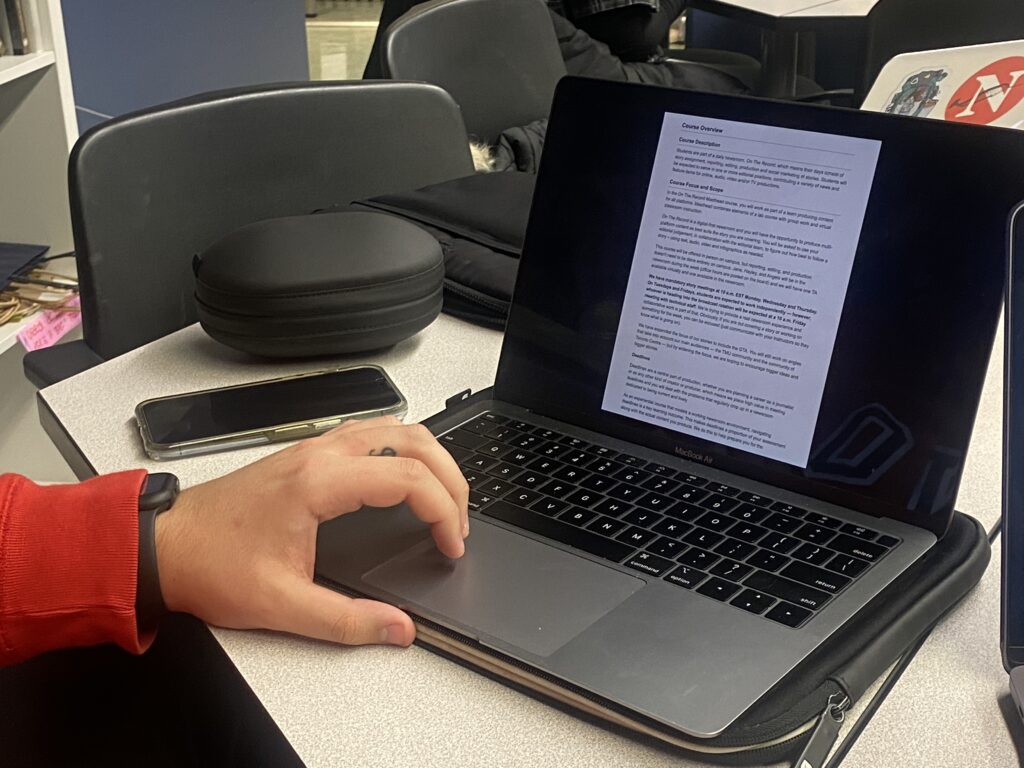 Listen to the story here:
Toronto Metropolitan University students say it makes it harder to prepare for a new semester when they don't receive access to course outlines until the first day of classes, adding that this is not a new problem.
Senate Policy 166, which was implemented in 2019, provides a framework for faculty on the content, delivery and objectives of the courses they teach. It says that instructors are not obligated to release course information to students until the start of each term. However, this prevents students from organizing their schedules, planning for work shifts, and makes it harder to shop around for cheaper textbook options before classes begin.
Mikhail Novokshonov, a third-year business technology management student, said he has experienced last-minute syllabus releases multiple times throughout his years at TMU, but this semester has been particularly disorganized. A professor wasn't assigned to one of his electives until a few days before the semester began, and one of his course shells for a different class was released with an outline from last year with incorrect due dates.
"I had no idea who my professor [was], and obviously because of that I wasn't in a D2L shell and I didn't get any info," Novokshonov explained.
While Novokshonov says this year has been more disorganized than previous years, waiting until the first day of classes to learn about course requirements and assignment schedules is nothing new.
"It is outlined in Policy 166 that nothing prohibits a faculty member from posting course outlines before a course starts," the TMU senate said via email. While there is nothing prohibiting it, there is also nothing in the policy encouraging faculty to release their syllabuses sooner.
Novokshonov said he recently discovered that he has the best learning outcomes when he can write down every assignment, due date and class time in a list, visualizing the months ahead.
"Because I can't see the right dates or I don't even have the D2L shell, I can't fill in that list. I can't externalize the assignments," he said.
Novokshonov added that not being able to organize his upcoming semester before it begins doesn't give him time to mentally prepare for the work to come.
"How much is the final worth? How many assignments are there? Is it group project heavy? What if I don't like group projects?" he asked.
This late syllabus release deadline is not unique to TMU, with Ontario universities like Western University and University of Ottawa following the same rules.
However, other schools across the province ask their faculty to ready their course outlines before the semester start date. McMaster University requires their instructors to release their outlines two weeks prior to the beginning of classes at the very latest.
"By having course outlines sooner than the start date of classes, students can properly prepare for courses by: having a period of time beforehand that can be dedicated to course preparation; from which they could make more informed decisions about acquiring additional resources," said Nathan Sugunalan, VP Education for the Toronto Metropolitan Students' Union, via email.
Having delayed access to syllabuses also means having late access to textbook requirements.
While it's possible to find cheaper textbook options online, students run the risk of missing reading deadlines due to shipping wait times when they can't order in advance. The quickest option is to buy from the TMU Campus Store, which has limited used copies of certain books at a 25 per cent discount.
In an email, the Canadian Union of Public Employees Local 3904 stated it "recommend[s] students wait for further information from their professors before purchasing course materials," but that universities should utilize online resources, like open educational tools, to lessen the financial and time burdens on students.