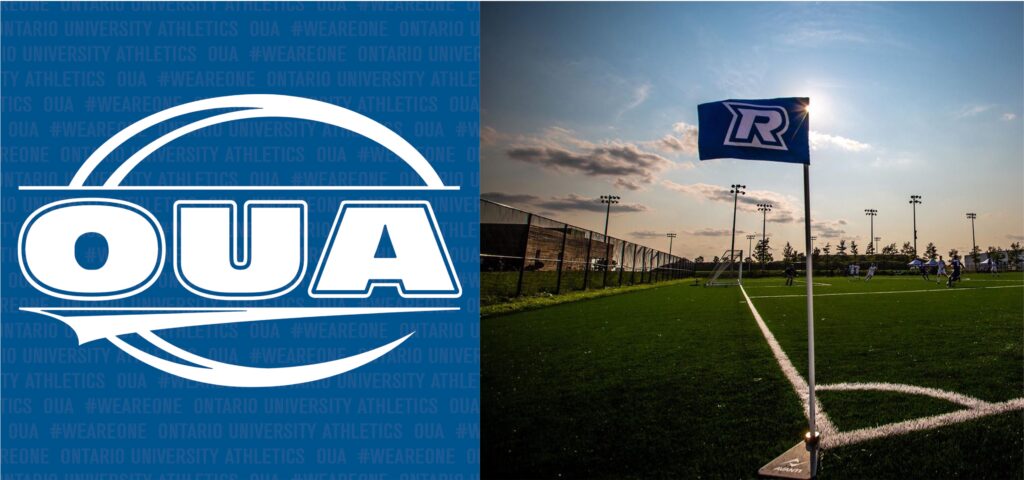 Over half of Ontario university student athletes and coaches are white, a recent anti-racism report on university athletics found.
The Joseph Report, which was released last Monday, found that 71.3 per cent of student athletes at Ontario universities are white, with 78.5 per cent of the province's coaches and 80.1 per cent of administrators also being white. The data is based on a survey that saw 45 per cent of its membership respond.
The report is led by and named after Janelle Joseph and is co-authored by Sabrina Razack and Braeden McKenzie who run the Indigeneity, Diaspora, Equity and Antiracism in Sport (IDEAS) lab at the University of Toronto.
Joseph partnered with Ontario University Athletics (OUA) to analyze diversity among Ontario universities.
In light of the report, Ryerson University's Athletics and Recreation (A&R) department will consider making additional changes to its hiring practices, recruitment strategies and department procedures, according to executive director Louise Cowin.
"We have already made adjustments and there are more to follow," Cowin said.
The A&R department is planning to discuss ways they can add upon its anti-racism action plan, which includes 44 goals that focus on addressing racial inequity within Ryerson University athletics programs.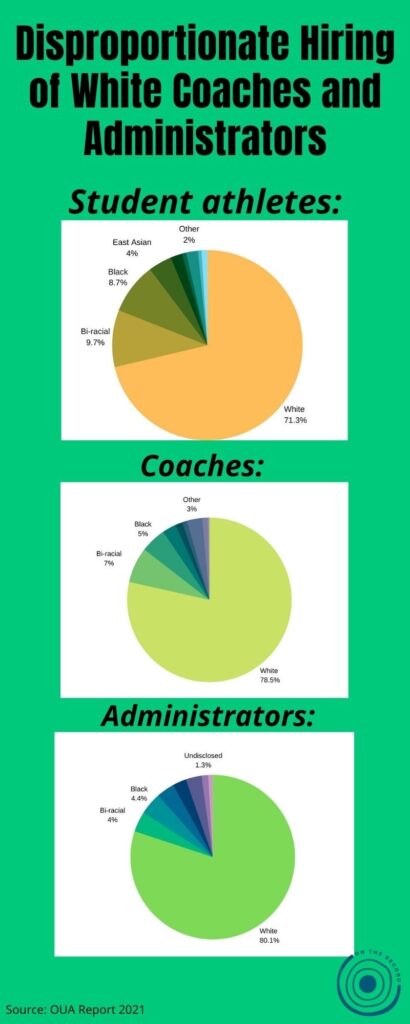 OUA is planning to directly work with universities on these issues. OUA president Gord Grace says it has not in the past.
"We don't have a policy because traditionally the OUA itself is not involved in direct HR hirings," said Grace.
"Our athlete department is part of the university environment, so there's centralized HR. We've had little role in the hiring practices of our universities but it appears, based on these recommendations, we're going to have to make some changes in that regard and look at the ability to support our members and implement changes in how they go about recruiting and hiring."
The OUA has not yet released details on specific changes that will be made.
"We got the report just a few weeks ago, so we haven't had the chance to get together with our members and brainstorm what [these changes] might be," Grace said.
Ryerson men's basketball assistant coach Jeremie Kayeye says the A&R department should also focus on creating a culture and standard of anti-racism at Ryerson.
Kayeye says elements of a strong anti-racism culture are already present at Ryerson. He says he feels the university has treated him equally to his white colleagues and that he himself hasn't been hurt by many of the facts outlined in the report.
"If it's part of the mission of a company, university or institution to build these things, I think it will be stronger than a rule because the culture will reflect that," said Kayeye. "A rule can be pushed on someone and you can find ways around it, but if you instill a culture of inclusion and make sure you find the very best candidates that you can, beyond colour, skin or creed, that will be more impactful than a rule."
However, the university still has to address the issues of recruiting practices and the underrepresentation of Black, Indigenous and people of colour (BIPOC) in head coaching and other leadership positions.
Ryerson did not provide On The Record with coaching demographic numbers and according to Cowin, hasn't collected data on the demographics of student athletes.
For Rams women's volleyball player Samantha Cyrille, BIPOC underrepresentation among athletes and staff is also a safety issue, especially when travelling to a predominantly white area or school.
"My first year, we went to nationals in Alberta. Myself and the other Black girl on the team heard a couple of racial slurs being thrown around in the crowd," Cyrille said. "That was a bit uncomfortable for me and made me question if this is where I should be," Cyrille said.
Cyrille says the casual comments made throughout her time as a Rams athlete were subtle or second-hand racist comments.
"It's not just about having different skin, it's also about having different hair. A lot of times at games people will tell me they love my hair, then they'll grab it or touch it and I don't know who they are. It's definitely a bit nerve-racking at times."
Cyrille says communicating these issues to Black, Indigenous and people of colour is easier because they have more experience with these issues and can relate easier.
Looking at the future of BIPOC staff and athletes, the report recommends mandatory anti-racism policy within the OUA, with a focus on establishing more of an effort to increase representation and recruiting more racialized people into the association.
"Recruiting racialized athletes will require some coaches to break well-established patterns of recruitment and spark new relationships with coaches, parents and athletes," the report reads.
The OUA will continue to work on changing its policies and creating substantial support for marginalized athletes, such as the bursary program for Black and Indigenous students introduced in September.
"We've created a policy that allows for more financial support to Black and Indigenous students through the Black and Indigneous heritage bursaries that were approved in the fall, that allows more funding to go to Black and Indigenous students," Grace said.