Maria Guardado believes her appeal process was improperly conducted.
A student who was disqualified from running for president of the Ryerson Students' Union says the appeals process that could have let her back in the race was handled unfairly.
She says false evidence was used against her and that her disability wasn't taken into account during her hearing last weekend before the RSU election appeals committee.
Maria Guardado, a third-year politics and governance student, wanted to be on the ballot for the student union election – which wrapped up Friday – as an independent candidate for president.
The RSU's election appeals committee (EAC) voted unanimously to reject Guardado's disqualification appeal when it met last Sunday.
"I just want an apology," she said.
According to sources familiar with Sunday's hearings, Guardado's appeal was the quickest decision of the four cases that evening. Of the four appellants, Guardado was the only candidate disqualified for more than one reason. Her defence only partially addressed the evidence laid out against her.
"The evidence against her was pretty damning," Sam Rowan recalled. Rowan was one of the five students comprising the EAC. But following Sunday's hearings, Rowan resigned from the committee. He said that while the evidence against Guardado was solid, she deserved a new appeal hearing.
---
The EAC is a private group of Ryerson students selected to monitor candidates and penalize those that break RSU bylaws or campaign rules. This group is headed by the Chief Returning Officer (CRO) and Deputy Returning Officer (DRO), paid employees hired by the RSU. This year's CRO is Jenna Rose, a real estate sales representative for Keller Williams Realty; the DRO is Rafay Malik, a project manager for TI Group.
On Saturday night, Rose disqualified Guardado on two separate charges – repeatedly turning her camera off during the mandatory information meeting for all candidates, and for having an existing Instagram account that appeared to be used for campaigning.
Guardado believed she had legitimate grounds to challenge both charges and so she requested an appeal. Her hearing was scheduled for the next day.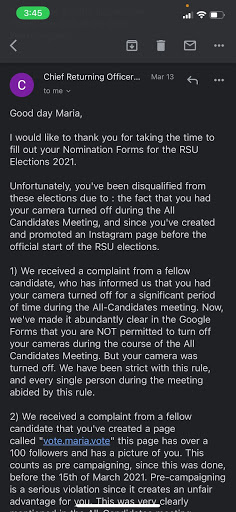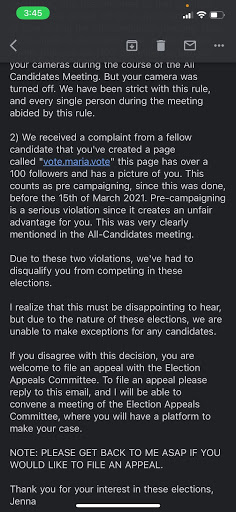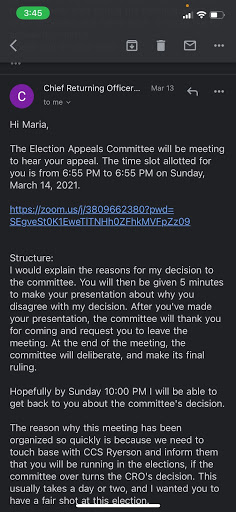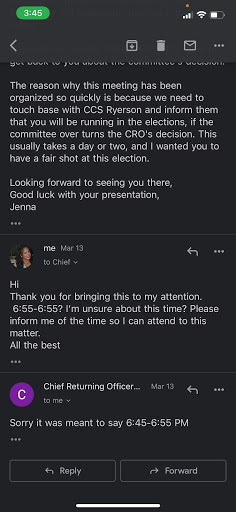 Heading into her appeal the next day, Guardado says she felt more than prepared. "I'm ready to go. I have my notes. I get there," she recalled, "and then (the CRO) hits me with this new evidence." The new evidence, which Guardado had not been aware of prior to the meeting, was a series of screenshots of Facebook messages between Guardado and an individual named Kamron Kam. The messages were cropped, but clearly depicted Guardado telling Kam to vote for her in the upcoming election.
Guardado says she felt blindsided when that evidence was presented at the appeal. "[The CRO] didn't even give me a warning."
---
Multiple people familiar with Guardado's appeal assert that Rose never provided specific information in the hearing about how the private messages were obtained. Following the hearing, Rose outlined in an email to Guardado that "we got an email with those screenshots, and we had no option but to include them in the package."
Despite multiple attempts at communication, Rose has not commented on the matter to the Ryersonian.
Following her failed appeal, Guardado sent copies of the complete conversations between her and Kamron Kam to both the Rose and the Ryersonian. "[He] was snapping me for like a year straight. Once I blocked him off Snapchat, he went to Facebook," Guardado said.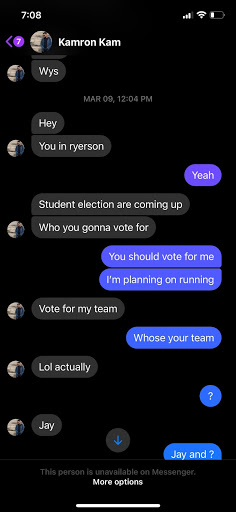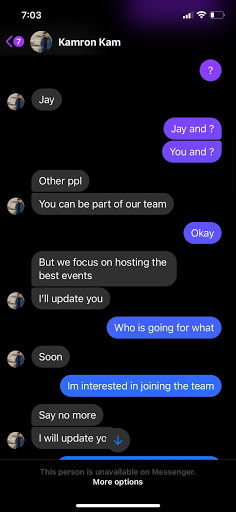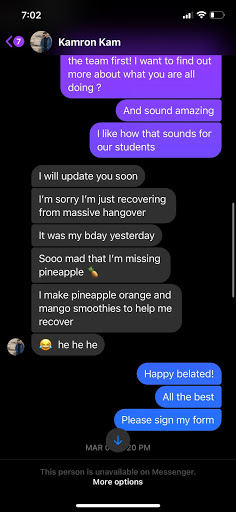 The full screenshots illustrated that Kam had messaged her over Facebook many times over the past year, and initiated the March 9 conversation that was used as evidence against Guardado.
Following that interaction, Kam blocked and removed Guardado on all his social media platforms. Sources familiar with Guardado's appeal assert that the opening portion of the conversation was not presented at the hearing.
No one named Kamron Kam is running in the RSU elections; it is unclear if Kam is even a Ryerson student. The Ryersonian attempted to reach out to Kam via Instagram. Despite his Instagram handle appearing in the Facebook account's bio, which would suggest the account was his, Kamron Kam denied that it was him in the Facebook messages. Either someone was impersonating Kam, or it was him and his claim is false. In either case, it raises questions about the validity of the screenshots used against Guardado and about whether the CRO knew they were potentially introducing incomplete evidence.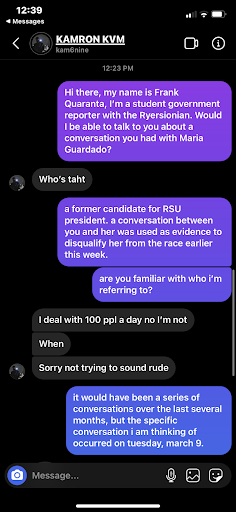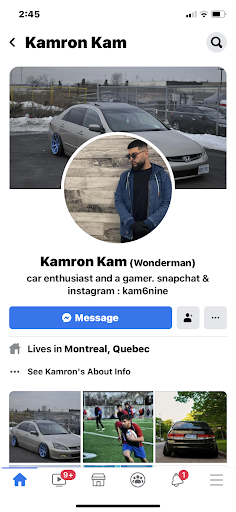 ---
Guardado did not have any of this information about Kam with her during the appeal. She had no way of knowing the conversation was going to be used against her, and says that when she was presented with the evidence, she was thrown off.
But at the appeal meeting she did contest the other charge, that she had turned off her camera during the information meeting.
"She stated that she didn't think the camera rule was fair," former EAC member Rowan explained. "She had to use the bathroom and she had to answer the door. But then she stated that she had a disability, and that the room was making her unsafe."
Years ago, Guardado was involved in an accident that resulted in a traumatic brain injury. Guardado still deals with that injury today and is registered as a student with disabilities through Ryerson University. Sources familiar with the proceedings confirm that the EAC had not received any training to deal with disabilities, or any training at all.
Following Guardado's brief defence, the EAC convened to vote on her appeal. Sources familiar with the proceedings assert that there was not much debate as to how they would vote. After assessing the camera incident, there was unanimous agreement that Guardado had broken the rules. Rowan says he asked whether it was fair to Guardado that they continued with her hearing despite her disability. Sources familiar with the proceedings assert that much of the subsequent conversation focused on the validity of Guardado's disability.
Several hours after Guardado's appeal, she finally heard back from the CRO. Guardado's appeal had been rejected. The CRO explained to Guardado that the Facebook messages "had no option but to be included," and that Guardado had to have provided documentation of her disability prior to the candidate information meeting, which was conducted on Friday, March 12.
Guardado says she is upset by the results of the appeal, but is not deterred. Asked prior to the election —voting took place Wednesday to Friday this week — if she hoped to get a new hearing from the EAC, Guardado said: "I don't care; I don't need a retrial. I just want some decency and an apology."