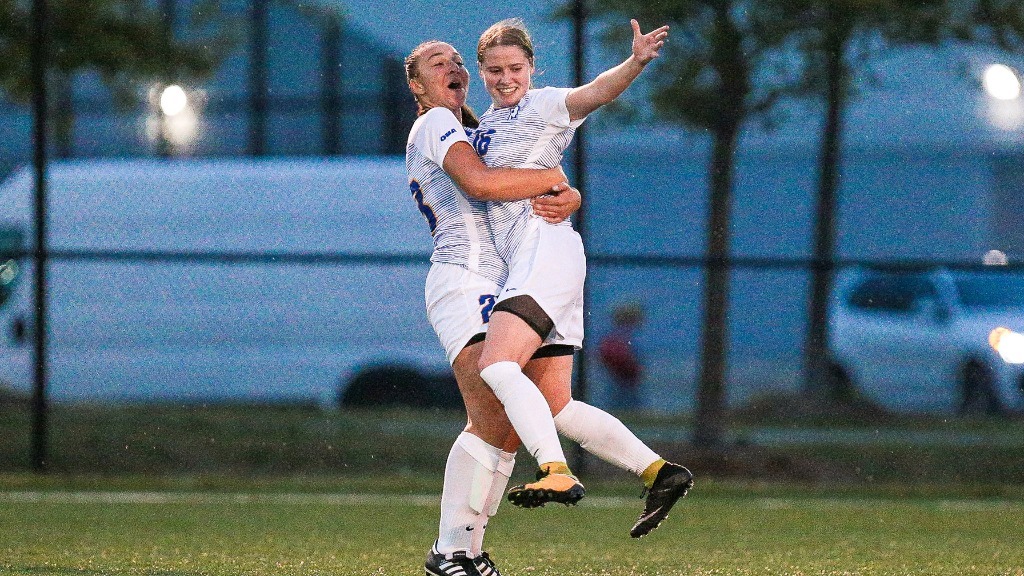 The Rams women's soccer team is ready to embark on its 34th season of play after being sidelined for almost two years due to the COVID-19 pandemic.
During its last season of play in 2019, the team went 5-6-3 in the regular season. The team had a stout defence under the second season of Natalie Bukovec's coaching, allowing the lowest number of goals in its history, at 18.
After beating the Nippising Lakers in the first round in a thrilling game that came down to penalty kicks, the team lost 5-0 to the University of Ottawa Gee-Gees in the quarterfinals — the furthest the team has ever made it in its history.
Since then, players have been following workout schedules sent to them by the team — although some have taken their own initiative to try to stay in shape and improve. Third-year midfielder Brooke Pearson, for example, went on runs; while second-year forward Shea Jeffery-Novak started doing CrossFit this year for strength training.
"It's kind of like taking accountability for your own health. If you want to be a good player, then you have to take accountability for your fitness," said Jeffery-Novak.
She wasn't a part of the team, but had begun training with the Rams in February 2020, just before COVID shut everything down. She then trained on her own and was offered a spot.
Before coming to Ryerson, Jeffery-Novak had played for both Western Michigan University and Dalhousie University, where she scored three goals in 10 games with the Tigers. Playing for the Rams, she's finally back home in Toronto.
She credits the easy adjustment to her teammates and the culture the Rams have created. Fourth-year midfielder Christiana Daniel in particular has been a friend to Jefferey-Novak, saying that they relate to each other on multiple levels outside of soccer.
Since the last Rams game, nine players have graduated from Ryerson. From there, the team has added 12 players, in addition to some who were on the team but didn't play last season, adding another rookie class to the roster.
Third-year midfielder Brooke Pearson says she has been impressed by what she's seen out of the new players so far.
"We definitely have lots of good players, either players who are going to develop over time and be good in their senior years, or players who are even ready to go this season," Pearson said. "It's always impressive to see people come out of high school and just be able to hop onto the first starting lineup like that."
Pearson had an impressive second season, leading the team with five goals in 13 games. She was named OUA East Second-Team All-Star that season.
"There's definitely that pressure to perform equally as good as two years ago and hopefully as a team get to the playoffs," Pearson said. "I'm trying to absorb that pressure and just go in with a clear head because I know I'm not the same person I was two years ago."
This season, due to the OUA's adjusted structures plan as a result of the pandemic, the Rams are moving over to the Central Division in the OUA after competing in the East Division for 14 years.
The schedule has also been shortened, to 10 games this year from 14. Teams will follow a home and away schedule; they'll play each opponent in a two-game series, taking turns hosting on their home pitch.
To begin their season, the Rams will face the University of Toronto Varsity Blues on Sept. 25 at Varsity Stadium, and then will play their first home game at Downsview Park the following weekend. Ryerson Athletics is permitting fans for that game.
The women's team has never won a game against the Varsity Blues, losing 22 games over a 14-year stretch. Their last game against them led to a 1-1 tie, one of seven draws they've managed against U of T over that time. The Varsity Blues are ranked as the 10th-best women's soccer team in the country by U SPORTS.
Other opponents on their schedule include familiar foes in the Nipissing Lakers and the Laurentian Voyageurs, as well as the McMaster Marauders and Algoma Thunderbirds. The Rams women's soccer team has never played Algoma in its history, and has not played McMaster since 2012.
The team's goal for the game against the Varsity Blues is simple: win.
"Both teams have lost seniors and good players, and both teams have gained good players so we just have to go in with a good mentality and forget that we always lose to them," said Pearson. She says on-ball aggressiveness will be key.
Jeffery-Novak says that the team needs to set the bar high with this win.
"We're tired of being embarrassed and just walking in there with this kind of underdog attitude. We're tired of teams thinking that we're kind of not great. The expectation is to go out there and just give everything that we have."
Donald Higney was the Co-Sports Editor & Reporter of On The Record News for the Fall 2021 semester.