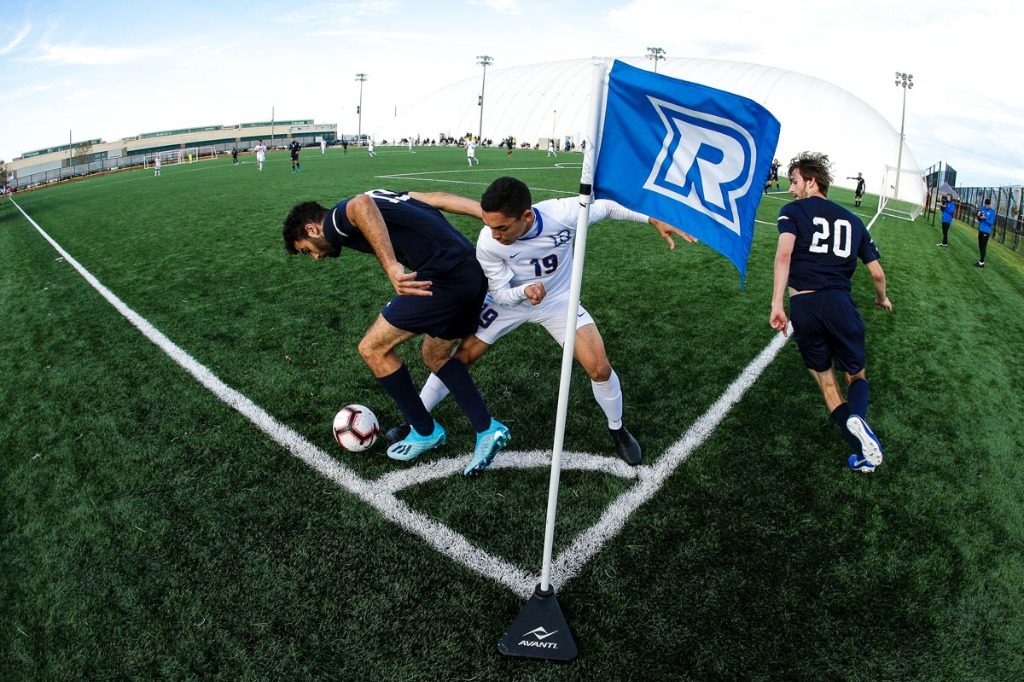 On Sept. 25, the Rams men's soccer team will kick off its season with a game against local rivals, the University of Toronto Varsity Blues at Varsity Stadium. After a lost season in 2020 due to COVID-19, the team will be looking to get off on the right foot.
Captain and fifth-year veteran Abdallah EL-Chanti said this is the biggest derby in Ontario University Athletics (OUA). "The battle of The Six is what we call it. Both teams have been rivals for so long."
The Varsity Blues ended the Rams season in 2019 during the OUA playoffs, beating them 3-1 and keeping them out of the final four for the first time since 2012. EL-Chanti scored the team's only goal in the 67th minute.
EL-Chanti said the Rams will try to keep it simple for the first 10 minutes before putting pressure on the Varsity Blues.
"We haven't played an OUA game in nearly two years," said EL-Chanti. "So we'll try to settle in and then take it to them. We always take it to the other team. We'll attack, we will high-press them and we want to score early."
As confident as the team is, they haven't had their normal pre-season. Normally the team would have a week-long training camp retreat before the season begins, travelling within Ontario or even to Montreal. This year they weren't able to because of the pandemic. Instead they practised at Downsview Park, but even that was hampered by players carrying persistent injuries.
Head coach Filip Prostran said the team is navigating this season with ease despite the differences brought on by COVID-19, and that everyone is happy to have some semblance of an athletic routine.
Despite this, training has been a little tough leading up to the season opener. "As much as you want to be eager and go right away, you have to be mindful that some guys are at different points physically," said Prostran. "Some guys have trained a lot, some guys not at all. Some haven't seen a ball in a long time."
Even with difficulties in the pre-season, the team still has very high expectations. Due to travelling and safety restrictions, the Rams have only 10 regular season games this year, much shorter than previous year's 14 games. They will play University of Toronto, Nipissing, Algoma, Laurentian and McMaster this season, all twice in a row.
With the exception of their games against Algoma in Sault Ste. Marie, all games will be home and away splits, with each team playing one game on their home soil.
"The season is compounded this year," Prostran said. "The most important thing is to build on the principles we've put forward through the team. In a perfect world we're growing from game one onwards."
Fifth-year goalkeeper Praveen Ahilan said the goal for Rams soccer is always winning the OUA and going to nationals. The team is young, having lost two graduating classes since they last played, but they've added 11 players over the last two recruiting classes.
A rivalry game will be a tough challenge for the team, but a good preview of the season to come. "We did lose a couple veterans. We've been playing exhibition games throughout the summer and pre-season," says Ahilan. "I think we're pretty prepared."
First-year centre-back Thomas Maccarone thinks that squad depth will play a larger role this season. "The intensity is at the right level and it's just a matter of everyone being able to step up. Injuries will play a big role this season."
Maccarone is one of five new additions to the team from the 2021 recruiting class. Three of them — including Maccarone — played soccer with the North Toronto Nitros, which won the U18 Ontario Indoor Cup championship last year.
The Rams are coming into the season opener feeling prepared, but this season is set up to be gruelling.
"Over the past decade, we've been fortunate enough to be amongst the best teams in the country," said Prostran. He said their goal is to build on where they left off nearly two years ago.