With masks and single-use plastics being used every day, it's no wonder people are using 250 to 300 per cent more plastic
COVID-19 has caused an increase in plastic pollution in Canada — an issue that will have negative environmental implications if not fixed.
Over a third of the plastic used by Canadians comes from single-use plastics. But that number has increased along with the demand for personal protective equipment (PPE), according to the International Institution for Sustainable Development.
The International Solid Waste Association found that people are using 250 to 300 per cent more single-use plastics because of the pandemic, CBC reported.
Canadians throw away approximately 3.3 tonnes of plastic yearly, but according to a report conducted by Environment and Climate Change Canada, only nine per cent of that is properly recycled.
Prior to the pandemic, the federal government was seeking to put a ban on single-use plastic such as plastic bags and straws that — once disposed of — can cause harmful effects to the environment and wildlife. But since the start of COVID-19, the CBC reports that the ban has been delayed.
Studies have shown that because of lockdowns and less travelling in Canada carbon emissions have declined and air quality has improved, but the federal government predicted that 63,000 tons of PPE could end up as waste.
Plastic pollution in Canada has been an issue for years. The majority of plastics end up in landfills, according to Environmental Defence. A study conducted in 2020 suggests that improper disposal of facemasks could lead to microplastics — tiny plastic particles that result from the breakdown of larger plastics.
Microplastics, like other plastics, do not decompose. They're often so small, National Geographic says, that they are consumed by wildlife and even appear like sand on the beaches.
The effect does not stop at wildlife and the environment. Studies have shown that microplastics are now being seen in placentas — though the effect this might have on fertility and birth is not yet known. A study published in the International Journal of Environmental Research and Public Health found evidence of microplastics affecting male fertility and sperm quality.
"Plastic pollution is damaging to wildlife and we know that the more plastics there are, the more microplastics we are going to have and that ends up in our water and our food chain. We all have plastics inside of us," said Jan Vanderwal, a member of the Toronto-based group StopPlastics, an organization within the Toronto Climate Action Network.
"The other issue is that plastic is produced by oils and all of the environmental issues that happen as a result of the production of plastics."
There is a lack of education around plastic pollution, said Vanderwal.
"Lots of people can't figure out what to do with their garbage or their compost without the use of plastics," she said. "People are more reluctant and afraid to pick up litter, I picked up a dirty mask off my front lawn and my neighbour said 'You shouldn't be doing that.'"
Jay Scott, another member of StopPlastics, also noted "reports of entanglement in ocean creatures getting caught up in the ear loops of face masks and ingesting them."
"It is so pervasive," she said. "You see some of the pictures of people who live in warmer climates are fishing in a sea of plastic."
Are there proper PPE disposal methods?
Since the start of the pandemic, the proper disposal of PPE has been confusing to many. Both Scott and Vanderwal said that they don't know how and that it hasn't been addressed.
"Hospital waste and PPE needs to be sterilized before disposal and I just don't know if any of the plastic can be recycled or if it goes to landfill," said Vanderwal. "The burden is so high right now that time and energy are not going to… dealing with PPE. It is unfortunately one of the issues around the pandemic."
Caitlin Perry, program manager of Circular Innovation Council, formerly the Recycling Council of Ontario, agreed there has not been adequate information regarding PPE disposal.
"There are not currently any widespread recovery options for PPE," said Perry, who attributed it to two reasons. First, masks contain multiple materials, she said, "and the plastics that they are made out of, there is no market for them for recycling and for sanitary reasons. They just get incinerated or landfilled."
In Toronto, around 180,000 tons of recycling goes through the Blue Bin program but 30 per cent (54,000 tons) goes into the landfill due to contamination, according to Global News. The City of Toronto says one of the top litter items is PPE. 
A GreenPeace Canada report suggests that the federal government's objective to have at least 50 per cent recycled content by 2030 is off-base. The best case scenario the report suggests is that Canada is only equipped to recycle less than 17 per cent of the total plastic waste produced annually.
"As a starting point the government should be educating people about the causes, the harms and the alternatives for plastic waste," said Vanderwal. "I think that people will not change behaviour until a full ban is complete."
Vanderwal said more is required at the city level, too.
"They need more people picking up litter," she said. "If there is less litter then people are less likely to litter, all three levels of government need to step up to the plate. The Ford government needs to embrace the federal plan to deal with this issue and not fight it. "
It's not just PPE
It is not only PPE that is affecting a surge in plastic pollution, it is also online ordering and takeout which have increased as a result of stay at home orders.
Oceana, a non-profit organization that focuses on preserving ocean life, found that in 2019, Amazon produced enough plastic waste to circle the Earth 500 times. This means that plastic packaging is polluting oceans almost every 70 minutes.
Although Amazon says that most of their plastic packaging is recyclable, Oceana suggests that it is not. Oceana estimated that Canada had 44.5 million kilograms of e-commerce plastic waste in 2019. Among that was 21.3 million kilograms in packaging waste from Amazon.
Plastic bubble wrap packaging is not accepted in the recycling program, according to the City of Toronto, though there is no information as to where packaging air pillows can be disposed. According to the Oceana report, many cities in Canada still do not accept them as recyclable.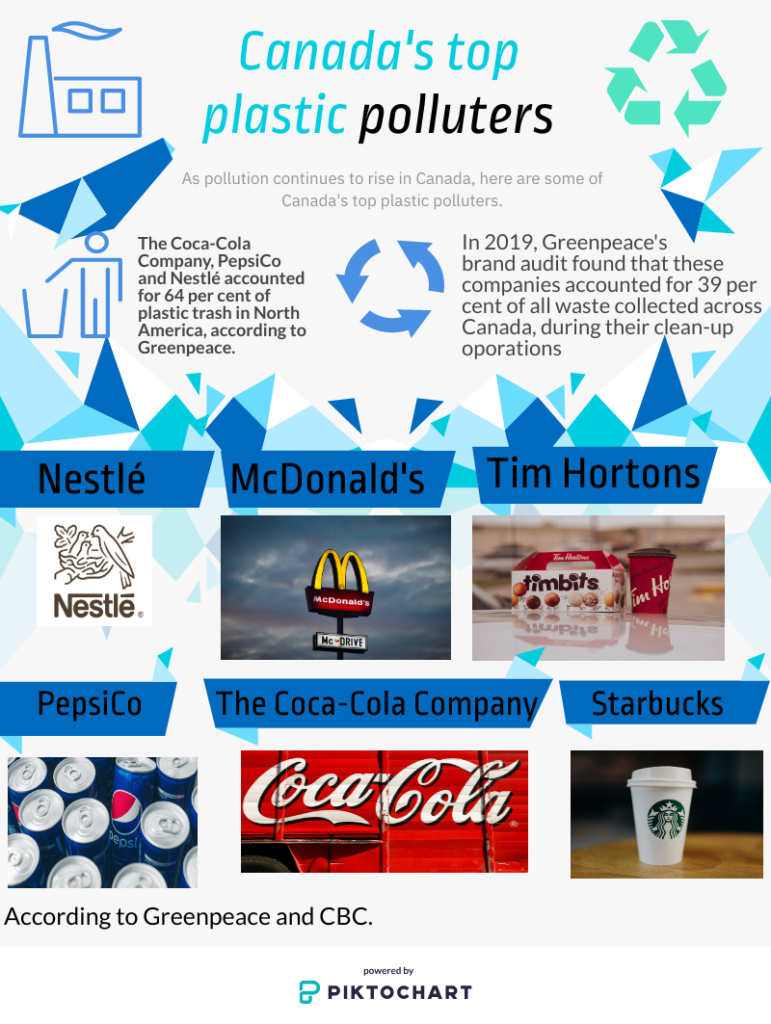 What's next?
If changes are not made quickly to reduce plastics, Get Green Now, an environmental blog, says that by 2050 there will be more plastic in the water than fish.
"A major opportunity for taking action against plastics would be through extended producer responsibility, which is a policy that holds the producer of plastics more responsible," said Perry.
Currently plastic waste is a shared responsibility between municipalities and producers but Perry said to combat the issue there needs to be full producer responsibility.
"There should be carbon taxes on big polluters and they should mandate that plastic manufacturers be responsible for the plastics they use and produce," said Vanderwal. "There is a great psychological strain and stress on people who care, for people like me and the others involved in plastic… seeing litter all over the ground is stressful."
If plastic pollution is not addressed we will lose a lot of species, said Scott. "It is unacceptable that our lifestyle and our desires and ignorance and classlessness and lack of care could lead us to this point."
Innovations Solutions Canada announced in November that they would award up to $2.6 million in grants to those who can successfully create compostable disposable masks and respirators or recycling technologies for disposal of PPE.
In February, FP Innovations, a Canadian research and medical centre announced that the world's first biodegradable and eco-friendly non-medical face masks are ready for production.
"We have a responsibility to the environment and to protect it.  It is what sustains us and instead we are trashing it," said Scott. "If we are not careful, we won't have a planet left to worry about."