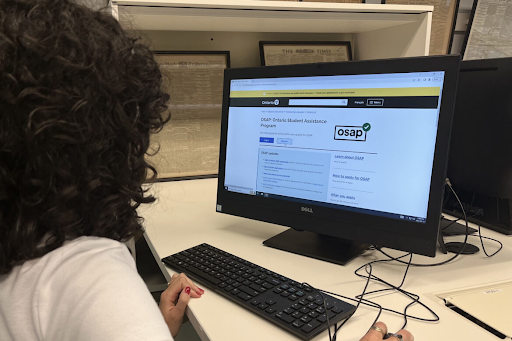 Listen to the story here:
Some students eligible for OSAP have experienced delays in receiving their funding due to administrative issues over the winter break.
Universities and colleges are required to confirm student enrolments in order for OSAP funding to be released by the provincial government, according to an email statement from the Ministries of Universities and Colleges. Once student enrolments are processed, the money is sent by the National Student Loans Service Centre (NSLSC) within five to 10 business days.

Toronto Metropolitan University did not confirm enrolment for its students over the winter break. Over email, TMU president Mohamed Lachemi said this was due to a system database error and computing and communication services are currently working with the vendor to resolve the issue.
"We apologize…We are working to address this urgently," he said.
According to the email, there are about 20,000 students who need their enrolment confirmed; the process of doing that began when the university re-opened after winter break.
On Jan. 19, about 1,000 confirmations of enrolment were reportedly delayed. As of Jan. 27, most have been processed, according to a TMU spokesperson.
If a student didn't receive OSAP due to delays by Jan. 27, the tuition fee deadline, the university "has a flexible approach to ensure they are not penalized," Lachemi said.
Students unable to pay rent in a 'really, really stressful situation'
Students say they were forced to find other resources and dip into their savings to make up for the delay in funding.
"It was really inconvenient because I got disability funding from OSAP. So a portion of it goes to pay my rent," said Eniola Bibiresanmi, a fourth-year occupational health and safety student.
They also said the school's lack of communication has caused a "really, really stressful situation" for them.
Fourth-year hospitality and tourism management student Ellie Ferrer said she relies on OSAP for groceries, internet bills and other expenses.
"I work part-time. I don't have a lot of money," Ferrer said. "I owe about $4,000-$5,000. That's pretty much my savings right now."
Reilly Misener, a third-year student in the nursing program, said the delay in funds meant not being able to pay rent on time. "My landlord was trying to ask me, 'Where is the money?'"
He said he hoped he could get a letter from the school to prove to his landlord that the delay in OSAP funding was TMU's fault.
But ServiceHub was not able to provide a statement for him or a clear reasoning for the delay.
TMU students also took to Reddit to express their frustration with the delays. Some say they received a notification about their funding being released from NSLSC, yet they hadn't received their transfers.
Other users posted in York University and Mohawk College subreddits sharing similar concern around enrolment confirmation for OSAP funding as well.
Lack of response
"In cases where funding is delayed, applicants are advised to…contact their institutions' financial aid offices for further assistance," a spokesperson from the Ministries of Universities and Colleges said in an email statement.
Bibiresanmi said multiple calls to ServiceHub were no help and they were told the school was simply working on confirming enrolments.
"If you can't confirm enrolment before the month starts, I think you should just tell people that instead of leaving everyone in the dark about what's going on."