Province is not considering another lockdown, despite increasing measures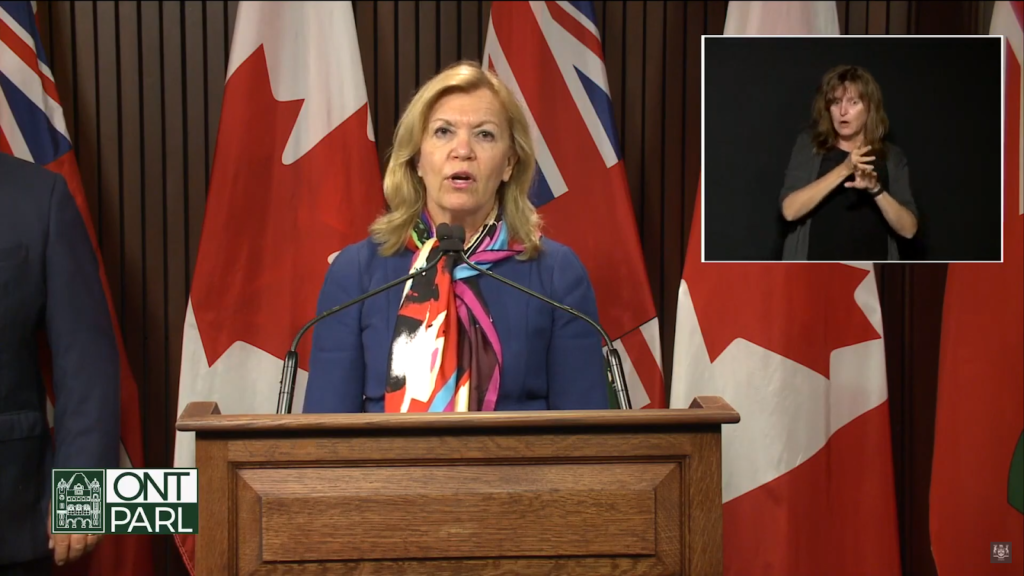 The Ontario government will invest more than $1 billion to expand COVID-19 testing and contact tracing in the province.
The province plans to use the investment to significantly expand testing capacities, access to tests, test options and reduce test wait times. The province also committed to providing test results to Ontarians as quickly as possible and will hire more case managers to help identify potential cases faster, Minister of Health Christine Elliott said. 
"Our government is taking the important necessary steps to continue to protect the safety and well-being of all Ontarians," Elliott said. "Our Keeping Ontarians Safe plan is an important step forward in our efforts to protect Ontarians from future waves of COVID-19, and to explain to Ontarians how we're going to do it."
Elliott said the province is also investing $30 million to prevent outbreaks in priority sectors. These sectors include schools, universities and correctional facilities. Emergency Management Ontario developed an outbreak guidance toolkit to plan strong responses to COVID-19 outbreaks across all sectors.
Virtual simulation exercises will be used to stress-test outbreak response protocols across the province. Additional scenario planning exercises will focus on Indigenous communities, long-term care homes and retirement homes. 
The Ontario government also released new guidelines, effective immediately, for COVID-19 assessment centres to the public ahead of Thursday's press conference. The new guidelines focus on testing symptomatic people and those who have been exposed to COVID-19. Residents should only seek testing at assessment centres if they are showing COVID-19 symptoms, have been exposed to a confirmed case of the virus or are a resident or worker in a setting that has an outbreak. Residents must also be eligible for testing as part of a "targeted testing initiative" by the Ministry of Health or the Ministry of Long-Term Care.
"As the trajectory of the COVID-19 pandemic has changed, the province must also adapt its approach to testing," Dr. Barbara Yaffe, Ontario's associate chief medical officer of health, wrote in the guidelines. "With the upcoming flu and cold season approaching, we need to ensure Ontario's publicly-funded testing resources are available for those who need them the most, such as school children and others with symptoms of COVID-19."
The government is also against the idea of moving the province back into stage-two lockdown, which would further limit social gatherings and prohibit dining inside restaurants, among other restrictions. When asked about a potential lockdown, Premier Doug Ford said it would have "significant economic repercussions."
"If I get advice from the chief medical officer in the health table that we got to go back to stage two, then I'm listening to the health experts," Ford said. "We're doing all of these measures to make sure we can keep the economy moving forward. We aren't at that point right now, but again, everything's on the table." 
Thursday's press conference is part of a series of announcements regarding the province's fall preparedness plan, which has been unveiled daily since Tuesday. The rest of the plan will be announced over the next few days.