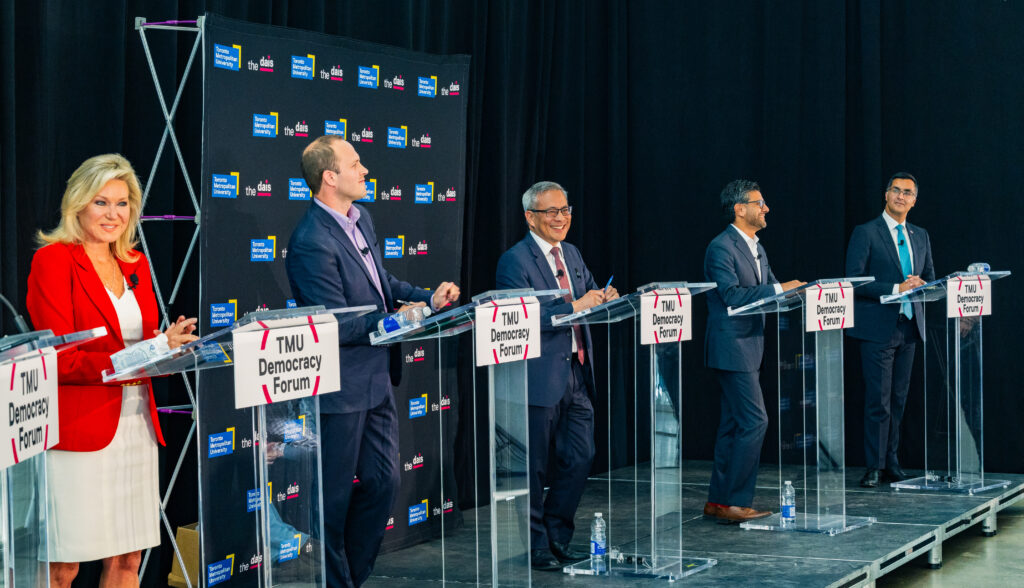 Listen to the article below
Five candidates squared off Wednesday in the second of six scheduled debates that might help decide the new leader of the Liberal Party of Ontario.
Bonnie Crombie, Nathaniel Erskine-Smith, Ted Hsu, Yasir Naqvi, and Dr. Adil Shamji sparred on issues of inflation, healthcare, the environment, and housing, however, when it came to Doug Ford, everyone was in agreement.
"Bring him down," said Erskine-Smith, a message echoed by Crombie who added, "bring on 2026."
While the first debate on Sept. 14 in Thunder Bay saw candidates taking aim at Crombie's roving stance on the Greenbelt land swaps, today the candidates were united in their goal.
"I will work with anyone," said Dr. Shamji, "who will work with me to take down Doug Ford."
Martin Regg Cohn of the Toronto Star moderated the packed debate hosted by TMU's Democracy Forum, encouraging "rambunctious" discourse from the participants.
The candidates are seeking the party leadership after former leader Stephen Del Duca stepped down in June.
Del Duca failed to win his riding (Vaughan-Woodbridge) in 2022, in an election where the Progressive Conservatives easily cruised to a majority, with liberal candidates winning just eight seats.
It was the second election in a row that the Liberals failed to make any significant gains after the party lost control of the legislature in 2018 when they won seven seats.
For two TMU students in attendance, Sydney Widenmaier and Kara Nguyen, minimum wage and the affordability of housing and education were of chief importance.
"I'm in school full time and I work part-time," said Nguyen, "so I'm grateful those issues were addressed in the debate."
When it came to the cost of tuition, Naqvi emphasized the need to invest in education while Erskine-Smith pointed to the "financial exploitation" of international students.
For TMU law student Lila Mansour, the candidates' answers left something to be desired.
"There isn't enough focus on us young people, people who are struggling, and minimum wage workers," said Mansour. "I still haven't heard enough concrete solutions."
Candidates will have another opportunity to flesh out their platforms on Oct. 1 at the next debate in Stratford.
Party members will cast ranked ballots on the weekend of Nov. 25, with votes counted and a winner declared on Dec. 2.