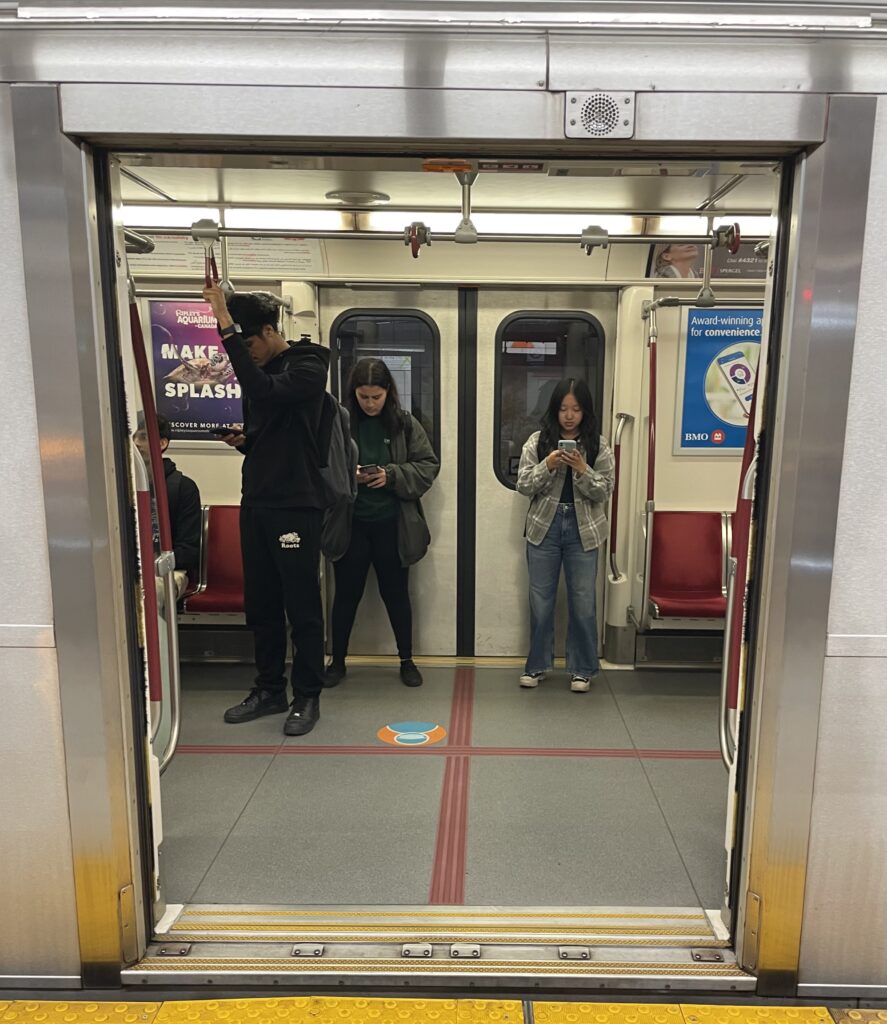 Starting Oct. 3, TTC riders will get cellphone service at select subway stations, and the "Downtown U" portion of Line 1 south of Bloor Street, regardless of their provider.
"Service will need to be in place for 80 per cent of tunnels within two years, and full system coverage by the end of 2026," as reported by Global News.
While all riders can currently call 911, until recently, the only commuters with cellular service underground were those using Freedom Mobile.
Rogers purchased BAI Communications in April 2023, which owned the rights to the wireless network in the TTC. They then installed their own 5G wireless equipment. Since August, their customers have had access to their 5G network, including texting and non-emergency calls.
"Right now, if you're a Rogers customer, you have full 5G service… You have that service in the tunnels and stations in the 'downtown U' as well as a number of stations on Line 2," said Stuart Green, senior communications advisor at the TTC.
This access to service expands on Oct. 3, following a push from the federal government.
Last week, Francois-Philippe Champagne, the Federal Minister of Innovation, Science, and Industry announced new licence conditions for mobile carriers. These conditions require Rogers to work with other telecom companies, like Bell and Telus, providing them access to the infrastructure needed to enable subway cell service.
In a statement reported by CBC, Jacqueline Michelis, a spokesperson for Bell said, "With the federal government now forcing Rogers to finally work with other carriers, we look forward to providing our customers with underground wireless coverage in the coming weeks."
Klea Pinari, a TMU student and commuter from Scarborough, is looking forward to the upcoming change.
"I think it'll make things a lot better. Because, you know, (sometimes) I need to do work on the TTC. It's a whole hour of me just sitting there. I'd like to have access to speaking to people, doing work, doing whatever I need to do," Pinari said.
While Champagne framed the change as a measure enhancing public safety, not everyone agrees.
"You can be distracted and you don't know who's coming behind you or coming towards you," said Jasleen Masson, a TMU student.
Sana Shah, another TMU student, agreed. "People are going to be on their phones, preoccupied," said Shah.
Despite some concerns about distracted commuters, students agree the increased service will provide a sense of reassurance.
"Especially when you're a woman and you're commuting an hour every day… It's really scary. And it's really good to know that I'm going to have cell service so I can talk to people," said Pinari.
Although the change is set to happen for only select stations in this phase, eventually, subway goers will have the same quality of service across all subway lines according to Green.
"One of the conditions the federal government has made is that every carrier needs to be onboarded within three years. So eventually, everybody will have the same kind of service you would have if you were above ground," said Green.