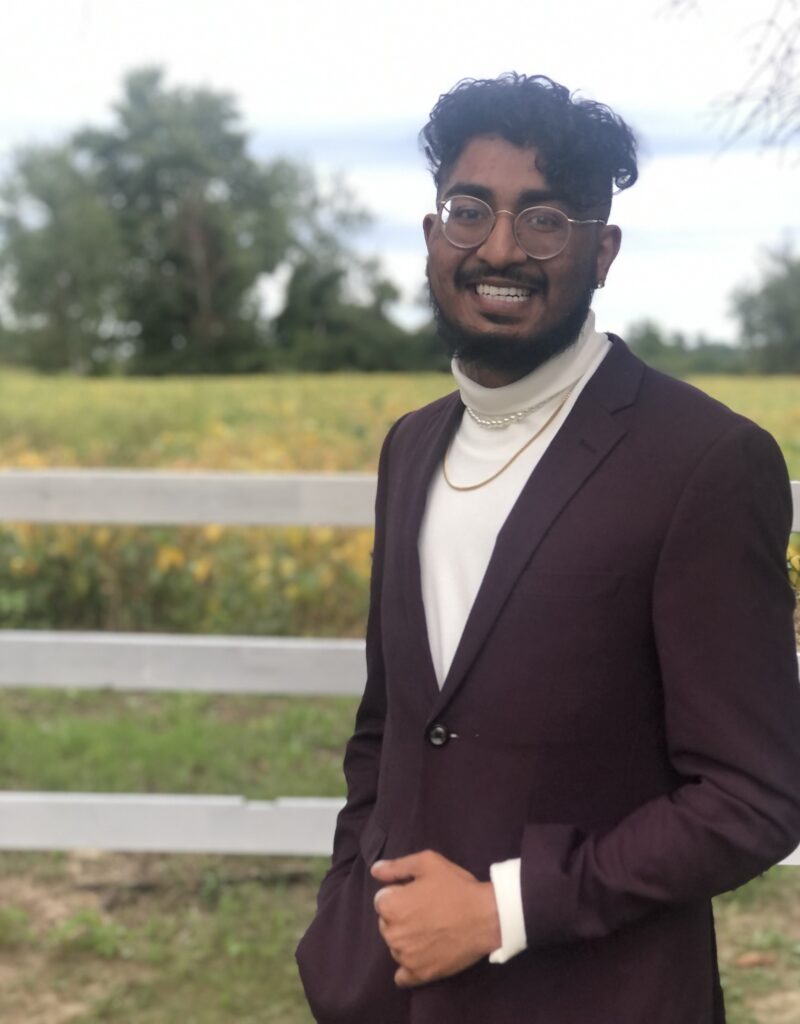 Matthew Rodrigopulle was a natural storyteller, a stylish on-air presence, and a sports aficionado who carried his love for the Toronto Maple Leafs with him to a new job in Saskatchewan.
It was at his new home in Regina, where Rodrigopulle — a 2020 graduate of the Toronto Metropolitan University's School of Journalism — died suddenly as a result of a congenital heart defect on Sept. 4.
His death sent shockwaves through the journalism communities in Regina and Toronto, including at On The Record, where Rodrigopulle worked as reporter in the spring of 2020 and then as a teaching assistant from fall 2021 to spring 2022.
"He was so kind and caring with the students," said Talia Ricci, a reporter with CBC News who worked alongside Rodrigopulle at OTR. "I have no doubt he would have had a long career as an amazing storyteller."
There's no question he was a natural storyteller, said Janice Neil, a professor at TMU who first met Rodrigopulle when he was a student in her podcasting course.
"I am not a natural audience for sports journalism, but he produced real storytelling," she said.
From that first class, Neil said Rodrigopulle stood out. "He brought a real keenness and a real eagerness to do the work," she said, and he had an impressive ability to handle critique and spin it into even better journalism.
Rodrigopulle had a knack for finding themes and focusing his work. One of the most labour intensive parts of the course is the one-on-one editing sessions. But he came in with several interviews and more than half-an-hour worth of material for his eight minute podcast, Neil said.
"It was just incredibly rewarding because he was just really engaged with learning and wanting to improve his work," she said. "He knew where he wanted to go."
WATCH: Global Regina's Memorial to Matthew Rodrigopulle
Rodrigopulle wanted to be on air, and he worked hard to achieve his goal. During his too-short career, he worked as a freelance sports reporter, a broadcast associate at Sportsnet, sports editor at RUTV News, a writer for The Leafs Nation and Raptors HQ, as well as a much-appreciated teaching assistant helping students edit their own pieces of broadcast journalism.
Most recently, Rodrigopulle joined the Global Regina newsroom in Saskatchewan. Though apprehensive about leaving behind his hometown (he was born in Scarborough), Rodrigopulle was encouraged by many to make the leap, including his friends in the OTR newsroom.
In Regina, Rodrigopulle quickly got to work. He covered everything from breaking news to crime to sports and housing issues. Along the way, he made friends with his colleagues and left a lasting impression.
In a tearful on-air goodbye, Global anchor Kimberley Fowler recalled how Rodrigopulle was "quick to crack a smile" and "always stylish" — hoping to be Regina's best dressed reporter.
"[Rodrigopulle] had a lot to offer," Fowler said, "not only to our viewers but the journalism scene here in Canada."
TMU's graduating class of 2020 has suffered some devastating losses, including fellow students Yusra Javed and Felix Wong.
Rodrigopulle's funeral will be held in Ajax, Ont., on Sept. 12.
His family is encouraging donations in his memory to be made to the charity of people's choice.