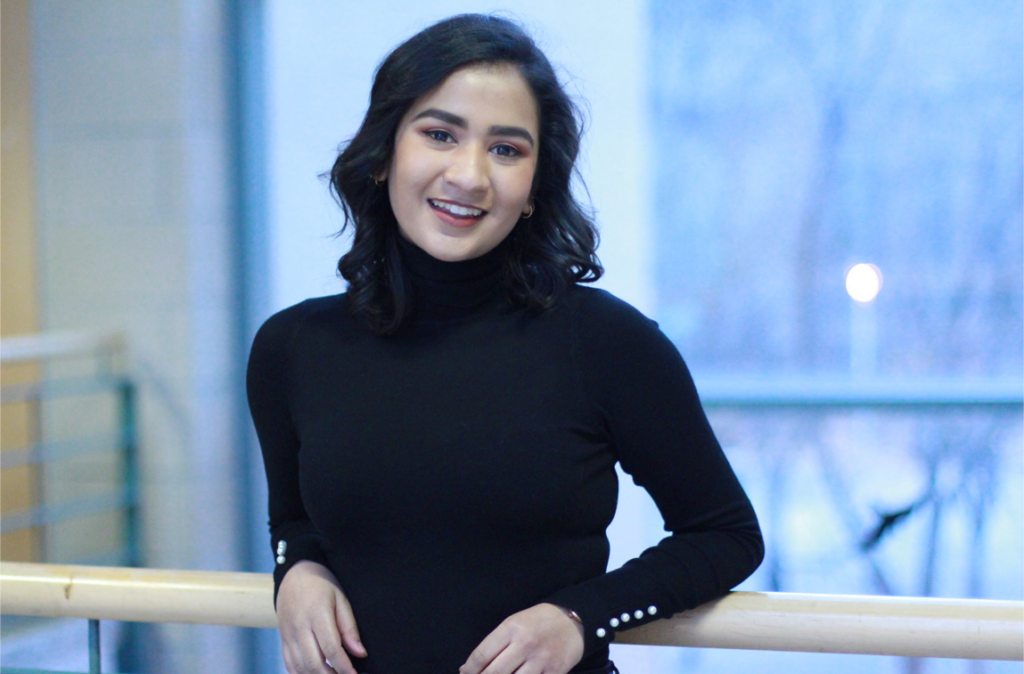 UPDATED
Yusra Javed, a fourth-year Ryerson journalism student, died at her home of a sudden, heart-related illness in the early morning of Saturday, Sept. 14. She was 21.
Friends, family and colleagues gathered for a memorial service in the Rogers Communications Centre Wednesday to honour Javed. Through the tears, one thing was clear – despite her age, she was already a journalistic force to be reckoned with.
"There's no doubt in my mind that she was on her way to becoming one of the best journalists in the country," said Queen's Park press gallery president Allison Jones in a speech. "She already had the confidence and poise of a much more seasoned reporter.
Originally from Pickering, Javed entered the Ryerson School of Journalism in 2016. This past summer, she worked as the press gallery intern at the Legislative Assembly of Ontario. Jones was the one who interviewed and hired her, and she said Wednesday that Javed knocked the press gallery staff off their feet with her enthusiasm the second she walked in the room.
During the interview, candidates are usually asked to name the premier, party leaders and any cabinet ministers they might know. "Often, the stronger candidates can name all the leaders and maybe a cabinet minister or two," said Jones.
"Yusra started rattling off the entire cabinet. We had to stop her once she got to about a dozen names."
Deeply impressed by her reporting skills and work ethic, Javed got the job. While interning, she wrote for iPolitics, the Queen's Park Briefing and the National Observer.
"A lot of Yusra's dreams came true this summer," said Fatima Syed, an investigative reporter for the National Observer who befriended Javed through the press gallery. "She worked in one of her dream workplaces: Queen's Park. She wrote about her favourite thing: politics. She was going to the CBC, freelancing for her favourite publications and getting ready to graduate."
"She truly believed in the power of journalism – not in a naive way, but in a way that showed in everything she did," added Syed.
Javed's striking nerve, paired with her charming smile, intense compassion and journalistic drive, made her stand out in Queen's Park amongst a sea of staff, politicians and other students. Over the weekend, notes of sympathy and condolences in Javed's honour were tweeted out by Ontario NDP Leader Andrea Horwath, Ontario Green Party Leader Mike Schreiner, Interim Ontario Liberal Leader John Fraser, a host of celebrated journalists, and even Premier Doug Ford, among others.
While covering the 2018 provincial election for Rogers tv, Javed found herself at one of Ford's campaign stops where the politician wasn't doing any media. "Yusra was having none of it," said Jones.
She found Ford's campaign bus at the side of the building and waited, peppering him with questions when he approached and not stopping until he agreed to do an interview.
In a later news conference, Javed asked the premier if he regretted making cuts that affected young people. When he began to answer by saying he didn't recall making any cuts towards young people, she cut him off and started listing them.
"I could not believe her nerve," said Emma Paling, a reporter for HuffPost Canada who also met Javed through the press gallery.
After watching several scrums, Javed asked Paling why she was often so quiet. "She told me, 'You need to speak up more and make sure you get your questions in, you can't let the other reporters talk over you,'" said Paling. "She said, 'If I had a job here, I would be the loudest one. I would be in their faces.'"
"Over the past few days, I've had several politicians come up to me and tell me that questions from Yusra were among the toughest they've ever faced," said Jones. She said the premier remembered Javed as a "firecracker."
"We are so honoured that she chose to come here three years ago," said Janice Neil, chair of the Ryerson School of Journalism. Neil added that, to her, one of Javed's most striking qualities was the way she always made a point of showing her appreciation to people.
"She always seemed to take that extra 30 seconds. I want to take into my life that deep sense of appreciation and spread it around," said Neil.
On campus, Javed volunteered with the Journalism Course Union, worked as a reporter for RUtv News and was the editor in chief of New Wave magazine. She was slated to complete an internship at the CBC at the beginning of her fourth year and would also have joined the Ryersonian masthead later in the semester.
Javed will receive a posthumous Bachelor of Journalism degree from the university at convocation in June 2020.
She leaves behind her mother, father and older brother, as well as plenty of good friends, awestruck colleagues and proud classmates.
In August, after Javed fainted at the Pickering GO Station, her friend and commute buddy Matthew Rodrigopulle checked in on her over text. He told her to eat and take care of herself. "I just don't want you dying," he wrote.
"Haha, I have to become a famous news reporter before I die," she replied.
To the Ryerson community, she already was. That status will now be made official, as the Queen's Park press gallery has decided to pay tribute to Javed by hanging her portrait in the gallery lounge at the legislature.
Her photo will hang beside the annual photos of political reporters in the gallery. "Where she rightly belongs," said Jones.