Low- and high-income neighbourhoods are the city's majority; an effect of generational wealth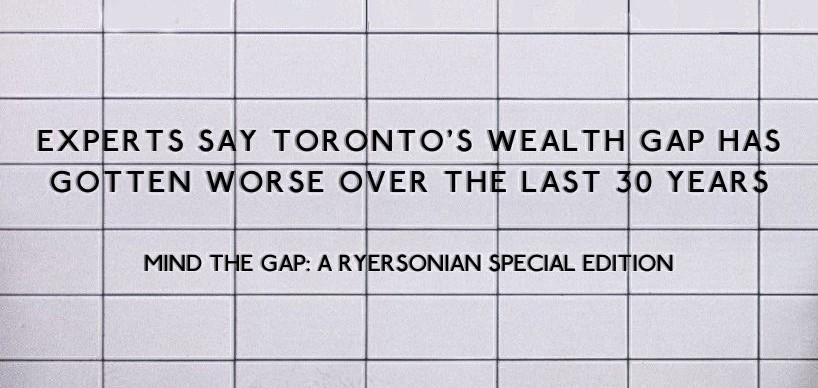 Toronto is home to some of the highest- and lowest-income earners in the country. Over the last 35 years, racialized groups, newcomers and young people have been most affected by the increase in income growth as addressed in the report released by the Toronto Foundation in 2020.
The report said that the increase in non-standard jobs including contract, temporary and part-time jobs in Toronto over the last 35 years, has resulted in a much higher percentage of racialized populations and newcomers working these types of jobs, which pay far less than standard jobs.
The two main causes of the large wealth gap in Toronto are caused by generational wealth and gentrification, said Cheryl Thompson, assistant professor at the school of creative industries and author of Beauty in a Box: Detangling the Roots of Canada's Black Beauty Culture.
Thompson said that prior to gentrification, the city's middle class population consisted of people from different racialized groups during the '70s and '80s. Due to low rent for housing and commercial properties, marginalized groups were able to sustain a middle class lifestyle in areas like Cabbagetown, Queen Street East and Riverdale at the time.
"As neighbourhoods gentrify, they tend to push out black and racialized people and encourage white residents to move in. (Those) who have a higher income, and a certain kind of cultural capital would suit gentrification," said Thompson.
She added that generational wealth is more common amongst white people in Toronto, as it is common for estates and large sums of money to be passed down from "settlers" who arrived in Canada between the 17th and 19th centuries. 
"If you are a second generation Canadian, your parents came here in the '80s or '90s… you just couldn't have access to wealth. Even if your parents are doing well, financially, they don't have wealth, because wealth tends to be generational," said Thompson.
Statistics Canada reported that between 59 and 67 per cent of children born between 1970 and 1984 had an income that was at least as high as their parents when they became adults.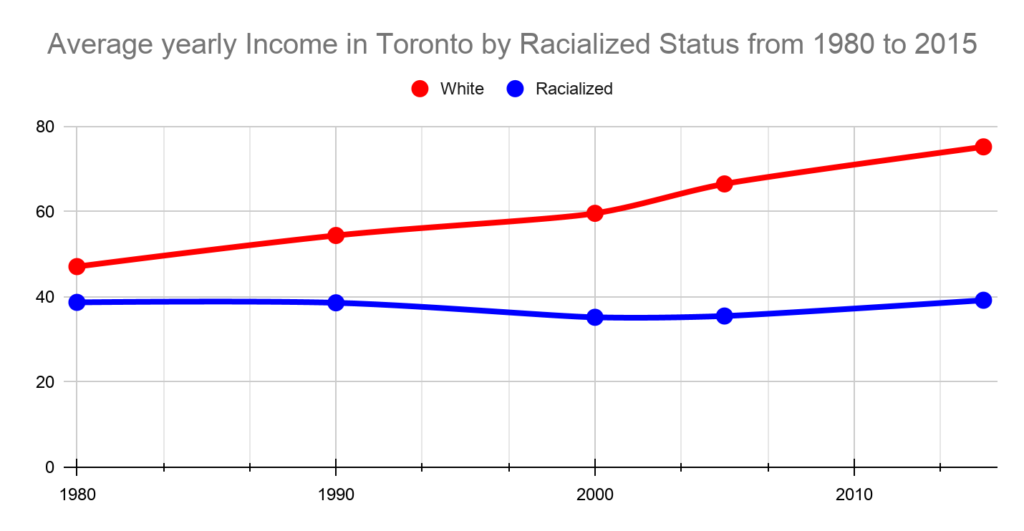 Valentina Capurri, a sessional instructor in the department of geography, said that Toronto also began to see a decrease in its middle class population once the manufacturing industry declined in the 1980s.
Once manufacturing was relocated overseas where manufacturing costs were much less, in places such as Mexico and China, manufacturing in Toronto was replaced by the service sector which, consisted of restaurants, hospitality and transportation. 
Capurri said that today, employment sectors stand on two opposing ends of the wealth spectrum in Toronto.
"Doctors, lawyers, architects, engineers and university professors – these are all people that make very good money," she said. "At the other end of the spectrum, the salary sector is also made up of a variety of job positions that are very poorly paid. For example, cashiers, fast food servers, waitresses (and) cleaners." Once manufacturing disappeared, so did the middle class.
The Toronto Foundation reported that the 2016 census estimated more than 543,000 people in Toronto are living in poverty, including more than 125,000 children and youth. Almost four in 10 newcomers are below the low-income measure, with 49 per cent of them being newcomer youth.
Fong and Partners Inc. found that a traditional middle class lifestyle in the City of Toronto — assuming two spouses and a child, financial means to support that child's education, home and vehicle ownership and ability to save for retirement — would require an after-tax income of $123,388 per year. This lifestyle is only available for the top 10 per cent economic class.
Thompson and Capurri both suggest that one of the ways to mend the wealth gap is for governments to provide opportunities for affordable housing and post-secondary education to those with lower incomes.
Thompson added that if cities were to create communities of mixed incomes and ethnicities, this would be beneficial for the city's social and economic status.