Total amount of student debt owed to the government tops $20 billion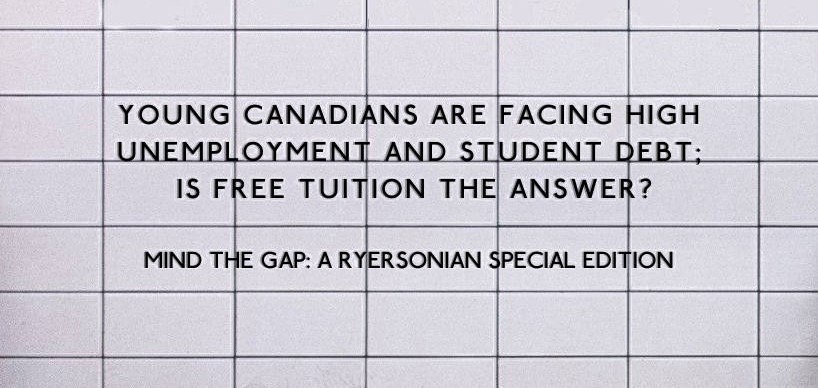 For current students and recent graduates in Canada, the thought of student debt is not a foreign one. As of 2015, 45 per cent of those graduating from bachelor's degree programs owe over $25,000 in student debt, with the average debt load being $28,000, a near $10,000 increase from 15 years prior, according to Statistics Canada.
As tuition and student loan debt has increased, the 2008 recession and most recently with the COVID-19 pandemic have impacted the ability of students and graduates to find work.
According to Statistics Canada, Canadian youth staggered behind every other age demographic in employment growth recovery after the first wave of the pandemic.
While COVID-19 has presented new challenges, the pressures of student loan debt and graduating into a suffering job market are felt even without a pandemic, one of the reasons both the New Democratic Party and Green party have included free tuition in their platforms for years.
According to a 2018-2019 report, 1.9 million Canadians owe a total of over $20 billion to the government in student loans. This figure does not include any student debt owed to third parties such as banks.
The government is not unaware of the burden of student loans, as they offer a repayment assistance program where they will make payments on your loan for you, as long as you qualify for the program based on your income. Of the 300,000 users of the program, 85 per cent are unable to make any payments on their loans as a result of their income bracket, according to 2019 data, according to Statistics Canada.
During the COVD-19 pandemic, the government initially introduced a freeze on student loan payments in March 2020. The freeze was lifted in November, just in time for the second wave of the pandemic. For students who graduated in 2020, and those expecting to graduate in 2021, this means beginning to repay their loans in the face of a bleak job market.
In January 2021, while graduates were being expected to repay their loans, unemployment was the highest it had been since August, when payments were still on pause.
This inability for many to pay back their student loans may be a consequence of an increasingly precarious workforce.
John Shields, a Ryerson politics professor, said that this generation of students and graduates are likely going to be the first demographic to earn less than their parents in the last century.
A 2015 report published by Poverty and Employment Precarity in Southern Ontario, which Shields co-authored, found that approximately 22 per cent of workers in Canada have a "precarious" job. Within the Toronto and Hamilton regions specifically, the amount of temporary contract work has grown, while both permanent part-time positions, and permanent full-time positions are down.
Shields said jobs have become less stable, and yield less financial compensation, leaving potentially highly qualified graduates unable to find employment that rewards this properly.
High debt loads, and an evolving job market can leave some young people with limited options when looking into degree programs, and their subsequent job opportunities.
Torré Spina, a fourth-year history student at McMaster, said he feels like he is stuck trying to pursue a high-paying job, in an attempt to repay his loans.
Spina said his goal is to go to law school after completing his undergraduate degree, and while he does still want to pursue this career path, he feels like it is also his only option in order to pay back the student debt he has already accumulated.
Similarly, Carly Kinsman, a Canadian design student studying abroad in Australia at the University of the Sunshine Coast, said that repaying her student loan debt is already weighing on her mind despite not even being finished with her degree.
During her time in university, Kinsman said she has been forced to look for higher paying work, over work that she is passionate about, and while she is hopeful to find a good compromise post-grad, she knows it will be a challenge given the current job market.
While Canadian students are taking on the responsibility of funding their education, this is not the case for all students across the globe. Many European countries, as well as Cuba, Argentina, and others, have subsidized post-secondary education programs.
Policies which allow for free tuition are not uncharted territory in Canada. The Ontario government had introduced a free tuition program in 2017 through the Ontario Student Assistance Program. It ran until 2019, when it was cut by the new government led by Premier Doug Ford.
New Democrat Party (NDP) MPP Laura Mae Lindo, opposition critic for post-secondary education, said that the provincial government's cuts have been "callous."
Lindo said that their priority is creating a system that supports marginalized communities through investment in post-secondary.
"As soon as you don't invest in a sector, you lose all sorts of really cool people who just don't have access and whose experiences are so different that they could change the face of the disciplines they're a part of."
Lindo added that investment in post-secondary institutions has the potential to "change the face of our communities."
Investing in post-secondary to eliminate the financial burden and risk from students has the potential to create a healthier and more productive society, according to Shields.
He said that removing the financial strain on students which requires many to work while in school, would allow them to be better students, therefore making them better prepared to enter the workforce.
Removing the cost of tuition can also help young people take the next steps in their lives, such as pursuing additional education, or being able to save to afford a home and start a family, said Shields, adding that free tuition would create a "virtuous" system.
The investment into post-secondary education is not as simple as fronting the cost for classes. Access to education without financial burden has the potential to change the lives of young Canadians in both their professional, and personal lives. It is providing a foundation for youth to contribute to our society in an authentic and meaningful way, without the burden of debt, or feeling the need to pursue something simply for the paycheque.