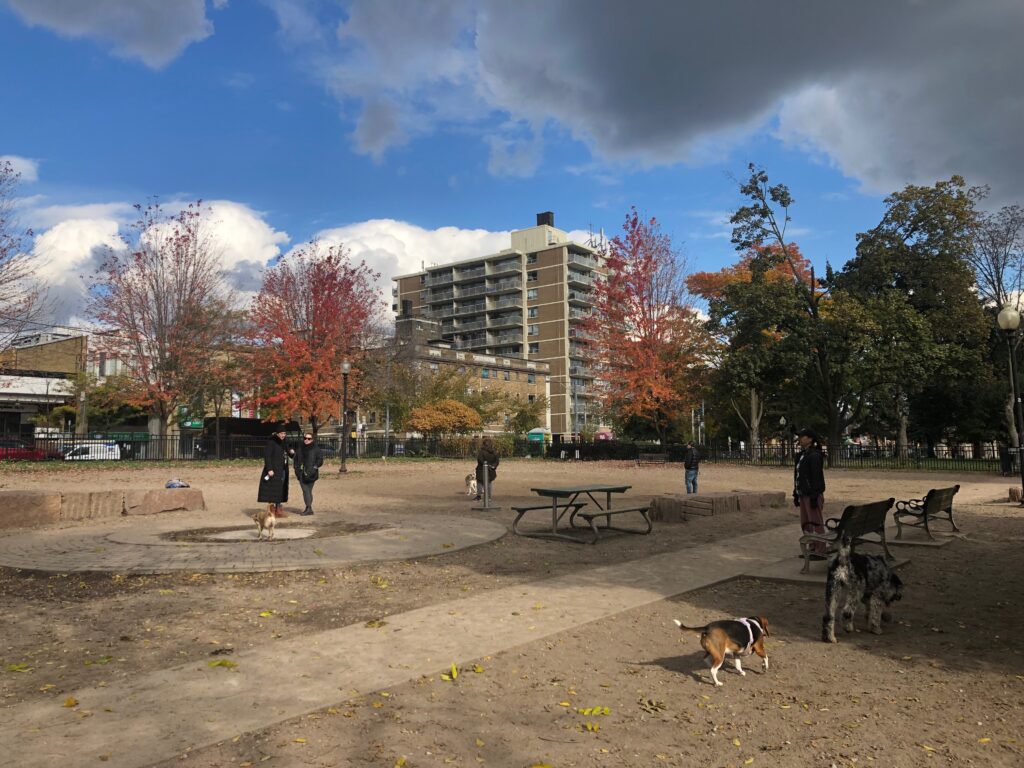 The Allan Gardens off-leash area (OLA) is gearing up for revitalization, years after plans to upgrade the park were put on hold due to the pandemic.
The project is currently in the ideation stage, which is the first of seven stages, according to the city.
Over the summer, OLA users were invited to submit proposals for changes they would like to see, according to an online statement from Toronto Centre Coun. Kristyn Wong-Tam.
But members of the dog park say they have been asking for these upgrades for years without seeing any progress. They're frustrated by how much of a struggle it's been to even get to the ideation stage.
"This park has been left to rot," said Kelly Breau, OLA representative.
Breau has been coming to the park with her dogs since it opened in 2008. She feels the park is now a health and safety hazard for dogs and their owners thanks to tree roots poking out of the ground, poor fencing and uneven dirt and sidewalks.
"We're trying to get this fixed because there's been no movement for so long and this is getting dangerous," Breau said, during a recent walk through the park.
She pointed to the uneven ground: "It's a pretty big drop if you don't know it's there."
The park is "disgusting," said Nica Kaushova, who has been coming to the park with her dog, Peter, for about two months.
"I'm not happy with the fact that it's taking so long," she said. "It's just so in disarray."
Both Breau and Kaushova said they would like to see the ground levelled, along with more shaded areas and more seating. Right now, Breau said there are only "urine-soaked" rocks for people to sit on. "On a good day, if they've been rained on, you can really get the nice urine smell coming up," she said.
The dog park was included in a 2019 city-wide study of 10 existing OLAs, which served as the catalyst for the Allan Gardens OLA revitalization project. Per the study, the priorities are better design, maintenance and operation, as well as improvements for safety, accessibility and sustainability purposes. Community feedback touched on fencing and gate maintenance, access to running water, cigarette waste and inadequate signage.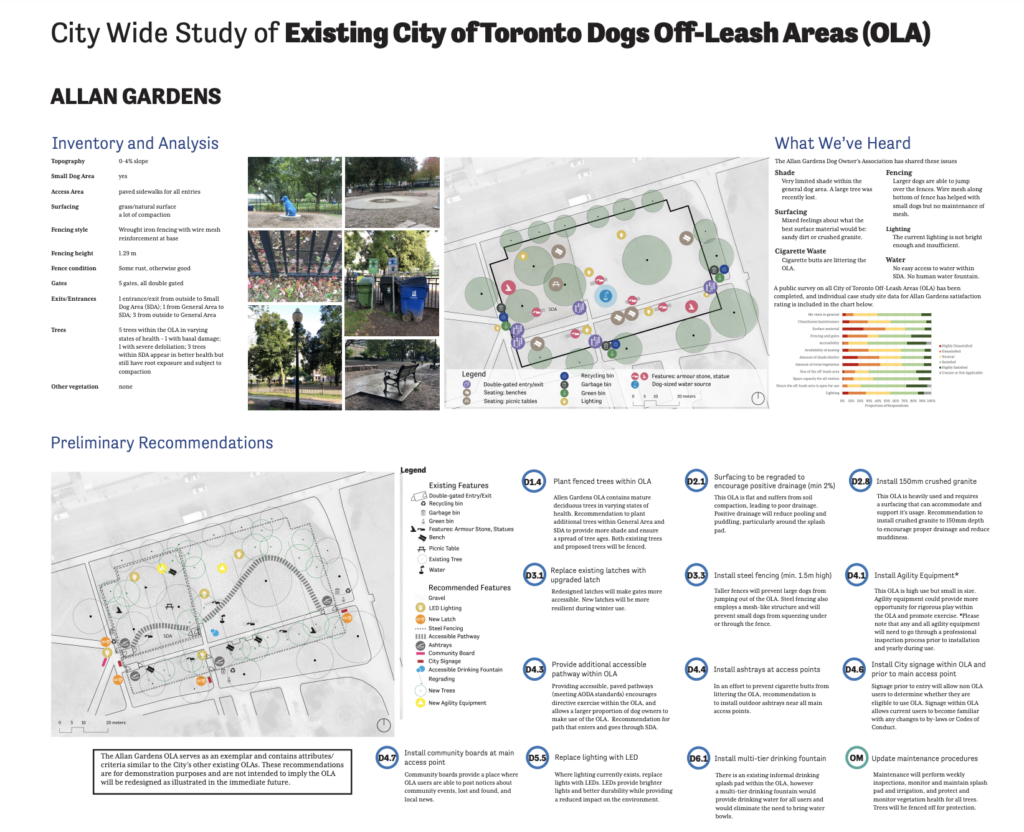 The Allan Gardens OLA is one of the city's oldest. It's one of the reasons Wong-Tam said her office pushed to have it included on the 2019 survey in the first place.
"There [are] many people who love and cherish that space, and we know we need to get it [to] number one improved," Wong-Tam said.
The councillor said the parks, forestry and recreation division has been the largest holdup to get this project started.
The holdup was due to a lack of allocated funding, said Curtis Evoy, park supervisor for Allan Gardens.
"Every year, we… have a list of projects they're going to do," he said. "Allan Gardens was just never on that list for 2020."
Wong-Tam said she would like to see the city fix the deficiencies and rebuild the area to make sure it's a good size with good water features and proper irrigation so it will last for the next 25 years.
She has also emphasized the need to improve accessibility by adding a smooth, permeable membrane surface and larger pathways. However, until the full project can be complete, Wong-Tam said the city will be doing basic maintenance and replenishing the crushed granite ground covering.
The cost of this work is expected to be $250,000. It's set to begin in 2022, Tyler Johnson, senior adviser of constituency and stakeholder engagement, announced in a Facebook post on Nov. 18. 
"It wouldn't surprise me if we tip over a million dollars, just because of how large it is," said Wong-Tam when asked about the estimated cost of the full revitalization project.
The full reconstruction and redesign of the park is anticipated to get underway in 2023-24.