The pair of authors hosted the #StoriesSparkChange event over Zoom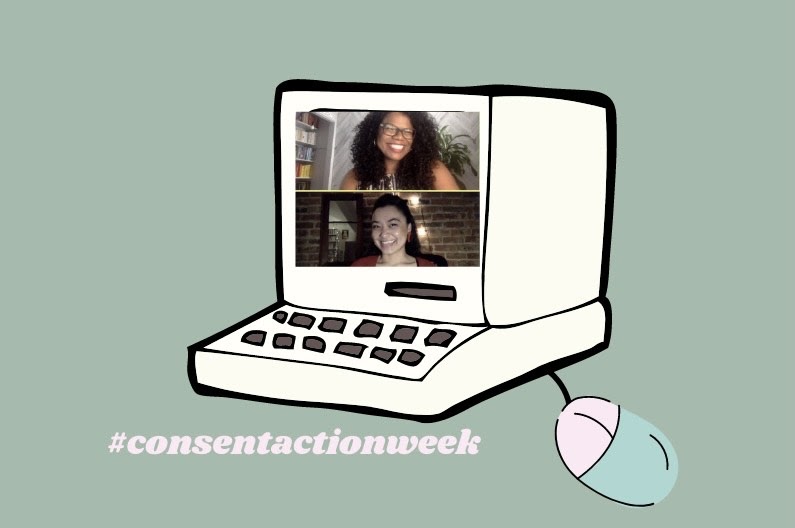 Chanel Miller and Eternity Martis hosted #StoriesSparkChange on Tuesday to discuss their experience writing through trauma and using art as an agent of healing.
The Zoom event was in collaboration with Consent Action Week, run by the Office of Sexual Violence and Support Education at Ryerson.
Miller, the bestselling author of Know my Name, opened up about the process of recounting the details of her assault while writing her memoir in contrast to remembering the details for lawyers in court.
"When I first started writing the book, it was really inhibiting because I only ever experienced telling my story in a court context."
Miller said she had to recount the events of the assault and the party where it took place with such precision that she eventually became obsessed with the details.
"Art can be a great way for survivors to explore their healing journeys without judgment," said Farrah Khan, manager of Ryerson's Consent Comes First, Office of Sexual Violence Support and Education. "Often, survivors are asked to tell their stories in courts, investigations, and to get support."
Khan stated that by using art as an outlet, survivors can find a space to explore and be themselves. It can also be a way for survivors to process and move through their trauma in their own ways and on their own terms. Consent Comes First utilizes art and writing in its programming for gender-based violence as a means of healing.
"When I tried to approach writing my own story, I thought there were so many things that I could get wrong. I felt like I was building a little bomb to set off my life again," said Miller. She recounted the fears she had of being sued or having her case reopened as a result of publishing her book.
According to uOttawa, of every 1,000 sexual assaults, only 33 are ever reported to police. Of these 33 cases, 12 result in charges, six are prosecuted and three lead to a conviction. The difficulty in proving sexual assault in court leads to the majority of cases going unreported, according to the Department of Justice.
Miller said the realness she kept throughout her memoir, in which she recounts the blackouts and drinking and partying, is really important for other survivors to see. The introduction to her memoir reads that her book is "not a personal indictment, not a clapback, a blacklist, a rehashing."
"Everything I experienced and who I was in college, it was all just a part of me growing up. And it's OK to forgive yourself for times when you think you've been sloppy or stupid because that's not criminal, that's just human," said Miller.
In a news release on Wednesday, the Ontario Government announced a proposal to change the current sexual violence and harassment policies that allow Ontario colleges and universities to question sexual assault complaintants about their sexual history or discipline them for using alcohol or drugs during any alleged incident on campus.
On the Canadian Women's Foundation website, it notes that only one party is responsible for sexual assault and that's the prepetrator. Blaming the victim is a dangerous notion that needs to be abolished. Women are too often interrogated after an assault on what they were wearing, how much they had to drink, or whether they were alone with the assailant.
Binge-drinking and partying is a part of university culture, yet over half of all post-secondary assaults involve drugs or alcohol, according to Carleton University.
Miller said she was repeatedly fed the phrase "it's not your fault" every time she reached out and asked for help, and the words only stayed on the surface for her, unhelpful. She was even given a "flimsy" brochure that stated it plainly. Miller noted that even though she was fed this advice, she still questioned whether or not it was her fault when recounting how much she had to drink the night of her assault.
"I think for a lot of survivors speaking up, even for me writing, that's what I was afraid of, would people judge me?" said Martis, a journalist and bestselling author. "I think it also speaks to the idea that people might not be in our shoes, but they were doing all the other things. They were getting sloppy once upon a time."
Martis noted that these "human moments" were really powerful to see in Miller's memoir. In her own memoir, They Said This Would Be Fun: Race, Campus Life, and Growing Up, she recounts her coming-of-age as a Black woman during her time in university.
"Although all of those things are true," said Miller, referring to drinking and partying, "it could never justify what happened, being hurt."
Khan said that Miller spoke "beautifully about being a part of an intergenerational movement of survivors sharing their stories and helping to destigmatize and affirm survivor experiences."
Although showing advocacy through direct means is important to Miller, she said she also believes that merely existing is equally as important. She said she wants people to be able to see a survivor choosing her own path.
"Right now, the most important thing I can do is exactly what I want…even if it's completely unrelated to sexual assault; that to me is going to be my form of advocacy," said Miller, mentioning that she is currently working on writing a middle-grade novel. "Because when I finish the book, a lot of the takeaway is that you are free to live your life however you please. You don't have to commit your whole life to this."
Sali Lafrenie, a recent Carleton University graduate, said the evening felt like she was sitting in a room with good friends. "The event was so important to me because it was not just about assault. It was about healing, laughing and living when everything around you is falling apart," she said.
Lefrenie said it resonated with her when Miller stated that she had to stay on this earth, and keep showing up for herself.
"She knew she had to stay because there were things in store for her that she never could have imagined."