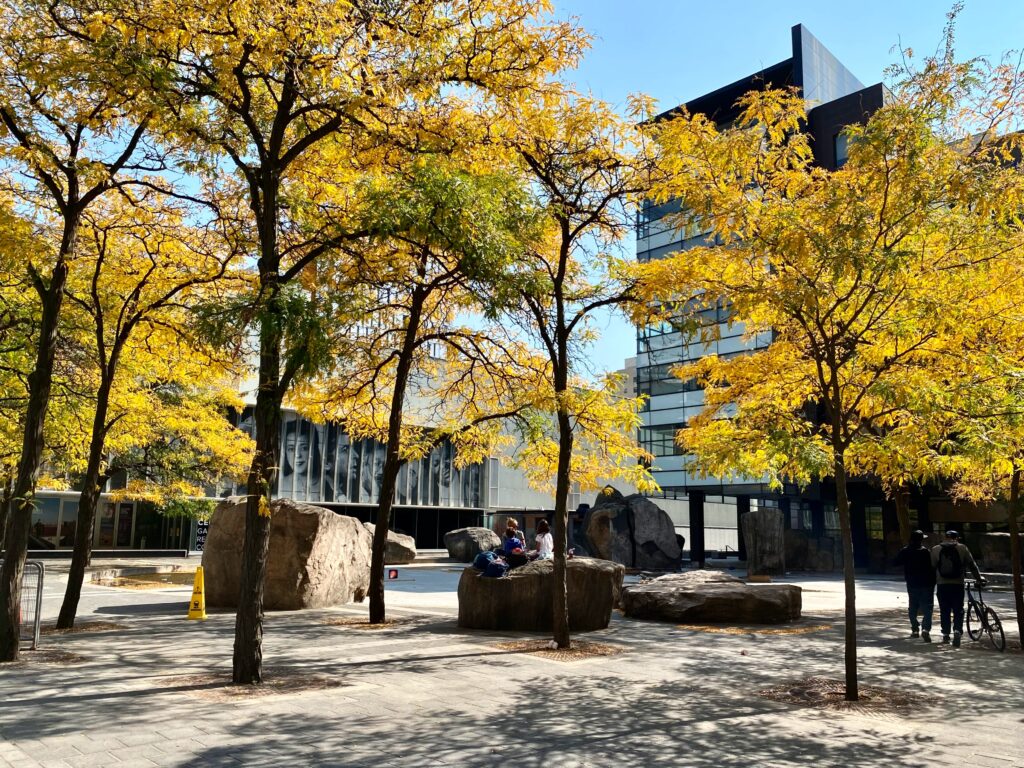 Listen to the story here:
According to the Bank of Canada's third-quarter business outlook survey, more than half of Canadian businesses think a recession is likely in 2023. This is due to a combination of increases in interest rates and high prices reducing consumption.
Students are often economically vulnerable, and may be amongst those who would be most affected by a recession, especially graduating students, according to Jessica Moorhouse, founder of MoorMoney Media Inc. and an advanced Certified Financial Planner (CFP).
"Typically a recession triggers unemployment. More and more businesses will freeze hiring or cut staff," said Moorhouse, "which means it may be harder to find a job right upon graduation, or at least harder to find a job in line with what you studied and expected to jump into post-grad."
Last month, economists at CIBC released a report that suggested Ontario is expected to be affected by the recession more than other provinces because the province has some of "the most indebted households" in Canada. This is due to higher house prices in the province, combined with rising interest rates and high inflation eating away at savings. "Households in these provinces [including Ontario, B.C. and Quebec] will find their ability to spend on other items being squeezed particularly hard," the report states.
As part of its efforts to limit the effects of a potential recession, the economic outlook the Ontario government tabled last week focused on building the economy, addressing the labour shortage, and helping Ontarians keep costs down.
"To secure our long term prosperity, we must increase supply," said Ontario Minister of Finance Peter Bethlenfalvy at a press conference in November. "That means building hospitals and housing. Building highways and roads. And delivering manufacturing capacity in this province. And that is exactly what our government is doing."
Peter Dungan, the director of the Rotman commerce policy and economic analysis program at the University of Toronto, says the federal and provincial governments have a dilemma.
"One of the reasons why this recession or near recession will happen is because [the government] is trying to cool off inflation," said Dungan. "If the government decides to pump a lot of money into the system for tax cuts and increasing expenditure, that makes demand go up and makes the inflation situation worse because demand outweighs supply."
Dungan further explains if the government wants to help, they will have to be patient.
"No across the board tax cuts. An extraordinary amount of spending will just make things worse," said Dungan. "If they feel the need to help, it's targeted towards the people who need the most help."
Moorhouse emphasizes how important it is for students to know how to manage their money by creating a household budget.
"It's the best and honestly easiest way to organize what money you have coming and what's going out," said Moorhouse. "A budget will also help you make better spending decisions and prevent you from getting into credit card debt, which is a cycle that usually starts in university."
As for better spending habits, Moorhouse says it's important to cut back on non-essentials first.
"A big part of university is the social aspect which is so important, but it's easy to overdo it. Find deals, go to cheaper spots to hang out, don't try to spend money you don't have or money that you'll have to pay back with interest in the future."