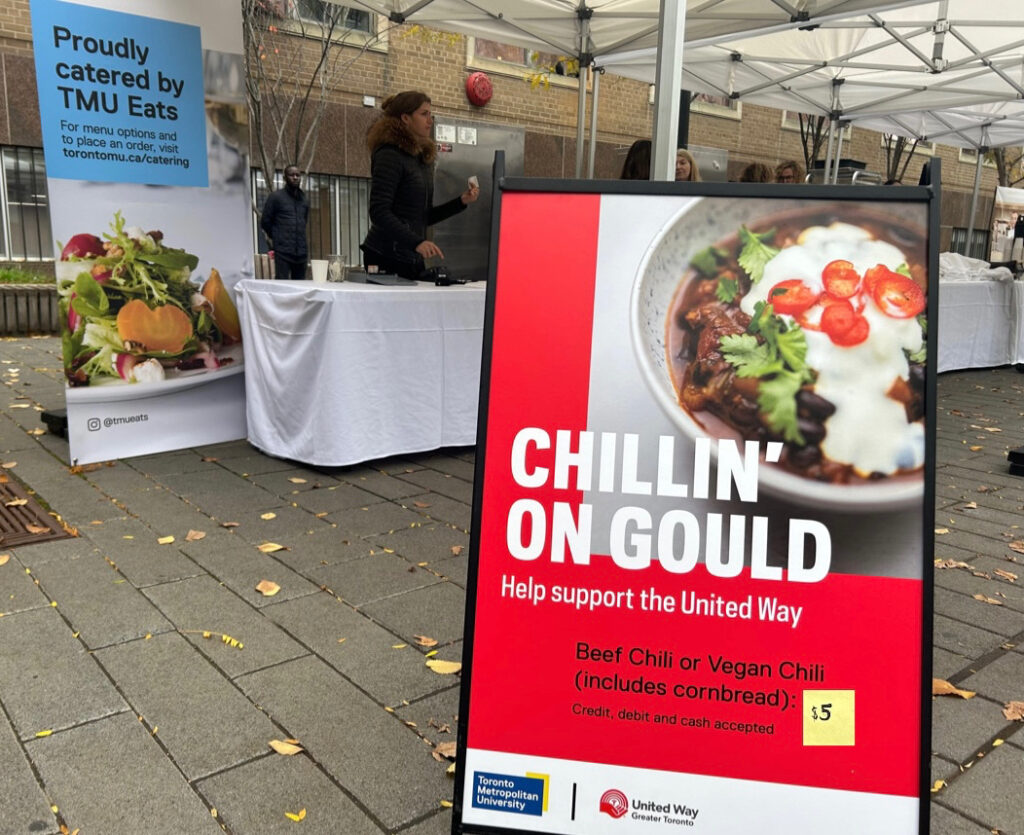 Listen to the story here:
Chillin' on Gould made its return to Gould Street this week after a three-year break, attracting hungry Torontonians and raising $1,000. The event used to be an annual one, raising money from 2010 to 2019 until the COVID-19 pandemic. 
TMU's United Way campaign hosted the fundraising event on Nov. 7, where from 12-2 p.m. students, staff and faculty could purchase a bowl of beef or vegan chili and a side of cornbread for $5. All proceeds from the event will go to United Way Greater Toronto. The not-for-profit movement supports people within Toronto, Peel and York Region who have been impacted by local poverty, and the neighbourhoods they live in.
On Oct. 21, two TMU staff teams participated in the United Way's ClimbUP challenge, and raised a total of $4,760. Staff members from Central Communications and The Creative School climbed all 1,776 steps of the CN Tower, conquering 144 flights of stairs.
"I am hopeful that next year we can get broader engagement. I think the stair climb is something that students can get involved with and really have a good time with," said Michael Forbes, assistant vice president of University Relations at TMU, and employee chair of the university's United Way fundraising campaign.
So far the 2023 campaign has raised around $35,000. TMU's fundraising goal is $80,000. Last year the United Way Greater Toronto received $99.2 million in funding, community services and program support, according to their 2021-2022 annual report. If they acquire the same funding this year, TMU's goal of $80,000 would account for about 0.08 per cent of this total.
"This year we were excited to bring it back and engage the community, offer lunch for a good cause and see a few more smiling faces on Gould Street," Forbes said.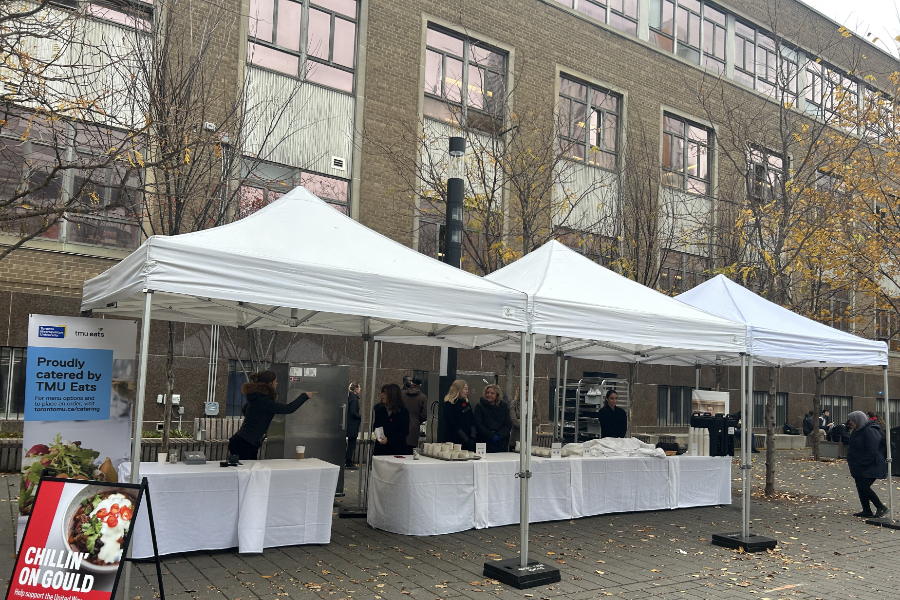 The event was run with the support of food services and university business services, and a number of executive staff helped to serve the chili.
Manav Arora, executive chef at TMU, said they started the food preparation the day before, and began assembling the meals at 7 a.m. He said that their team prepared around 600 servings of chili, half being halal beef and half being vegan.
Arora said being able to provide food for his community has been wonderful.
"We are doing this for a cause, so when we see people coming in and playing into the cause it definitely does feel great. Giving does a lot – it does a lot for us and it's our way of giving back to the community," he said.
"I was just walking around and I decided to check it out," said Maya Prashad, a second-year performance production student. "It's going to a good cause and for $5, as a student looking for an affordable meal, it's nice to get something out of it too."
Any leftover servings of chili went to B12Give, a TMU-affiliated charity, where they repurposed the food to make sure it went to those in need.
This year's United Way campaign was launched on Oct. 1 and will run until Nov. 28. Chillin' on Gould was their first community event.
"We're nearly halfway there," Forbes stated. "Hopefully we can continue to raise funds for a good cause."
Forbes said this is a very transitional year as it is the first year with people back. He hopes that even though they have been on a hiatus, the campaign is able to hit its target.
"We know it can be hard for students to do, but certainly if staff and faculty could give to the United Way it'd be greatly appreciated," he said.
Students, staff and faculty are also able to donate online.