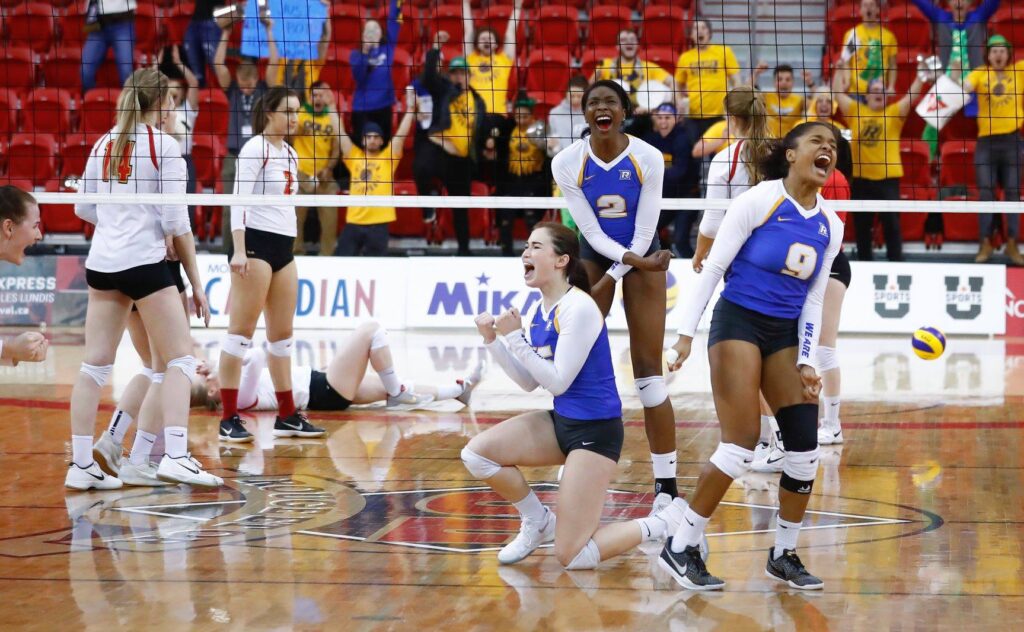 The Rams women's volleyball team couldn't be more excited for a return to competitive games as the team gets ready for its upcoming season.
The team is returning to official competition next Friday, Nov. 5 for its first match in two years, after competition was halted due to the COVID-19 pandemic. The Rams will play against Queen's University, in a two-game away series in Kingston.
Due to competitive games being cancelled last season, players in their first year of eligibility have not yet competed in a varsity-level game. For the Rams, this means that 12 players from their overall roster of 21 haven't appeared in a game to date.
"There's a lot of excitement [in training] but there's also a lot of patience needed," said head coach Dustin Reid.
The pre-season training has been focused on finding their chemistry as a new team, he said.
The team has played two pre-season games so far, falling to the University of Toronto Varsity Blues and the University of Waterloo Warriors. Their final pre-season game will be against the University of Guelph Gryphons this Friday.
"We're all different, but we all have a lot of similarities in the goals that we want to achieve on the court," second-year setter Alicia Lam said about her teammates.
Lam has been the Rams starting setter since her first season in 2017-18 but was sidelined in the next season due to an injury.
"There's definitely a positive atmosphere in the gym and the coaching staff has done a good job to welcome everyone," she said.
This is the first year Reid has designated non-competing roles, called redshirts, to seven of the 21 players on the team. The majority of the players who are redshirts this season came from the recruiting classes, but two players from the 2019-20 roster are also redshirts.
"Even though there's redshirts and then there's the [active] roster, it doesn't feel like that at practice," said Lam.
Every player still has the same equipment, has the same space in the team room and participates in the same drills, said first-year outside hitter Kylie Ferguson.
The biggest difference is that there are fewer girls travelling to and from games, Lam said. "The girls who aren't travelling message us and wish us luck. And it's good to have that communication up there."
In addition to a smaller roster and masking requirements, Ontario University Athletics (OUA) has announced that teams will compete in two divisions: East and West. The Rams will play in the East division. They will also play a reduced season of 14 games, compared to a regular season of 19.
The team had a record of 16 wins and three losses in its last season of play, finishing second in the OUA East. They lost a tough five-set match to Queen's at the Mattamy Athletic Centre, ending their season on a disappointing note.
Reid said he is looking forward to making connections with the other Rams athletic teams this year. He said he misses seeing his coaching colleagues around as well.
"I'm really looking forward to seeing students and student athletes back around the gym. There's been a feeling of detachment from the volleyball community," Reid said. "We have a community within our department that has really suffered."
Fourth-year player Olivia Yang said she is looking forward to the high-energy atmosphere in the gym again. First-year players haven't experienced a varsity volleyball game with full stands of excited fans and media members covering the game.
"Through our excitement, [first-year players] can see how much it means to us and how fun it can be," said Yang. "We all have these stories that we can tell and reminisce on, but they don't. So they're all very excited to have their own stories and make those stories together."
But it's not the players that make the game what it is, said Lam.
"It's a community. No matter what sport you're in, or even if you're not on the team, you know, if you're in journalism and media and all that stuff, it's nice to see people who love the sport and who want to come and support," she said.
It's that sense of community that brought Lam back to the Rams after a year off during the 2019-20 season. She scouted out other universities in and out of province, thinking maybe she just wasn't ready to live in Toronto.
During what she thought was an exit meeting, Reid convinced her to come back this year.
"I have such positive memories of the team and the school and what they can give to me and what I can give to them," she said."I think the biggest thing was the support behind the scenes."
She specifically mentioned academic advisers, as well as physical therapists and counsellors as some of the key off-court support she has had during her time with the Rams.
As fourth-year players, Lam and Yang said they have taken on more of a leadership role to help the younger athletes get familiar with university-level dedication to the sport.
Yang said she's particularly mentored rookie libero Mary Ann Rioflorido in their shared position. Yang says she is showing "great defensive abilities and great services."
"She's a little speedster," said Yang. "It's fun to see that level of competition come out of someone that's so quiet."
The veteran players are making an effort to help the team bond outside of the gym as well, with activities like picnics at Riverdale, said Kylie Ferguson, outside hitter.
"They're all making an effort to make connections to the younger girls to make them feel welcome," she said.
---
A previous version of this story misidentified Olivia Yang in the feature photo. The player in the photo is actually Alicia Lam. The quote about rookie libero Mary Ann Rioflorido was misattributed to Lam when it should have been Yang. The line stating the fourth-year player's return to the team was attributed to Yang when it should have been Lam. On The Record regrets these errors.