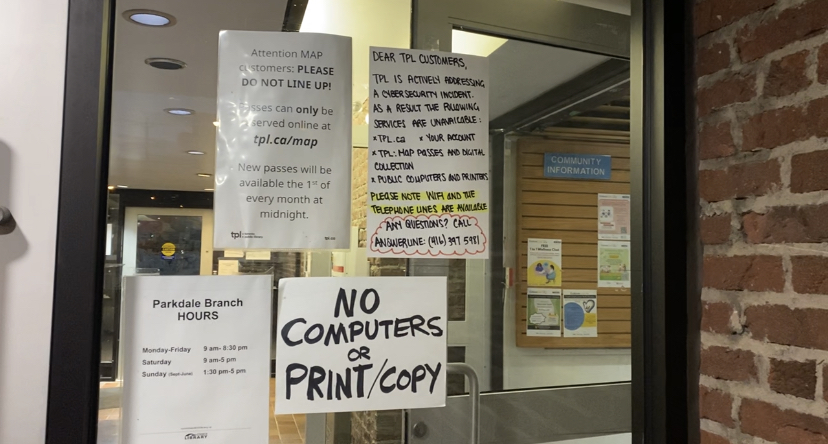 The Toronto Public Library (TPL) issued a statement on Nov. 1 on their currently unusable website saying that "Branches are open as scheduled. Wi-Fi is available in library branches, and branch telephone lines are working. Materials can be borrowed and returned in branches until further notice."
TPL has been dealing with a cybersecurity incident that has rendered several services unavailable for usage at branches across the Toronto area since Oct. 28.
"I haven't been able to use any of those services because the website is down. I'm not able to see which libraries have available study space, and I'm not able to renew any of my books," said fourth-year journalism student Mariyah Salhia who visited the Toronto Reference Library to study. "At the reference library, you kind of have to make a reservation to use a book and I've been unable to do that… It's been really inconvenient for me."
The TPL's statement says that they have "proactively prepared for cybersecurity issues and promptly initiated measures to mitigate potential impacts." And that they "have engaged with third-party cybersecurity experts to help us in resolving this situation," while acknowledging that it may take several days for all systems to be restored.
Cybersecurity expert Charles Finlay said he believes that this is far from the last of the cybersecurity attacks we will see targeted against public sector websites. "We've [already] had attacks against hospitals, we've had attacks against universities, we've had attacks against the energy sector and the transportation center," said Finlay. He says that attacks like this can be mitigated within days or hours but the length of this outage has raised some speculation,"It leads me to believe that this attack had some complexity to it just because it's taking some time for the Toronto Public Library to restore its services."
According to The New York Times, the TPL is not alone in this form of victimization. Reporting that "Libraries across Europe appear to be facing attacks from cybercriminals," Alex Marshall wrote that librarians he spoke to characterized the attacks as "a nightmare."
The TPL has been unable to provide a timeline of when these resources will be available again.
The Toronto Metropolitan Library seems unaffected by this wave of incidents, with its website database and public computers up and running.