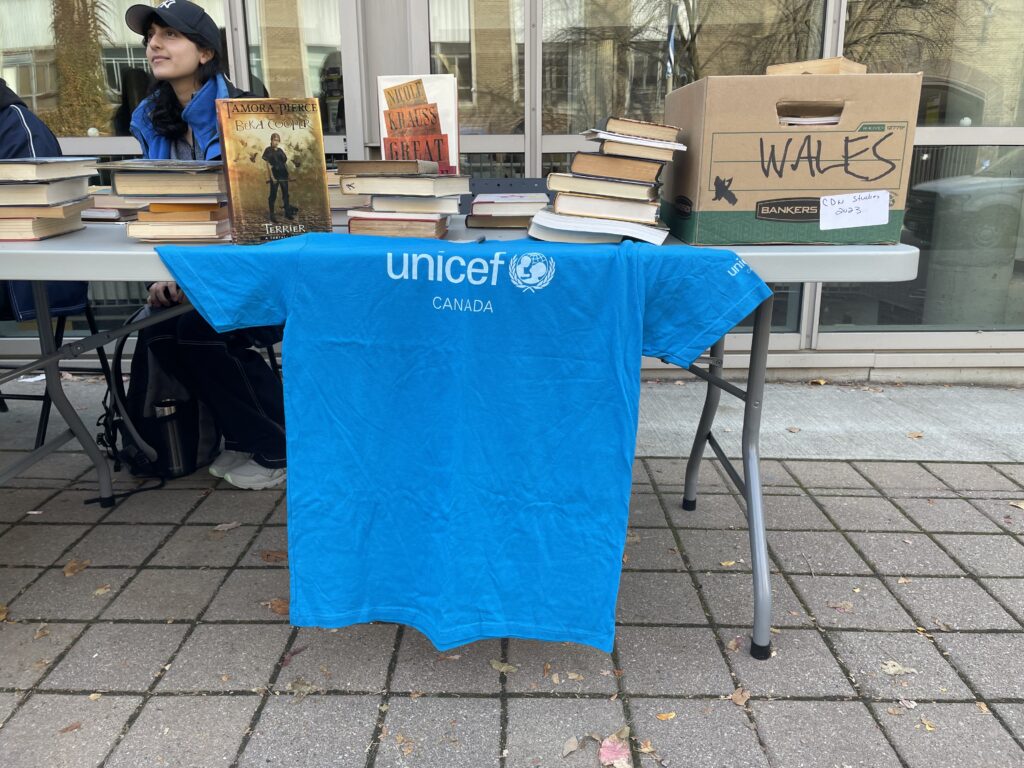 TMU's UNICEF Canada club held a book drive outside of the SCC on Nov. 16. All funds raised in the event will be donated to UNICEF. (Chloe Herbert-Ballantyne/OTR)
TMU's UNICEF Canada club raised over $200 in an on-campus book drive Thursday afternoon. The club said all funds raised in the event will go directly to the United Nations Children's Fund (UNICEF), an organization that works to protect children around the world in times of need and crisis. 
The recently-revived club received a donation from a local Toronto bookstore, The Scribe, to sell used and vintage books to interested TMU patrons. Prices ranged from $5 to $10, the club said the event was a "big success" as they surpassed their initial fundraising goal.
The club's president, Nourhan Almasri, said that all donations to UNICEF will be "used flexibly for children, wherever the need is greatest."
On their official website, UNICEF says they work to help disadvantaged children around the world, striving to achieve safety and security for "every child, everywhere." Conflicts in Israel-Palestine and Sudan are current areas of focus.
Almasri said that she felt called to reignite the club on campus because of her own lived experiences. "Having experienced the brutal impact of a sudden and frightening war during my critical childhood years, I do not wish these circumstances on any child ever," She said her club strives to safeguard children in vulnerable situations.
On top of protecting children from violence, Almasri said other goals of the club and organization include giving children equal access to education for all genders, providing safe and sanitary water resources, and health and nutrition.
Maya Alafghani, vice-president of events for the club, said interested students should be on the lookout for an upcoming donut sale taking place at the start of December. She said that, like the book drive, all funds will go towards UNICEF. 
For those interested in another book drive, Alafghani said that the club will be taking the leftover books and holding another drive "at some point in the future."