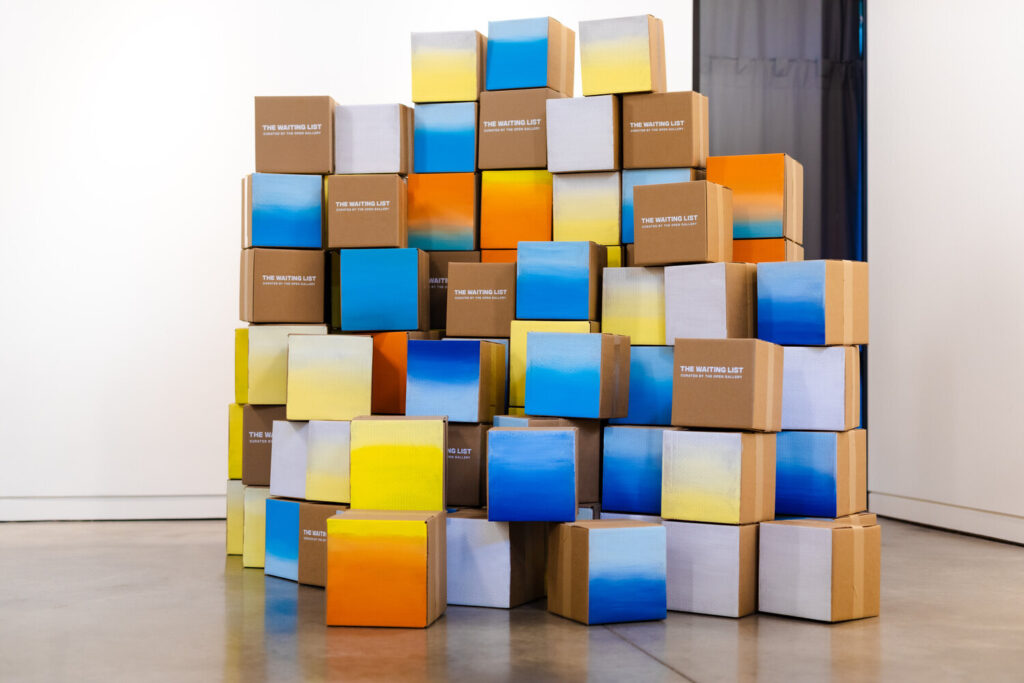 At a Mississauga art gallery, dozens of cardboard boxes in gradient colours are stacked on top of one another, some coated with an animated projection — a loading wheel floating in the midst of a pink sunset. As the clouds around it seem to move quickly on their course, the wheel remains stuck in an endless loop.
This new art installation serves as a visual survey trying to determine what artists need as the world heads into a post-pandemic reality.
Titled The Waiting List, this new multimedia program in the Greater Toronto Area is meant to explore the way young artists feel their careers have been put on hold. With art galleries closing their doors, theatres hollowing out and stages gathering dust, the arts, entertainment and recreation sector was one of the hardest hit in 2020, according to the Canadian Association for the Performing Arts. Nationally, employment in the arts, entertainment and recreation sector dropped by more than 25 per cent in 2020. Employees in arts and culture expect an 18-month-long recovery from this drop, according to the National Arts and Culture Impact Survey, while as many as one in three artists are uncertain about their future in the industry.
But this installation is more than a symbol, as artists can take the boxes home and answer questions made by The Open Gallery, the GTA-based mobile gallery presenting the project. The survey lets artists reflect on how the pandemic affected their careers and their personal growth, asking questions as simple as, "How are you?" and as complex as "What has been the most significant impact on your overall growth during the pandemic?"
"It's really meant to illustrate our stagnancy right now," said Amrita Chopra, the artist behind the project. "Everyone's kind of waiting."
Hibah Mian, founder of The Open Gallery and curator of The Waiting List, said the survey is a further opportunity to reflect on what artists need right now and to create more meaningful, sustainable programming going forward, given the current unavailability of institutions.
Artists are encouraged to paint their boxes or create what they'd like on their piece of the installation. They then snap a photo to send back to The Open Gallery, where the pieces will be they put together as The Waiting List. The installation is open to artists until the end of December.
"So that motivates them to keep creating and that they can create anywhere and they don't necessarily need these institutions," said Mian.
When the pandemic hit, Mian's gallery shows were put on hold for at least a year. Although she was itching to do some sort of exhibition for the community, she felt like she was put on pause.
"I was on that waiting list, so it was definitely difficult," she said.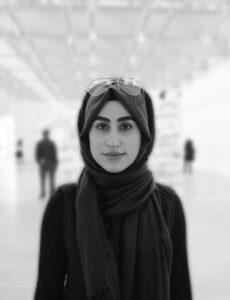 According to Canadian Arts Data, it's estimated that among non-profit arts in Toronto, there was a total of $74 million lost in ticket sales as well as artist and production salaries and fees. At the same time, $78 million was required to cover facility operating costs, as Toronto has some of the highest rental prices in the country. On top of this, many artists were only able to support their careers by working in retail and food service — an industry that also crumbled because of the pandemic.
As the surveys from The Waiting List started making their way back, many of the answers said things like feeling "unmotivated" or "we're hanging in there." Mian said that these answers touch upon many conversations that artists are having right now.
"It's kind of worrisome, right? And that's where we need to do our part," she said. "We want to do the best that we can, because we know that these larger arts institutions aren't doing enough."
In Toronto, non-profits and foundations that fund the arts had to scramble to give artists the resources they needed as the industry froze.
"Every aspect of an artist's life was essentially shut down," said Toronto Arts Council director and CEO Claire Hopkinson. "We knew that this was a crisis."
The Toronto Arts Council funds the city's arts through grants whilst supporting artists to learn and get exposure. Their grants have led to exhibitions, performances, readings and workshops seen by more than five million people yearly. The Toronto Arts Foundation falls under the Toronto Arts Council's umbrella, with the two collaborating to increase resources and opportunities for artists in the city.
Hopkinson said they received more funding applications last year than ever before as they spent late nights working on their COVID-19 response fund. The emergency fund was implemented within weeks of the pandemic starting, serving as a source of income for artists before the federal CERB program.
"We were working at warp speed, but we all felt fuelled by this tremendous sense of urgency," said Hopkinson.
And Toronto Arts Council is not the only local organization busy protecting the arts throughout the past year and a half.
Artscape is a non-profit organization that helps artists around the city, whether it's through providing affordable studio spaces, bridging the gap that can come after graduation or providing an overall sense of community. When the pandemic hit, they released a survey to the artists they serve and discovered that nearly half were worried about food insecurity and being able to make their rent. Artscape then started a rent abatement program to give a 50 per cent discount to all studio tenants. They also started a new program in April 2020 called ArtsUnite, an online database meant to connect artists with resources they might currently need, including grants, work opportunities and crisis support.
Thea Fitz-James, who manages the program, said the biggest hurdles artists currently deal with are similar to what they dealt with before the pandemic — they just feel them more nowadays. Much like two years ago, the spotlight is set on the lack of money and the absence of steady jobs.
"It all comes back to who we fund, where we fund, how we fund it and how much we're funding people for. And I think the solutions for that hopefully will get more and more creative," said Fitz-James. She added that the way arts funding is distributed across Canada makes artists in certain locations luckier than others.
The arts are funded in many ways, including federally, provincially or through private donors and non-profits. But there is a disparity in the numbers.
The Canada Council for the Arts, which provides federal funding to provinces, gave Ontario $86 million in 2019. Meanwhile, Quebec received $87.4 million, despite having a smaller population. According to data from the Canada Council for the Arts, in 2019 there were about 35,000 artists in Quebec versus 66,000 in Ontario. Provincially that same year, the budget allocated by the Ontario Arts Council was about 60 per cent of Quebec's.
"Those jobs are out there, the money's out there, we just need to make it easier to find," said Fitz-James, who has also struggled to find funding as an artist in the past. "It's super hard to apply for grants."
She said that for those looking to get started, applying for funding locally tends to work best since more artists apply to provincial or national grants.
Although it can be easy to see a darker future down the line for the arts post-pandemic, 90 per cent of Torontonians believe that the arts make their city a better place to live, according to the Toronto Arts Foundation. To them, the arts are what brings people together at a time like this.
Aside from navigating through the world of grants and honing your craft, if you are an aspiring artist looking to break into the scene right now, Fitz-James said the best thing you can do is simply show up.
"If you just show up to these events, if you just leave your camera on, try to ask questions and get engaged, there are so many programmers like myself who want to connect to the community, who want to help you," she said.
To Hopkinson, up-and-coming artists should start by getting to know the players and what is going on in the local scene. She believes that right now, many artists will be able to rebound simply because they are fuelled by an ambition — perhaps a calling — to express and reflect on the state of the world around them.
"When the world comes apart a bit, there are cracks in between … in which opportunities bloom."
If you'd also like to participate in The Waiting List's surveys and express your needs within the arts industry, you can access the online version here: https://www.theopengallery.ca/thewaitinglist