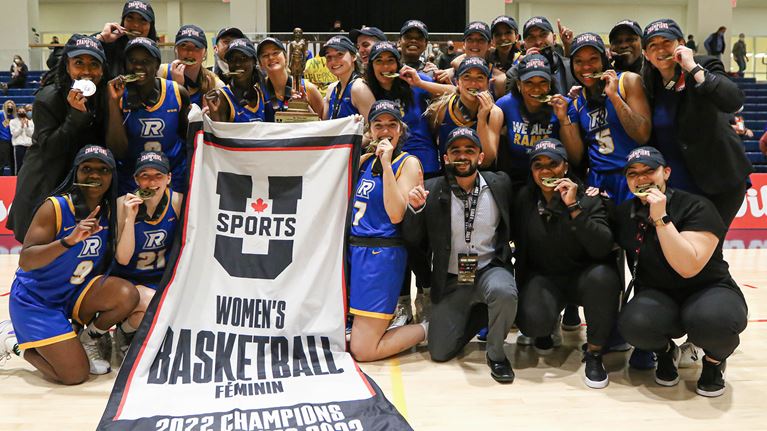 It's been a long road for Carly Clarke, but she's finally had her crowning moment.
After spending the past 10 seasons as the head coach of Ryerson's women's basketball team, she can now call herself a national champion.
The Rams won the U Sports National Championship on Sunday and lifted the Bronze Baby trophy by beating the University of Winnipeg Wesmen 70-48. Clarke won the Peter Ennis Award as women's basketball coach of the year.
"I think it's still really sinking in, but it feels pretty great," said Clarke. "This team worked incredibly hard and stayed patient for this opportunity."
Ryerson University president Mohamed Lachemi expressed his congratulations as well, and was very enthusiastic about the program's first title.
"I was with them for a number of games," he said. "I'm so proud of the success of the women's basketball team. I'm really happy with what they have done. It's a perfect season."
Ryerson's perfect 21-0 season was capped by its Sunday night win. Player of the Game, Rachel Farwell, scored a game-high 17 points. Eve Uwayesu came off the bench to score all 12 of her points from beyond the three-point line, going 4-5 from beyond the arc. Eleanor Jones also played a big part, picking up a game-high 12 rebounds, eight of which were defensive. Other solid contributors to the blowout win were Mikaela Dodig, who scored 13 points and picked up seven assists, and National Championship MVP Jama Bin-Edward, who scored 12 points.
"We were blessed to have 16 tremendous basketball players as part of our team this year," Clarke said. "But those 16 players are even better people. They've approached this season with joy and gratitude and positivity. All of those things converted to a lot of success on the court."
Even though the Rams went undefeated this season, they were kept honest by some formidable opponents.
"Going to overtime twice with Brock… there were some close calls," said Farwell. "But the fact that we were able to persevere and adjust and do that in a way that allowed us to come out on top through all of our games, that's how we became a championship-level team."
Through it all, the team had faith in Clarke's systems and philosophy. Farwell likes Clarke's style of coaching, saying she's different from other coaches.
"She's very transparent about why we do the things we do," Farwell said. "She's not a coach that'll say, 'My word is law.' She's someone that will say, 'This is what I want to do, this is why I want to do it, and how we think it's going to work for us.' That's what allowed us all to buy in so much into all of our game plans, and make sure everybody's on the same page."
Clarke was likewise complimentary of her forward's progression over the past three years.
"With Rachel, it's just been a credit to her hard work or time in the gym to get better," Clarke said. "Her shot making is obviously a huge challenge, especially at the position that she plays. She's really grown defensively and added other elements to our game that just make her so tough."
Farwell's successes before, and during, her time with the Rams have garnered attention in her home province New Brunswick. Not only was she invited to five national underage team assessment camps but this summer she'll play in the inaugural Maritime Women's Basketball Association.
"That association is so cool that they're giving opportunities for older players to continue to play competitively," she said.
Although she tried out for the Fredericton Freeze last August, she'll play for the Port City Fog in the amateur competition.
Even though the dust has barely settled on the Rams' biggest achievement, there's still work to be done. Preparations for next season — including the recruitment of new players — are already underway.
"It helps if players see our success and how our team has improved," Clarke said. "Winning is a big component, but that's never guaranteed. If you look at the joy and passion and love that our team has for playing together and for each other, hopefully that is attractive to continue to bring more great players and great people to our university."