Members of Adapt, the slate that won all five executive positions in this year's Ryerson Students' Union (RSU) elections, used personal information that students submitted through the RSU's new Headspace partnership program to contact students to vote for them, according to documents obtained by the Ryersonian.
During the week of the election, Monday March 15, the RSU announced that they were partnering with popular mindfulness and meditation app Headspace for a new wellness initiative to help Ryerson students deal with the stress caused by the COVID-19 pandemic.
Membership to the program was offered on a first-come, first-served basis for the first 2,250 Ryerson students who signed up, which offered them free access to resources and techniques for managing stress and limiting school-induced anxiety.
Shortly after 12 a.m. on Wednesday, March 17, vice-president of equity, Maleha Yasmin, messaged a slew of Ryerson students who had signed up and been selected for the program on Instagram.
Prior to this date, Yasmin was not following many of these students, nor were they aware as to who she was. The students who were contacted by her told the Ryersonian that Yasmin had messaged them through account information they had provided to the current RSU vice-president operations, Liora Dubinsky, for the Headspace program.
One student named Cansu, who asked to be identified by first name only, said she was approached by Yasmin on her Instagram account on March 17 to thank her for applying to the RSU's Headspace program, in an email sent to the Ryersonian. At the time, she said Yasmin's profile photo was different from the selfie that she currently has and that her username was @vote.maleha.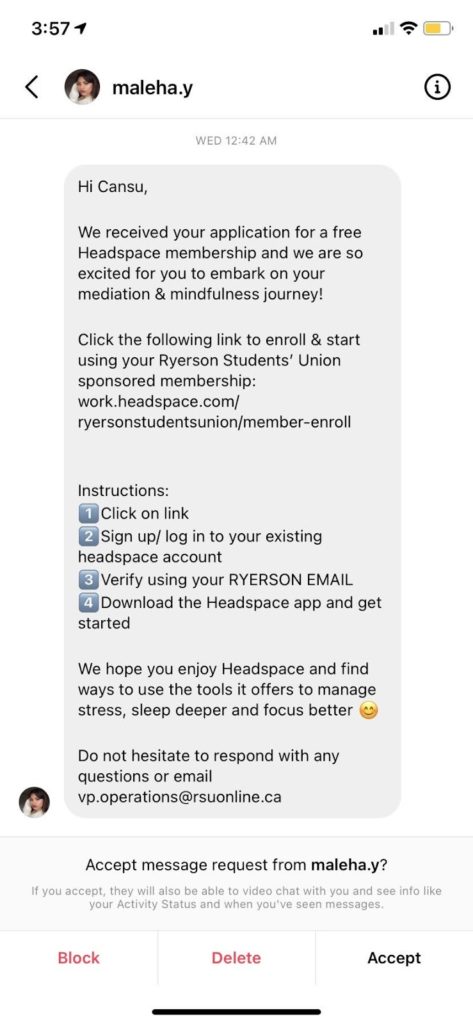 Unaware of who Yasmin was, Cansu chose not to respond. A few hours later, on the same day, Yasmin messaged again asking Cansu to vote for her and the Adapt, along with requesting screenshots to confirm that she had voted for them — to which Cansu did not respond either.
A few days later, after the elections were over, Cansu received an official email from Dubinsky that confirmed her enrolment in the program.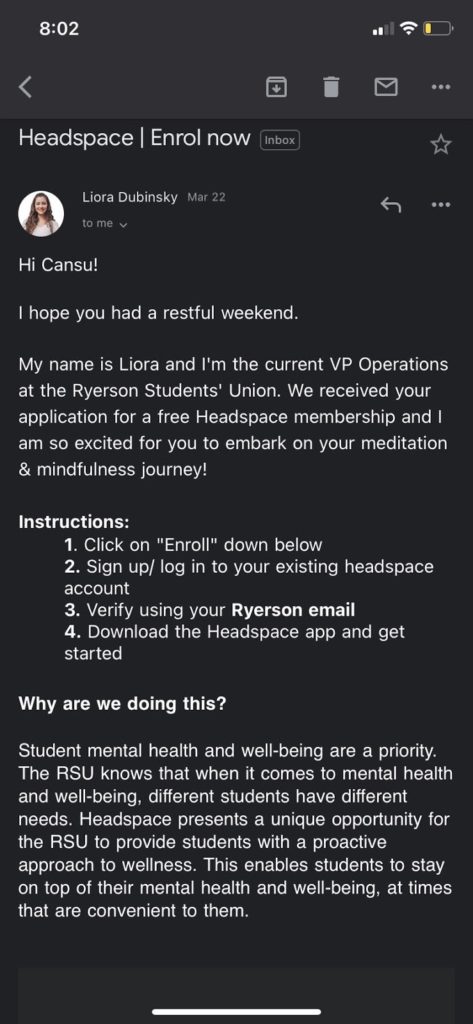 When Yasmin was asked why she contacted these students through Instagram, she told the Ryersonian that this is part of her current employment at the RSU. Yasmin currently works as a co-ordinator for the Centre for Women and Trans People, one of six equity service centres managed by the current vice-president equity Vaishali Vinayak, who also ran in this year's elections for the role of vice-president of operations.
"While I messaged these students I realized I knew a couple of them from classes and other acquaintances, and wanted to give them some information about my platform, so I redirected them to our website," she wrote in an email to the Ryersonian.
The Ryersonian team emailed Dubinsky to confirm whether she approved of Yasmin contacting students through their Instagram accounts for the program, but did not respond in time for publication.
The requirement for students to submit their Instagram account handles through the form has since been removed.
According to this year's chief returning officer (CRO) Jenna Rose, determining a candidate's disqualification is looked at on a case-by-case basis. This is also the case when a candidate is alleged to have obtained students' personal information through relationships they hold with current RSU executives.
"It is important to note that out of the two teams running this year, there are candidates on both teams, who are either RSU staff members or board members, and sometimes their jobs intersect with their campaigns," Rose wrote in an email to the Ryersonian.
However, Rose did confirm that candidates could not make students feel pressured to vote for them.
"Use this as a general rule of thumb: Would the people in a group that you're messaging, find your message inappropriate, unsolicited, unnecessary or annoying? If yes is the answer, then don't do it. If students complain that a certain candidate is spamming or messaging in groups and that they are uncomfortable with these messages, we will have to start handing out demerit points," she wrote.
Cansu points out that she did not realize she would be reached through her Instagram account after filling out the Headspace form.
"Breach of privacy is really concerning. When I got this text from her (Yasmin), the username was something like 'vote.maleha' and the profile pic was also different, related to voting. Because I knew her intentions on promoting herself, I didn't respond."
The next day, she received the email from Dubinksky, "It shows (that) Maleha has done this in private, solely to ask for my vote," she continued.
Other Ryerson students reported receiving similar messages from Yasmin on March 17, prior to receiving an official confirmation from Dubinsky. A fourth-year creative industries student who wishes to remain anonymous, received more than one message from Yasmin — first about the Headspace program they signed up for and then later asking them to vote for her.
"They (Yasmin) were so persistent," they wrote in a text message to the Ryersonian.
Following the election, Yasmin reportedly unfollowed and blocked the student and set her account to private, however, they could still see the messages she sent to them.
"This shows that what she's doing is wrong," they said.
Their friends also received the exact same messages, in which Yasmin is seen to have used the Headspace initiative as a method of getting these students to vote for her and Team Adapt.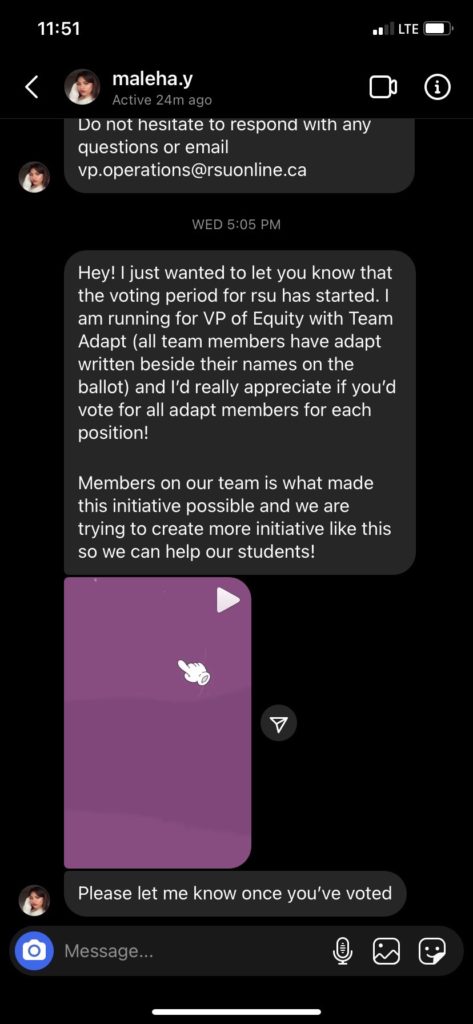 Allegations have also been made against VP equity, Vinayak. Students came forward to the Eyeopener alleging that Vinayak used their personal information from the RSU's Food Box Centre program, to get them to vote for her.
Questions have been raised regarding the transparency and fairness of this year's elections after the recent disqualification of an election candidate.
There have also been concerns about the lack of transparency and confusing bylaws and procedures laid out in this year's election campaign and what was told to candidates during the all candidates meeting held on March 12 prior to the start of the campaigning period.
This has left the door open for misinterpretation of rules and regulations. For a detailed account of what's been happening during this election season, the Ryersonian created a timeline for students to understand what's been going on.
The Ryersonian encourages all students who have any concerns of the conduct or behaviour by either of the student parties to contact the chief returning officer at: cro@rsuonline.ca.