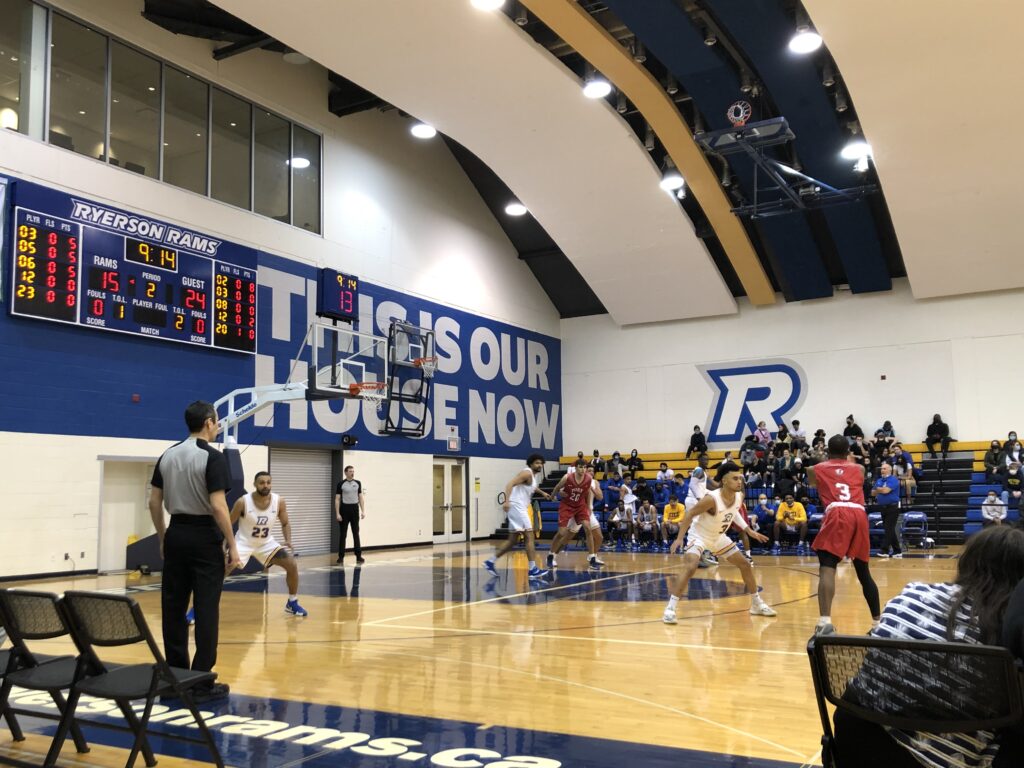 After 66 days away from the court due to COVID-19 restrictions, Ryerson's women's and men's basketball teams resumed play Wednesday night against the York Lions, marking the return of varsity sports to campus this winter.
The action kicked off with the women's team, which entered play a perfect 10-0. In a sequence emblematic of the '21-22 Rams, Rachel Farwell started the game off with a three, and Ryerson's patented defence caused a shot clock violation on the other end.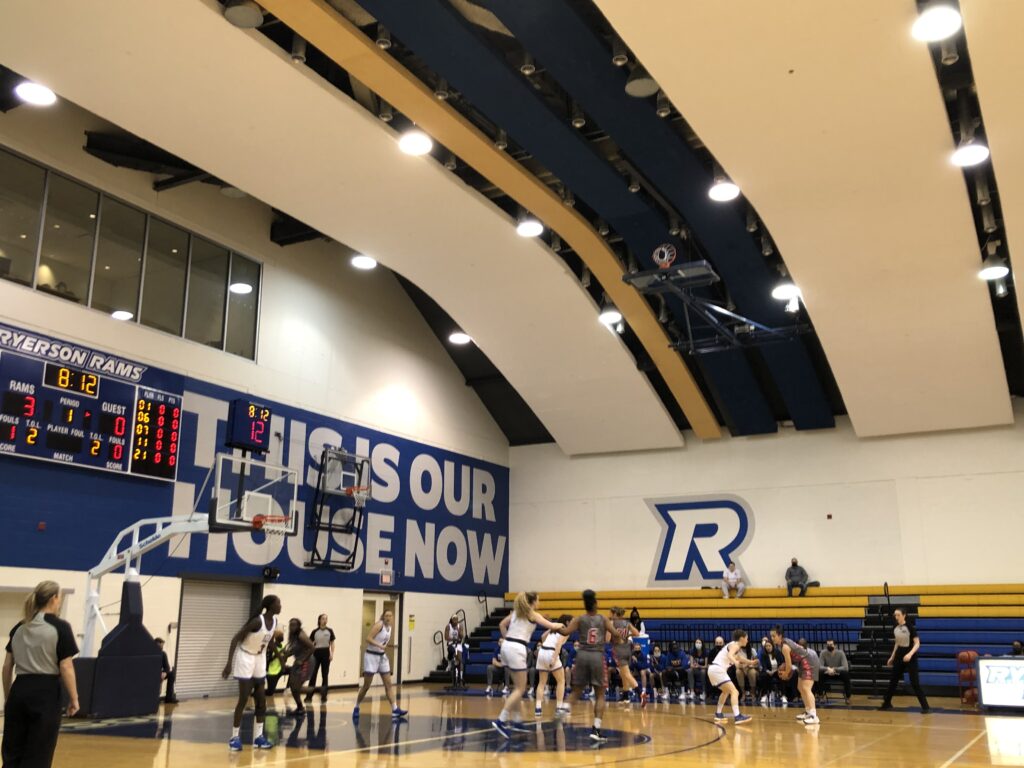 The Rams led 39-26 at the half, and staved off a third-quarter Lions run to secure a 79-55 win.
Marin Scotten led the way with 17 points. "Everyone was just really excited and grateful after such a long break," Scotten said. "We were just really happy to be back and excited to have that feeling of competitiveness again."
The crowd also played a factor, as the MAC was rocking even with capacity restrictions in effect. "It was great to be back in front of the fans," women's head coach Carly Clarke said.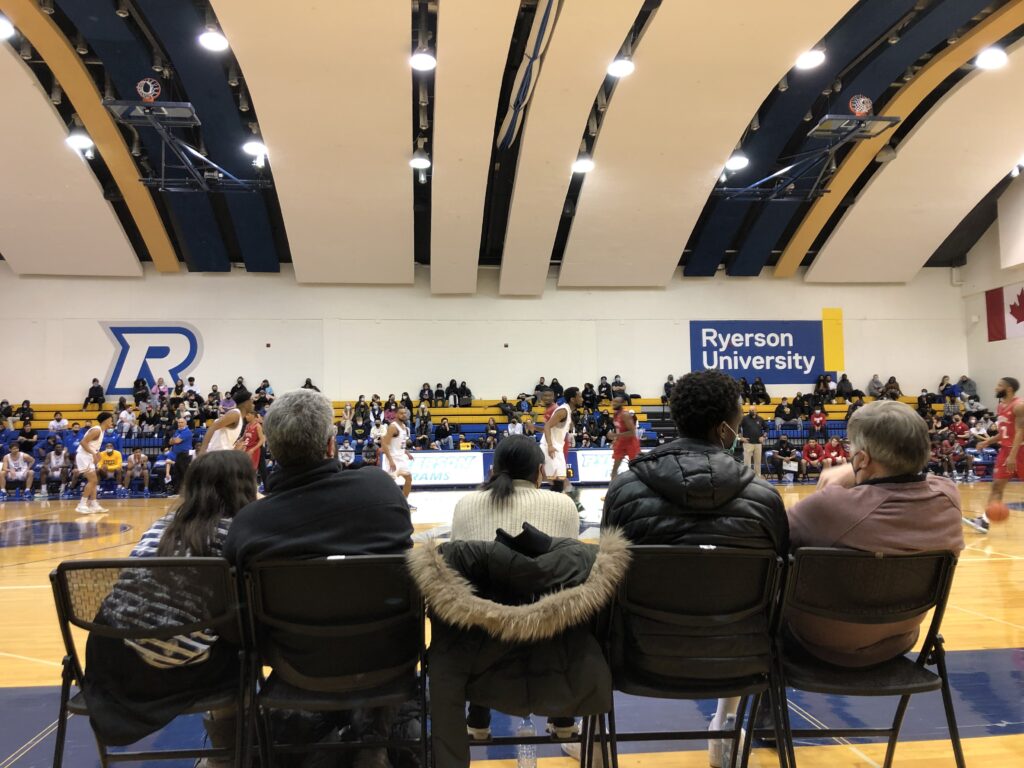 Clarke added that even through this latest wave of provincial restrictions, she was working her team hard in anticipation of a return to action. "We did some workouts online as a team, just Zoom workouts where we were doing some HIIT (high-intensity interval training) in our condos and our apartments. We did that three or four days a week," Clarke said.
Next up it was the men's turn to take on Ryerson's crosstown rival. Entering play at 6-6, these Rams won their last three games before the pause took effect.
York got out of the gate with a 22-12 start, but Ryerson responded and cut the Lions' lead to seven at the half. The two squads then went back and forth for the entirety of the second half, with a 25-point effort from Aaron Rhooms carrying Ryerson to a 100-97 win.
"We've been trying our best to prepare for this first game as best we could coming off a long break," Rhooms said, "and in my head it was like, 'we made it this far, we've worked so hard.' I needed to do it for my team because I know they'd do it for me."
The men's squad were equally excited about getting back on the court in front of their fans. "I loved it," Rhooms said. "Honestly I was shocked to see so many people come out, and I just love to see the community surround us with so much support, because we need it."
It wasn't only the players and coaches who were pumped about the resumption of live sports at Ryerson on Wednesday. Fans (both new and old) brought the energy all night.
"I come to every women's home game," said sociology student Zoë Mitchell. "I really missed it during the break."
The Rams' pair of wins Wednesday represented Madeline Gillis' first trip to a Ryerson sporting event of any kind. "I've been wanting to come to any university event for so long," she said from the front row. "It's really nice to be in a room with a whole bunch of people again."
Others were even newer to the Ryerson scene. "This is my first day on campus," said second-year computer engineering student Alby Thekkemuriyil from his vantage point in the last row of the bleachers.
The Rams won't have to wait anywhere near 66 days for another opportunity to play, as both the women's and men's teams will face off against York again at the Tait McKenzie Centre on Saturday.