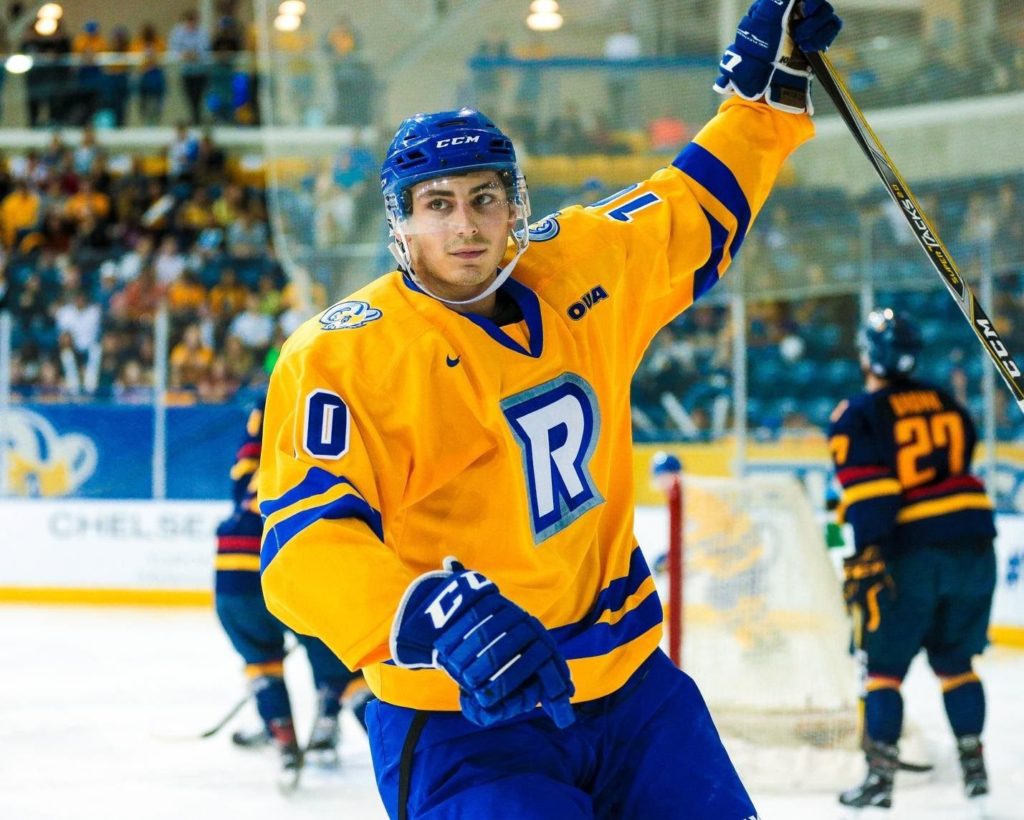 When Patrick Fellows, Ryerson Rams hockey player, was young he wrote an essay in school on racing legend Jimmie Johnson. He recalled getting a good mark on it, so his dad sent the essay to Johnson, who responded.
Fellows met Johnson as a result of his father's career. Ron Fellows, a Canadian legend in motorsports was appointed a member of the Order of Canada in 2019 for his career in motor racing.  He was also inducted into the Canadian Motorsport Hall of Fame (CMHF) in 2012. 
Fellows is one of few Canadians to have raced in the NASCAR Cup Series – the league's top division – and Le Mans 24-hours, where he achieved two class wins, according to his inductee profile on the CMHF website.
"Right when I was born, I guess he just kind of started to hit his kind of prime in racing," said Fellows on his dad's racing career.
As a result of travelling with his family to his father's races, Fellows said he'd already been to Europe four or five times by age 10.
"There's a lot of cool memories of meeting race car drivers that are a big deal now," said Fellows. "But back then in like the 2000s they were just kind of like, rookies or they were just starting."
When Fellows was around the age of eight or nine, he and his brother began karting – a popular way to enter into motorsport racing. However, Fellows said he was drawn towards a different sport.
Recalling a moment after his first season of karting, Fellows said there is a "funny story we have in the family."
"We even laugh about this story, that in the season, I said to him, 'I'm sorry, dad, I just don't love racing the way you do. I love hockey.'"
It would be a passion that would play a part in bringing him to Ryerson University.
After playing triple-A minor hockey in Mississauga, Fellows was drafted to the Erie Otters of the Ontario Hockey League (OHL) in 2013. In the summer of the following year, the Otters signed Fellows, who went on to play four seasons with the team between the 2014-15 and 2017-18 seasons.
During his time in Erie, Fellows was part of the 2016-17 team that would win the OHL Championship and make Canadian Hockey League (CHL) history when the team notched their fourth consecutive 50-win season, according to a statement on the CHL website.
"A lot of fun and a lot of memories and made friends with a lot of guys that are in the NHL now," said Fellows on his time with the Otters.
National Hockey League (NHL) players like recent Stanley Cup champion Anthony Cirelli who plays for the Tampa Bay Lightning, and the Chicago Blackhawks' Dylan Strome were both a part of the historic 2016-17 team. Fellows also played alongside future Hart Trophy winner – the award for the NHL's most valuable player – Connor McDavid on the 2014-15 Otters team.
After four seasons with the Otters, Fellows turned his attention towards playing university hockey.
"I knew Ryerson had the best film program," said Fellows on his decision to come to play for the Rams.
So far, Fellows said he's enjoyed his time at Ryerson and playing for the hockey team. A standout moment was his hat trick during his rookie season in late 2018.
"That was a lot of fun," said Fellows. "I don't think I've had a hat trick since minor hockey."
Fellows also added that the Ontario University Athletics playoffs each year have created some great memories and has been one of the highlights so far in his collegiate playing career.
Despite choosing hockey over karting as a young kid, Fellows said he still enjoys watching motorsports, particularly Formula One(F1).
"F1 is probably what [I] and my family watch religiously every weekend that it's on during the season," said Fellows.
Fellows is entering his third season as a Ram, although the season has been cancelled until Dec. 31 due to COVID-19, according to a statement from the Ontario University Athletics.