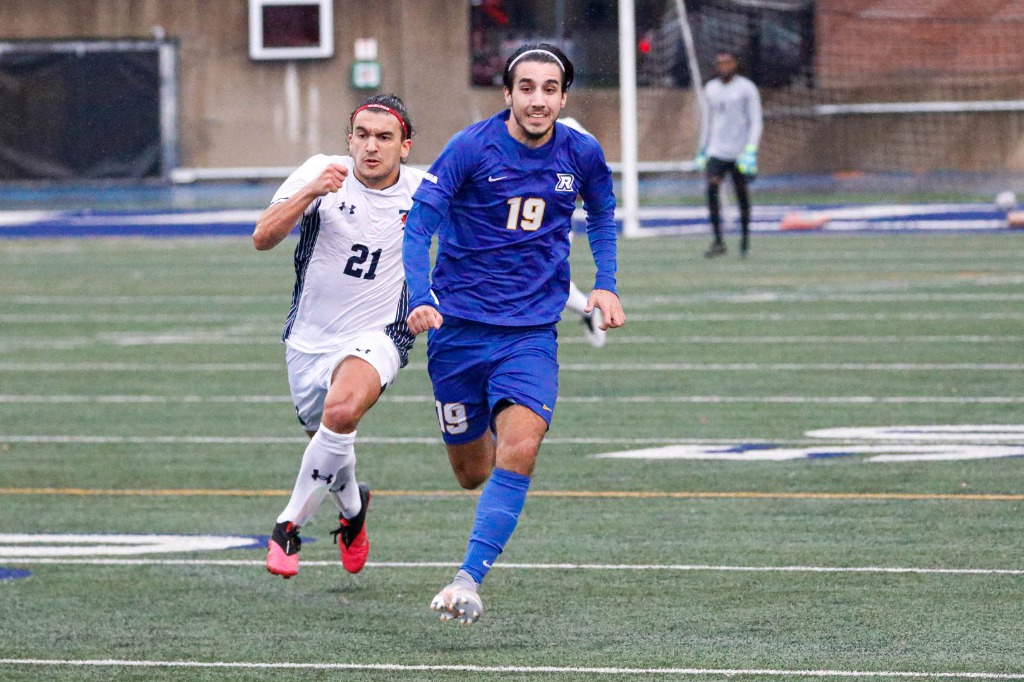 Leading 3-0 at halftime, the Rams men's soccer team made a handful of substitutes to give some players their first minutes in an Ontario University Athletics (OUA) game. The decision nearly came back to bite them, as the game against the Nipissing Lakers finished 3-2.
Nipissing had the first chance of the game five minutes in, but the shot from the centre of the box was deflected wide of the goal. After that one chance, the Rams dominated the possession for the rest of the first half.
Still, it took the Rams 30 minutes to capitalize on that possession and score their first goal. Then, the floodgates opened. First-year midfielder Justin Santos scored his first OUA goal after Rams captain Abdallah EL-Chanti turned with the ball on the edge of the box and set up Santos for the finish.
"It felt great," said Santos, "I hadn't been able to hit the scoresheet until today, it's always good to get the first one down."
Less than two minutes later, Luca Di Marco sent a ball through the Nipissing defence to EL-Chanti who managed to put the ball past the goalie, but was foiled by a defender. After the shot, the goalie rushed El-Chanti and fouled him, resulting in a penalty kick which the Rams' captain promptly converted down the middle for the teams' second goal.
Santos' scored the Rams' last goal of the game. Santos nipped the ball off of Nipissing center back Mladen Ruzic and scored — his second of the game.
At halftime, the Rams made the team's five fateful lineup changes.
"The biggest thing was the mentality, to be honest I blame myself. I took my foot off the gas pedal," head coach Filip Prostran said, "I take full responsibility for making things interesting in the end."
Nipissing scored its first goal when fourth-year midfielder Jack Collins was brought down in the box by Rams second-year forward Tomas Castaldo. Fifth-year defender Cody Vaillancourt took the penalty, scoring by sending Rams goalie Praveen Ahilan the wrong way.
The Rams had a few wasted opportunities to score, including a couple penalty shots that the referee waved off. In the 90th minute the Rams were awarded a penalty that was saved, resulting in a corner kick. The kick then hit the crossbar and Nipissing stormed down the field to score one last goal in what was their final kick of the game.
The Rams travel to Sault Ste. Marie next weekend to take on the Algoma Thunderbirds.