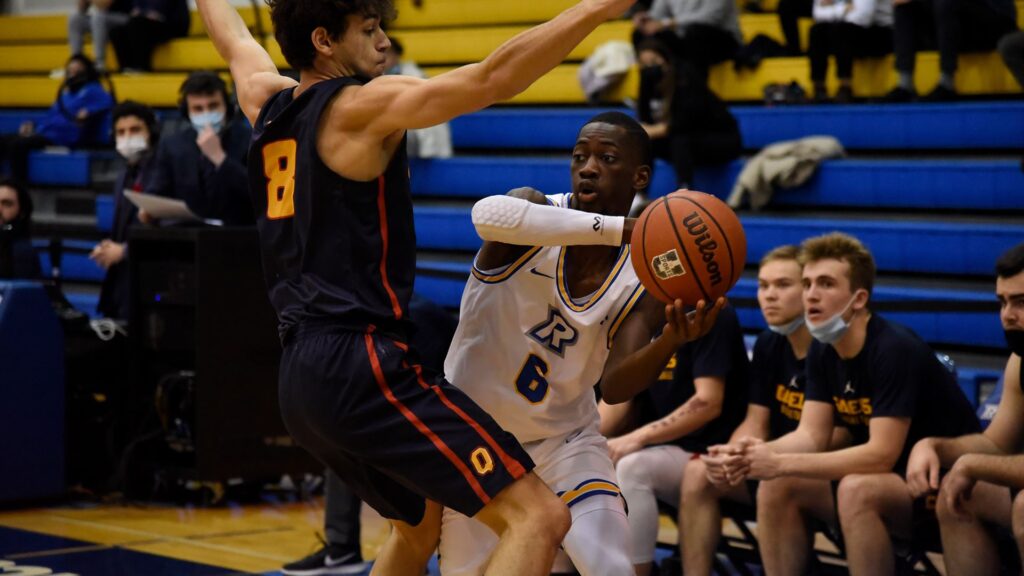 The Rams men's basketball team lost its second straight game to the Queen's University Gaels Sunday, falling 105-100 at the Mattamy Athletic Centre after jumping out to a 14-2 lead in the first quarter.
The Rams had held Queen's to 87 points in the season opener Friday night.
"We can't give up 100 points in a game, we can't give up 90 points in a game," said head coach David DeAveiro. "That's been our Achilles heel so far in the first part of the season."
After rushing out to a 12-point lead in the first, the Rams turned the ball over seven times in the remaining five minutes of the quarter.
"I think it's more of a communication thing," said first-year forward Aaron Rhooms. "As a group we're pretty close. It's a matter of communication and sometimes there's a lapse in terms of a switch here or there."
The Rams struggled with ball security all night, turning the ball over 24 times to Queen's 16.
"Sometimes guys are trying to do too much and that leads to turnovers," said DeAveiro. "I think a lot of it has to do with trust. You build trust the more you play with people,"
The Rams seemed to be in control of the game at halftime as first-year forward Kayode Fakomi's breakaway dunk tied the game at 48-48 with just over a minute left.
The Rams ended the half on a 13-2 run and led 53-50 at the half.
But the Rams offence was not able to keep pace with Queen's as they scored 28 points in the third quarter and 27 in the fourth.
The game was in striking distance for the Rams until late in the fourth quarter when Queen's third-year guard Cole Syllas was fouled by second-year guard Tom Dumont on a made layup.
Syllas drained the free throw and made it a 103-97 game with 20 seconds left.
Rhooms and second-year guard Tyler Sagl lead the Rams in scoring with 22 points each.
Rhooms said that DeAveiro has been a supportive coach so far in his first two OUA games this season.
"I get my confidence from my team and coach Dave [DeAveiro]," said Rhooms. "He's been really supportive and let me know that I can make an impact right away. I have confidence in myself and confidence that we can really do something here."
Fourth-year guard Cameron Bett led Queen's in scoring with 25 points. The Queen's bench also had a strong night, scoring 52 points.
DeAveiro said that the team will be focusing on the defensive side of the ball before the team makes the trip up to North Bay to play the Nipissing Lakers on Nov. 12 and 13.
"It's all about defence. We can talk about offence all we want, but you have to be able to stop teams from scoring, and we haven't been able to do that so far."