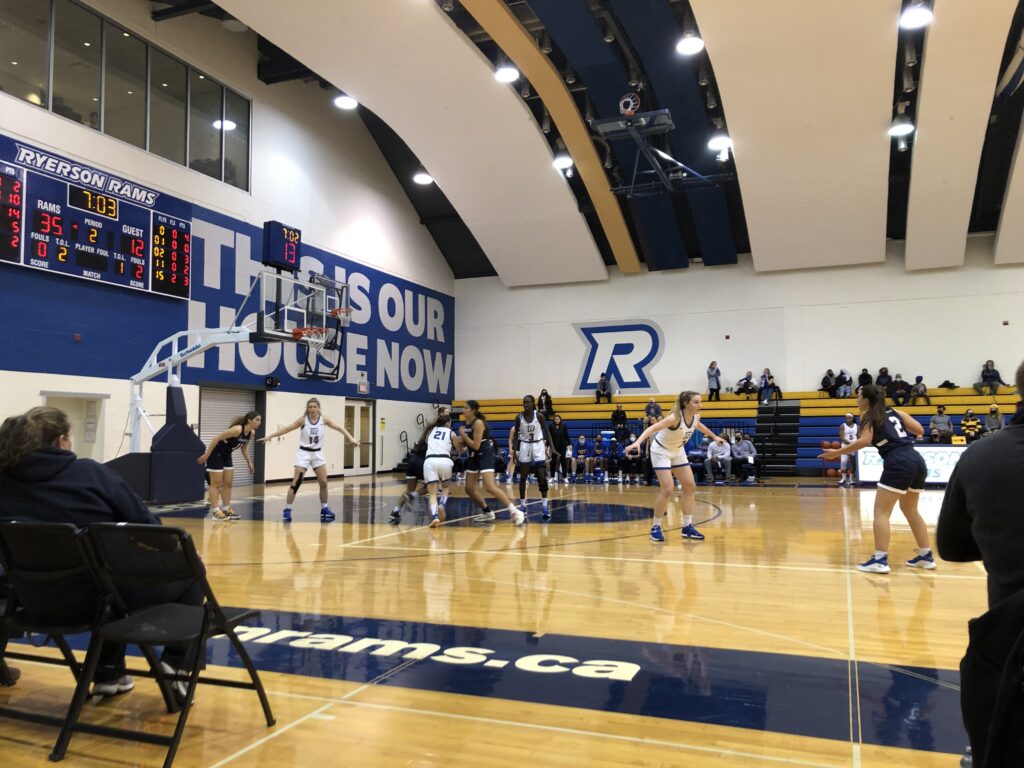 Ryerson enjoyed another successful night on the hardwood Wednesday, as both the women's and men's teams scored wins over crosstown rivals U of T in front of another rowdy crowd at the Mattamy Athletic Centre.
The women started the night off with a defensive clinic. The Varsity Blues didn't score in the first 4:13 of the game, as Ryerson got out to a 20-0 start.
The Rams ended the first quarter with a 29-10 lead, and somehow their defence only improved from there. Toronto mustered only eight points in the second quarter, as Ryerson took a cartoonish 51-18 lead into the half.
In the second half, it was the offence's turn to shine, as Marin Scotten and crew poured it on. The Rams finished with a whopping 98 points (good for fourth all time in program history), as they cruised to a 98-53 win.
The Rams' suffocating defensive performance was no surprise for head coach Carly Clarke. Ryerson allows the fewest points per game on average in all of Ontario. "We have an incredibly intelligent team," Clarke said after the game. "They've bought into our system, they have a clear idea of what we're trying to do, and they do it together."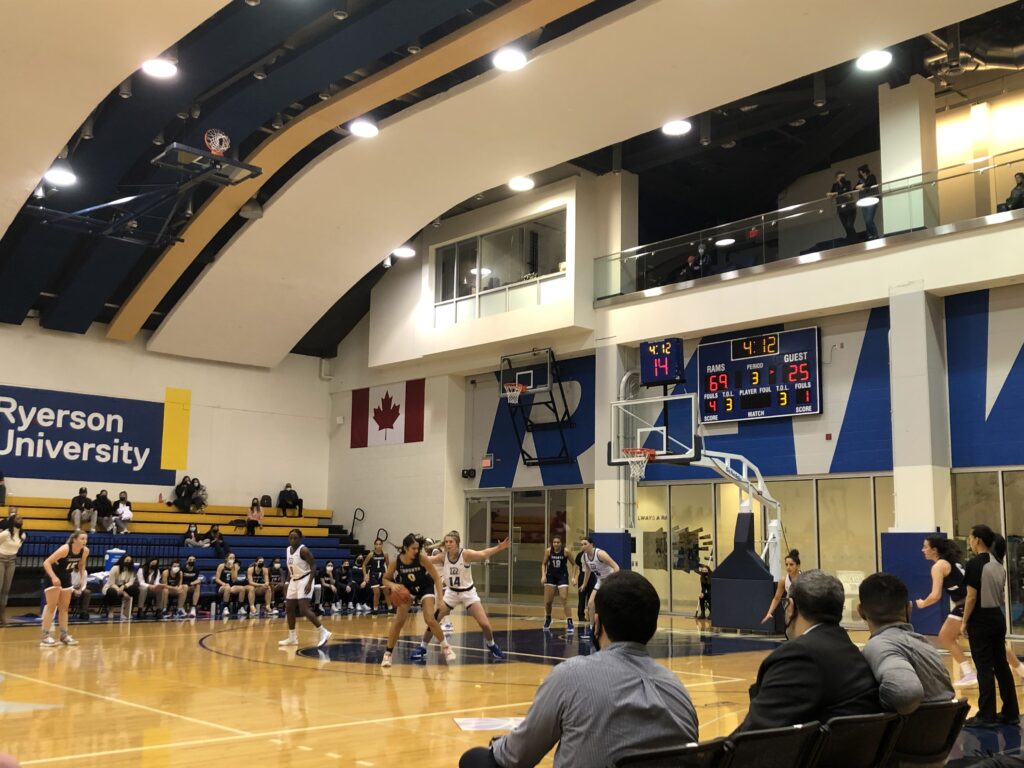 Rachel Farwell stuffed the stats sheet in Ryerson's win, as she had 14 points, two steals, a block and nine rebounds. "We just really challenge each other in practice," Farwell said. "We have a lot of offensive threats, so when we're in practice we have to give each other a lot of respect and push each other."
Farwell added that beating Toronto meant a little extra to her team. "It's nice to own the GTA so far, so we'll take it."
Defensive effectiveness is something the men's team has been looking for all season. They found it against U of T in the first half, but struggled offensively. Toronto led by 13 at one point, as the Rams were stuck looking for answers.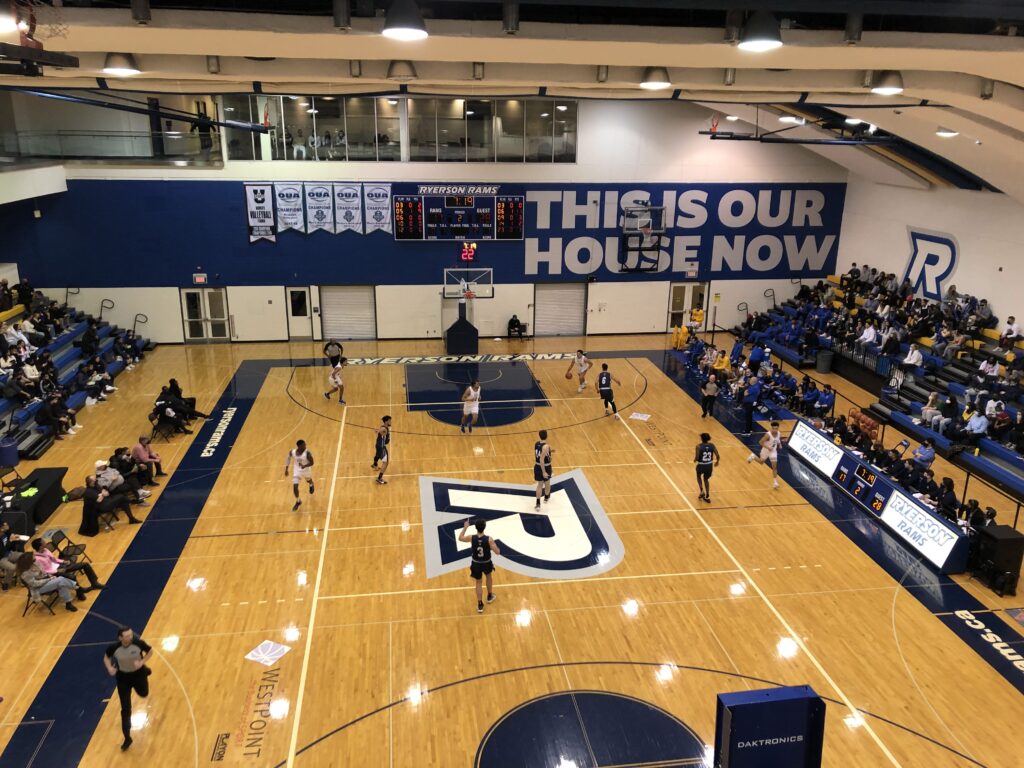 Slowly, Ryerson fought back. They chipped away at the U of T lead and, with seconds left before halftime, Ankit Choudhary nailed a stepback jumper to tie the score at 39 heading into the break.
The teams went back and forth throughout the third, but U of T ended the period with a 64-61 lead. Ryerson led for a majority of the fourth quarter, but a three from Anthony Torelli put Toronto in front 79-78 with 2:22 remaining. After a couple of stops, Marcus Upshaw put the Rams ahead 80-79 with a contested layup. Following a Ryerson missed three, Mouhamed Ndiaye delivered the moment of the game.
As Inaki Alvarez brought the ball over half court for U of T after the Rams miss, Ndiaye sensed he might have a chance to make a big play. He stole the ball from Alvarez and slammed it down for a thunderous dunk that put the game out of reach. Ryerson won, 84-79. "Seeing him be a little bit hesitant made me think to put my hand out there and see what happens. It just turned out that he fumbled it, I touched it, and from there it was over," Ndiaye said. The dunk was a birthday present for the guard, as he turned 23 on game day.
Ndiaye said that the steal that led to the dunk was a product of what his team has been working on in practice. "Coach has been helping us with awareness, like knowing personnel, knowing who has the ball and what they can do with it, so it was about reading the player and knowing his weaknesses."
The clutch defensive play from Ndiaye is representative of what head coach David DeAveiro has been pushing to his team all season. "If we want to have continued success, our defence has to get better," DeAveiro said. "There are times on the floor where we aren't very good defensively, but it's almost like we get better when it's desperation time and we need to get a stop."
The pair of wins furthered Ryerson's near spotless record against Toronto over the past few seasons. Both the women's and men's teams are 9-1 in their last 10 games against the Varsity Blues.
The women's team is now 9-0 in OUA play and 13-0 in all competitions this season. The men moved to 6-3 in conference and 9-6 overall.
The Rams will have an opportunity to sweep the season series against U of T on Saturday at the Goldring Centre.