Non-invasive saliva tests will also be provided as an alternative to nasal swabs at three Ontario hospitals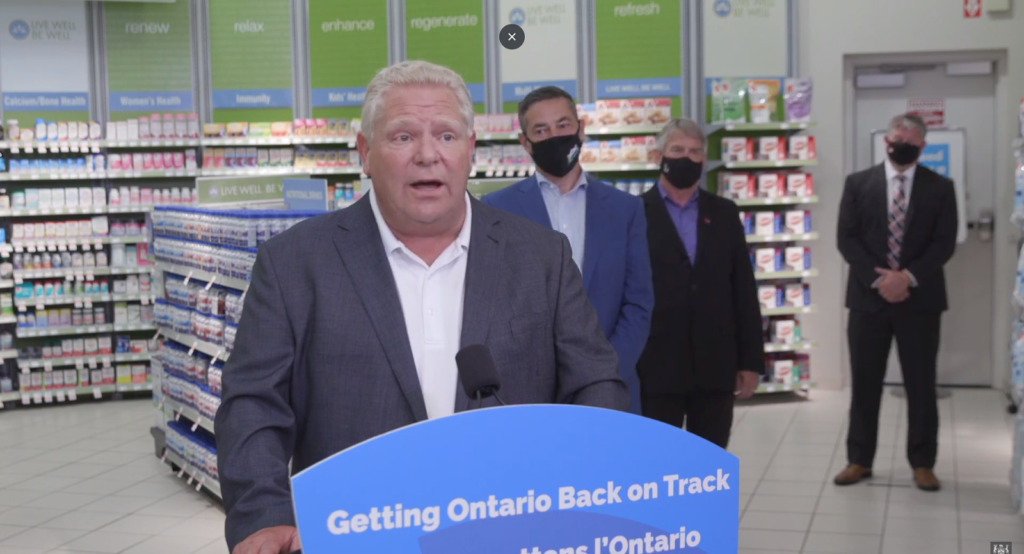 The Ontario government will expand COVID-19 testing to pharmacies starting Friday, Premier Doug Ford said at a press conference today. These tests will hopefully relieve some of the pressure from testing sites across the province, Ford said.
Up to 60 pharmacies across the province will be providing testing to asymptomatic people as well, Minister of Health Christine Elliott said during the conference. These tests will be available for free but by appointment only.
Pharmacies will pre-screen people before they enter to make sure they don't have any symptoms.
"If you're showing severe symptoms, do not come (to a pharmacy). I repeat, do not come to a pharmacist, go to a local testing area," Ford said.
Ford also announced that three hospitals in Ontario will be providing saliva tests as non-invasive testing options. They are Mount Sinai Hospital, Women's College Hospital and the University Health Network. The government will also work to expand non-invasive options for COVID-19 tests to more hospitals, pharmacies and test sites, Ford said.
Current COVID-19 testing involves inserting a long swab, called a nasopharyngeal swab, into the nostril and towards the back of the throat. Ford urged Health Canada to approve saliva tests so they can be provided to more hospitals in the province.
"Health Canada, we need your help. I just can't stress this enough. All I'm hearing is crickets from Health Canada right now on the saliva tests. These types of tests make it easier to test people, especially kids," Ford said. 
Today's announcement is the second of six pillars in the province's Keeping Ontarians Safe fall preparedness plan. It comes after reports of long wait times at COVID-19 testing sites across the province. The rest of the province's fall preparedness plan is expected to be unveiled in the next few days.