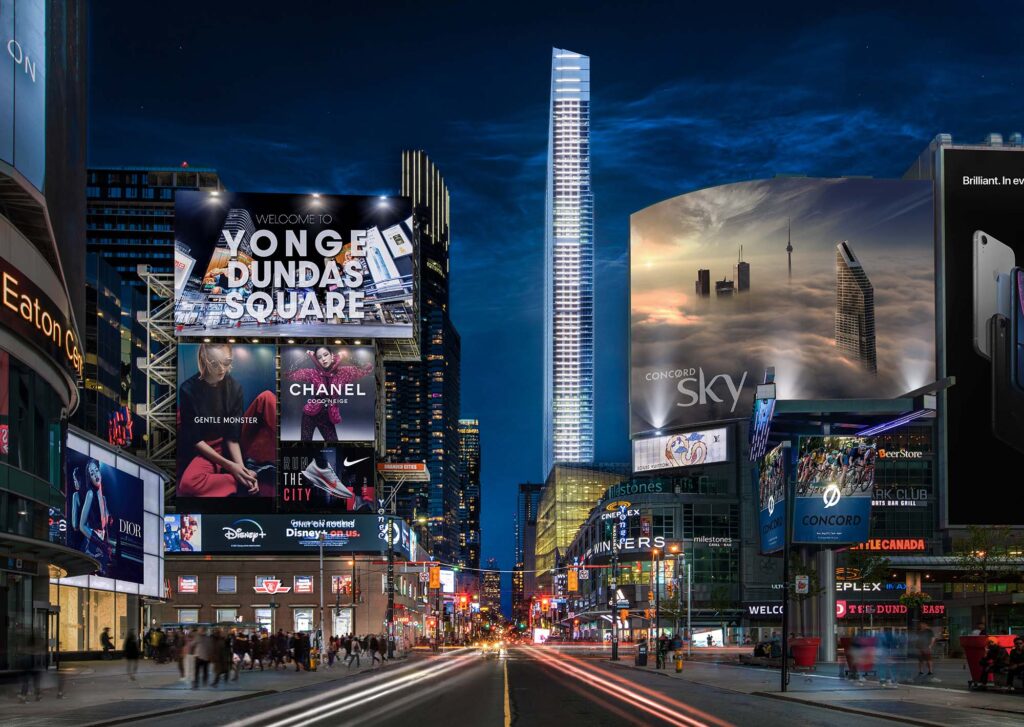 Ryerson University's campus is about to be home to one of Canada's tallest residential buildings. Set to be built at the corner of Yonge Street and Gerrard Street, the 95-storey apartment building named Concord Sky is projected to be completed within the next five years. 
A proposal for the building was put forward in 2017 by Cresford Developments but was later dropped due to the company experiencing a "cash crisis," as reported by the Globe and Mail. This project has now been given a new life by Vancouver-based developer Concord Adex. Formerly known as "Yonge Street Living," the property will now reach 10 storeys higher than proposed for the previous project. At that height, it will be Canada's second-tallest residential tower.
In a press release, David Gruber, a partner at Bennett Jones law firm, said "acquiring a site of this size in this market is not an undertaking for the faint of heart." And rightfully so; the building will contain 1,100 homes and reach 299-metres in height.
Many real-estate agents have already started marketing to potential buyers. The proximity of the building to amenities such as Yonge-Dundas Square and Toronto's transit system makes it appealing to those who can afford it.
But, with the location only steps away from the Ryerson campus, many people in the surrounding community are students. According to the Off-Campus Housing Office at Ryerson University, housing affordability is one of the biggest challenges students face when searching for a place to live.
"The average monthly rent is now more than $1,800 for a one-bedroom apartment in Toronto and more than $2,600 for a two-bedroom," they said.
For this reason, the Off-Campus Housing Office says it is not uncommon to see more students living at home or moving further away from the city.
Hriday Sukhadai, a fourth-year engineering student from Ryerson, lives a few blocks down the street from the proposed building site. He says looking for an affordable place downtown is hard because there is so much competition.
"Eventually, with COVID dying down, people are going to want to start moving back to where their school is, but everything is going to get taken and we are going to have to choose location or price," he said.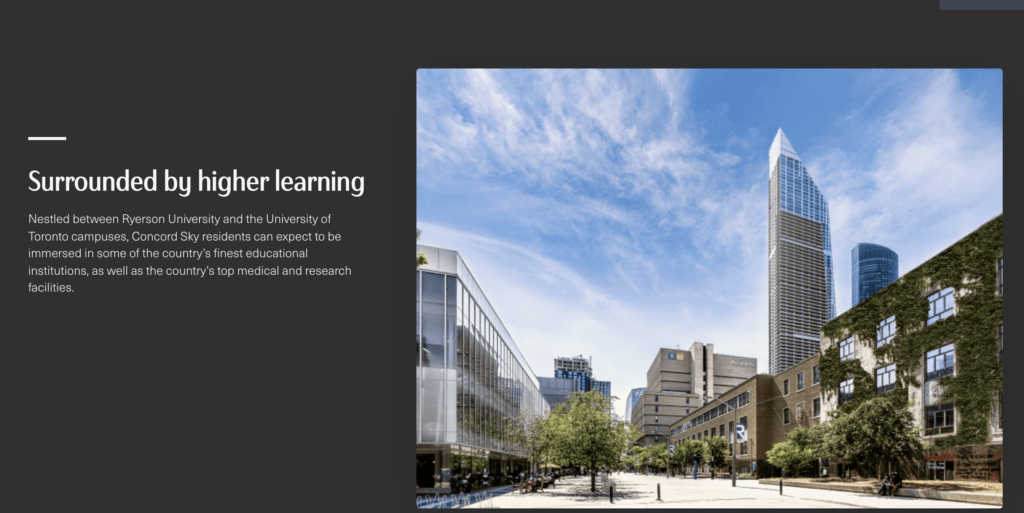 With units starting at $700,000 in the Concord Sky building, it is likely that students are not the target audience.
"Tuition is already brutal and on top of that we pay egregious rental prices… I think the majority of people could not afford that," Sukhadai said. "Wherever you find a place to live, as long as it's cheap and liveable, that's really what students are looking for."
Whether they can afford it or not, Ryerson students will find it hard to miss the enormous structure casting a shadow over their campus. The project is set to be completed in 2026.