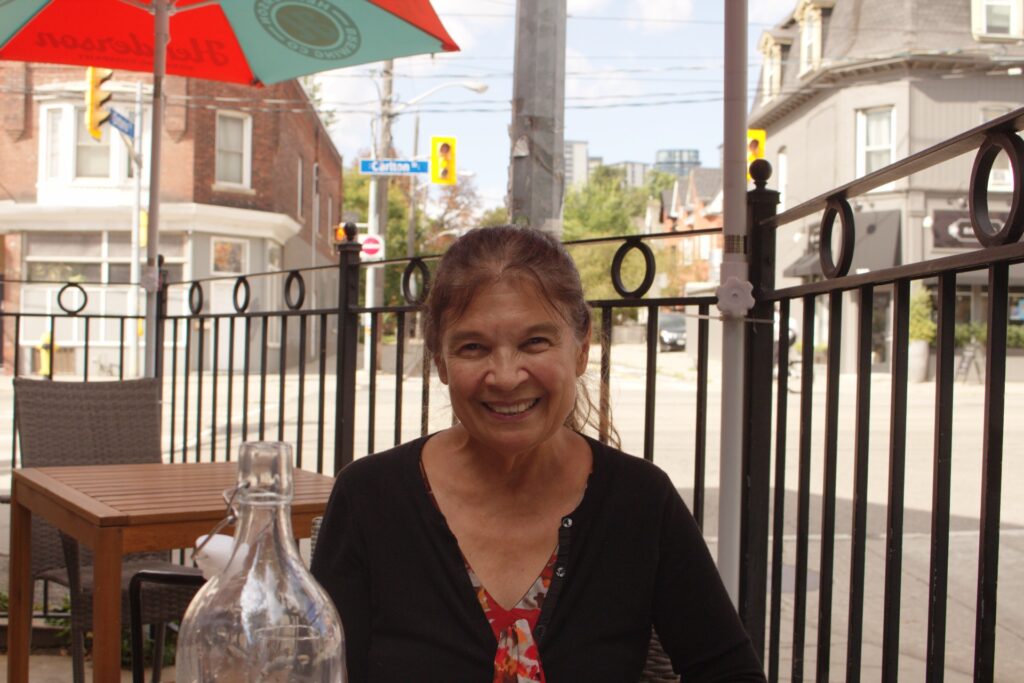 Listen to the story here:
OCAD Professor Bonnie Devine's installation, "Circle of Enquiry for a Dish with One Spoon," will be one of many pieces featured at Nuit Blanche this year. The annual festival starts up at 7 p.m on Sept. 23 and promises installations from the downtown core to Etobicoke and Scarborough.
Devine's piece will replicate the gathering place of Toronto's early history in the financial district at Commerce Court.
On The Record spoke with her about her installation and the meaning it holds. 
OTR: What will your project at Nuit Blanche look like?
I'm going to make a braid woven out of plant materials called phragmites. We are gathering the plants in High Park, a very important historical site in Toronto. Phragmites have been labelled as an invasive species because they are not native plants. They were brought over here and they took over everything: so they are terraformers. This means that their roots are so long and vigorous that they eventually destroy the water and land they are growing in. 
OTR: What do the phragmites represent in your work?
They sound a bit like colonizers to me. So it is metaphorically important that the braid be made of these toxic, unwelcomed species. I want to question who gets to say who's unwelcome and welcome.
OTR: What is the meaning of this piece?
It's about deciding who is welcome and who is going to die. Isn't there a way that we can all make peace and live together? That's what the circle is for.
OTR: What is the significance of the location of your work?
It's in the financial district at Commerce Court at the intersection of King and Bay. It's an interesting spot because at the four corners there are four big banks – Montreal Bank, Bank of Nova Scotia, Imperial Bank of Canada and Toronto Dominion. They are very wealthy and are based on what they can extract from land—but at what cost? What happens to the plants, the animals? We depend on them. So it's important that we bring these toxic phragmites down to the financial district and make a giant circle to say that there is a different way of thinking. A circular way of thinking. 
OTR: How would you say this relates to the Nuit Blanche theme, Breaking Grounds, which is about exploring ideas of climate change and urban development and the impacts on the land?
I haven't thought about that actually. When I think of breaking ground I think of a deep cut that happens, and what does it mean? I'm not against development but surely we have to find a less impactful way of displacing people and damaging the environment.
OTR: Are there going to be any performances to look out for during the night at your installation?
Yes, we have four Indigenous thinkers: Raven Davis, a Métis activist from Halifax who is interested in gender issues and will be talking about the murdered and missing Indigenous women in the landfill in Winnipeg that police are refusing to search; Duke Redbird, an Indigenous elder who will be reciting a poem about colonization that will also be projected onto the bank [buildings] in the four corners. We also have Maria Hupfield who will be doing a dance and Ange Loft will be talking about treaties for Torontonians.
This interview has been edited and condensed for clarity.