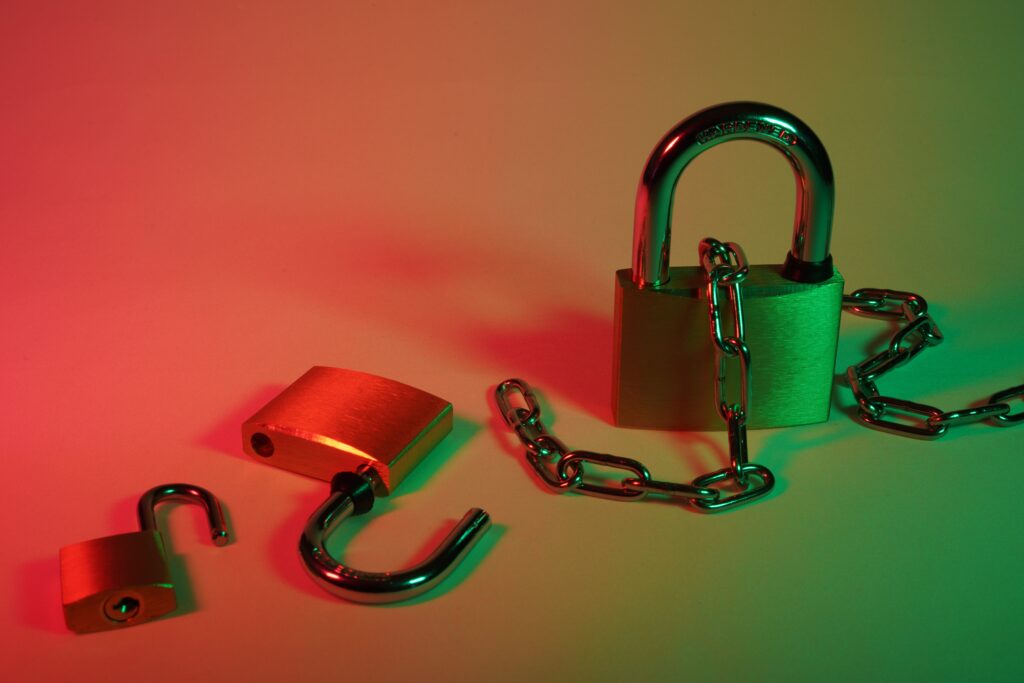 A new Ontario-wide electronic identification system is set to roll out by the end of the year, sparking privacy concerns from consumers about how the province will store their data.
The Digital ID program is expected to provide Ontarians with a new way to prove their identity through the convenience of their smartphones.
The province has said Digital ID would have the ability to store most forms of identification, including business certificates, driver's licences, health cards, licence plate stickers and vaccine passports, to name a few.
Despite the Ontario government's claim that Digital ID will provide its users with better safety, stronger levels of security and privacy, sources say they still have concerns about how accessible their personal information might become.
Toronto resident Helena Shlapak said she would not use Digital ID when it launches. She said she is worried about the risk of hackers and their ability to access government-run programs.
"I don't trust government entities or corporations as far as I can throw them," Shlapak said.
The province announced Digital ID — a $20-billion program — in October 2020 as part of its COVID-19 action plan.
Since then, the province has held roundtable discussions and surveyed the public and business owners to gauge their willingness to live within a "Digital ID ecosystem.​"
In a fully digital environment, all Ontarians who use the new program would be able to open bank accounts, acquire vehicles and properties, access medical records, pick up prescriptions and even apply for OSAP or other provincial benefits and tax credits.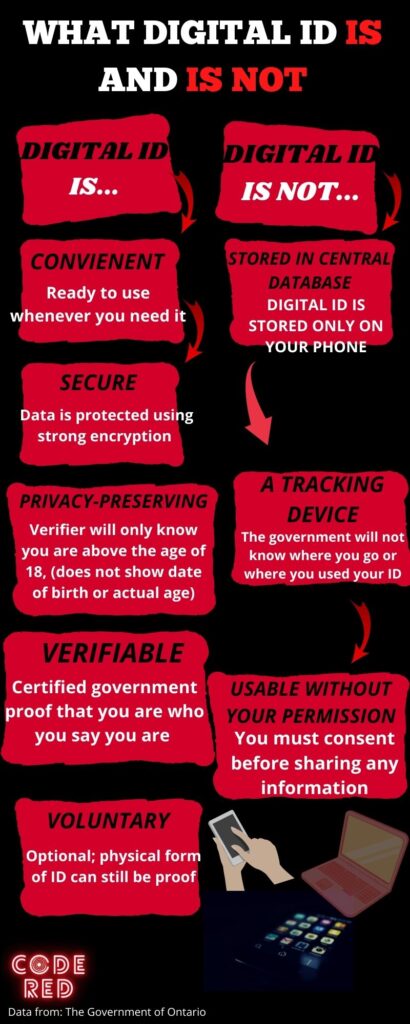 It could also allow people to conduct employee background checks, file taxes, submit applications with the Landlord and Tenant Board and verify customer identities without passwords or physical presence.
"That doesn't sit well with me because we already keep so much information on our phones now that losing it is like losing a lifeline," said Shlapak, who is very hesitant about the expected features of a Digital ID. "Most people that would steal a phone probably aren't going to go and stalk your house but that's still really unnerving and it can also lead to hacking."
Scott Blodgett, a spokesperson for Ontario Digital Services, said privacy is a "core principle" of Ontario's Digital ID and is "being considered in all aspects of the program and technology."
"The protection of personal information and online security continue to guide our approach," he said in an emailed statement sent to On The Record. "We want to get this right and we are committed to the protection of personal information and online security."
The province's website states that Digital ID would "open up enormous opportunities for individuals and businesses across all business segments."
It also said the government would not store Digital ID data in a centralized database and track users, and it would not use any information without permission.
Ann Cavoukian, executive director of the Global Privacy and Security by Design Centre, said it would be best to "steer clear" of the program for a few years until the province can "nail it down" because there is always a risk associated with having that sort of information widely available online with the threat of phishing and hacking.
"Having all that information available online, one person has to hack into it and they get everything," she said.
Cavoukian, who was also Ontario's information and privacy commissioner between 1997 and 2014, noted that during her tenure, many people who were victims of identity theft would be left devastated when they found out someone stole their identity.
"I would work with them to try to restore their identity [and it] could take years … It was awful," she said. "The thought of having all that information available and readily accessible online would make me very, very nervous."
Cavoukian said even linking a student card to a public platform or third-party apps like Apple Wallet and Google Pay Send can have consequences because they are attached to names, emails and student numbers.
"It will be linked to you wherever you go so it could potentially be a tool of surveillance, in terms of geolocation tracking, if you use it at various sites," she said.
Liam Ruddy, a fourth-year political science student at Ryerson, said many people in Ontario and throughout Canada do not trust the government — or have a poor relationship with it — because they do not understand how it functions.
"I think people genuinely forget that pretty much every bit of confidential information they own is something the government [has] issued them," he said.
Ruddy noted that the list of assets the provincial government looks into is much more widespread than many people realize.
For example, health and medical information, social insurance numbers, bank accounts, birthdays, addresses, birth certificates, driver's licences, annual salaries, relationships, number of children, vehicle ownership, homeownership and much more are all available to the government.
"At this point, what doesn't the government already know?"
Blodgett noted that the province has consulted with marketplace experts in privacy and security and the Information and Privacy Commissioner's office to inform the development of the Digital ID software.
"We are sharing our initial plan, to demonstrate our commitment towards safer, more secure ways to prove who you are online," he said.
However, some sources said they have doubts about how effective those measures would be in a digital age.
Rebecca Thompson, a fourth-year urban sustainability student at Ryerson, said she is concerned about how Digital ID could safely store her personal information. She noted the government has a responsibility to uphold everyone's security.
"There was no explicit description about how they were going to store information about each individual," Thompson said. "They [the province] definitely need to outline this before setting it off into the world and having everyone trust that they're going to keep it safe for us."
The province has not stated how it would keep Ontarians' data safe with Digital ID.
However, Blodgett said Digital IDs could be digitally verified, which would allow the province to offer new services online that are currently only offered in person.
He noted that Digital IDs also offer additional privacy and security to users and businesses by allowing someone to share only the least amount necessary of information about themselves for a specific transaction.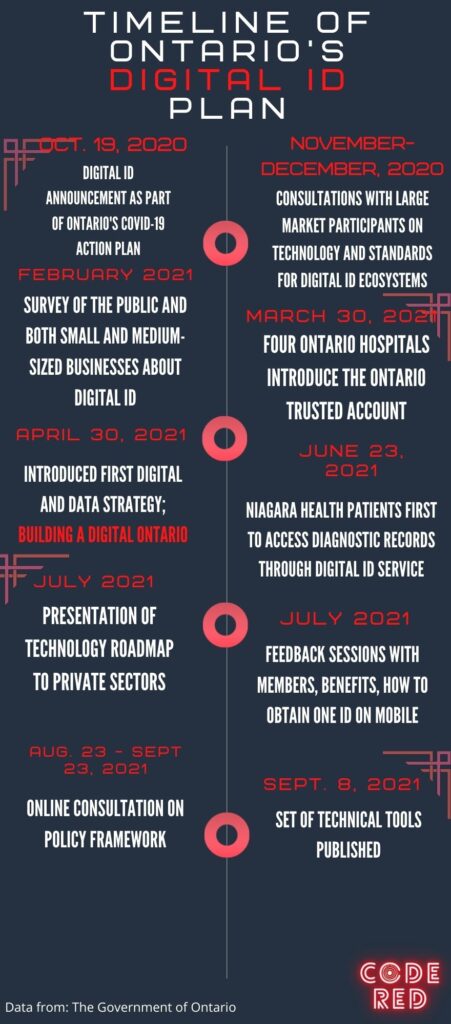 For example, that could mean confirming that someone is over a certain age without sharing their name, exact date of birth, address or more.
Blodgett said Ontario's Digital ID could likewise support contactless in-person service options like tap-to-pay instead of a PIN to prove a person's identity in person without exchanging any physical documents, thus offering more privacy-protecting features, and the ability to share the minimum amount of personal data needed for a specific interaction.
Additionally, all Digital IDs would be protected by the device on which they are installed, offering protection from theft or fraud of physical wallets.
"In essence, this is simpler, faster and better," he said. "This cuts down wait times, expands service options and creates convenience."
In terms of accessibility, Blodgett said provincial digital services must meet or exceed accessibility standards under the Accessibility for Ontarians with Disabilities Act.
Those standards must also establish a core principle of ensuring all services are designed with accessibility in mind through research and testing different adaptive technologies.
"Accessibility requirements have, and will continue to, inform our government's approach to Digital ID," Blodgett said.
While there is no confirmed date for the launch of Digital ID, the Ontario government has said it expects the rollout to begin in late 2021.
Based on several surveys and focus groups conducted from January to April this year, Blodgett said most participants indicated they would likely begin using Digital ID within five years.
The respondents also said they would be more likely to participate if they felt the program would be useful and if they could trust the government's approach.
If Digital ID launched tomorrow, Thompson said she would not use it but did say her final decision would be dependent on how robust the security and privacy settings would be.
"I feel very unsettled about the idea of this," she said. "I understand where they're coming from, but there needs to be some concrete security and just reassurance [for] people."