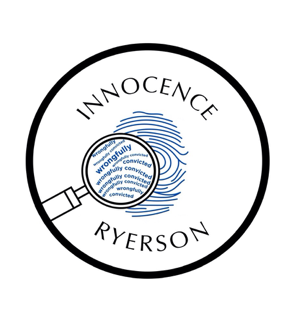 Innocence Canada began representing wrongfully convicted people in 1993.
Today, they have successfully exonerated 24 individuals who've collectively spent over 200 years in prison.
The non-profit not only advocates for innocent people within the prison system but supports those newly-freed people trying to rehabilitate themselves while reckoning with their personal experiences with failures of the justice system.
Their work has trickled into higher education systems, with chapters at York University's Osgoode Hall and—as of November 2020— Ryerson University.
Innocence Ryerson's goal is to raise awareness and advocate for the wrongfully convicted.
The group has come a long way in one year, growing from 10 members to over 200. 
"The people that are involved are just so incredible," said Goli Omidshafiei, the group's founder and president. "It's so great that people are interested and want to be part of it."
The group welcomes members of all years from varying programs at Ryerson, she says.
And because the response has been so enthusiastic, they've had to create different teams within the group to better manage the volume of volunteers. 
For the most part, Omidshafiei says Innocence Ryerson supports Innocence Canada by hosting events and fundraisers.
"Most of our members, they are not there for just that resume tick," she said. "They are actually very interested in helping out, attending events and being supportive."
They host fundraising and teaching events to advocate for the wrongfully convicted and to teach young people about wrongful convictions.
These events highlight wrongful conviction cases like that of Leighton Hay, who spent more than 12 years in prison for the killing of Colin Moore.
In 2002, he was convicted of first-degree murder.
The police had eyewitness testimony from a woman who claimed the murderer had two-inch picky dreadlocks, and police hypothesized that Hay went back home and shaved his head after committing the crime. 
However, a team of pro-bono lawyers with Innocence Canada were able to argue that the hair residue found in the electric razor at Hay's home was not from his head and, in 2013, they reunited Hay with his family.
As a not-for-profit, one whose lawyers work pro bono, Innocence Canada relies heavily on fundraising to help fight to exonerate innocent individuals.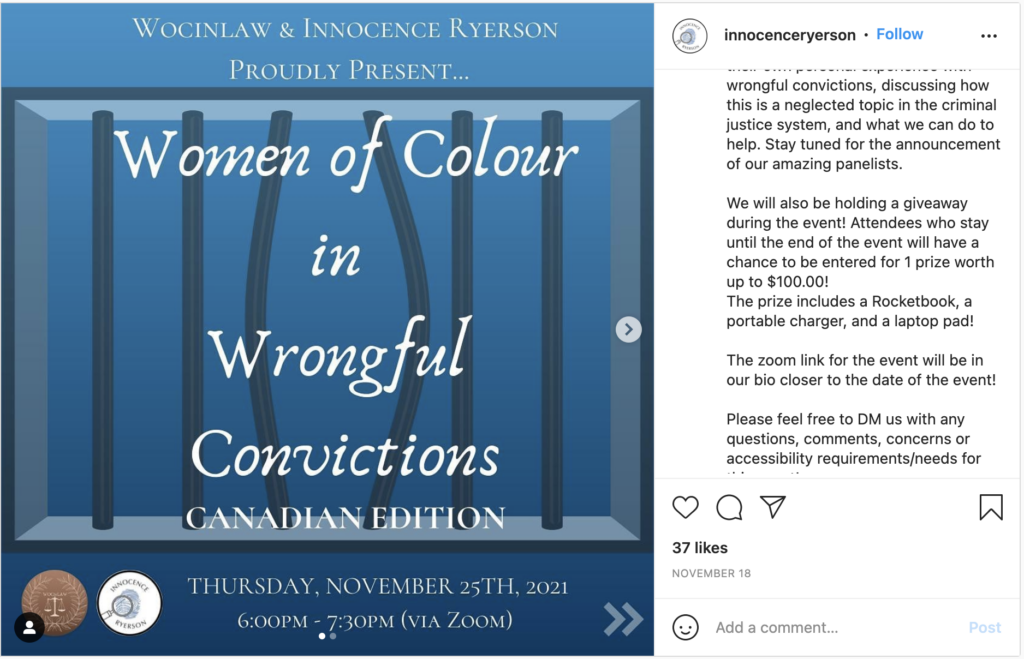 The Innocence Canada Foundation is their main fundraising vehicle, and that's where Innocence Ryerson comes in. 
All their fundraising events funnel back to the Innocence Canada Foundation.
Since their formation, Innocence Ryerson has raised over $360 for the Innocence Canada Foundation.
Omidshafiei said that their Wrongful Conviction Day event was one of their most successful events.
"It was a university-wide conference," she said, explaining that Innocence chapters at other universities, such as Carleton University, the University of Toronto and the University of Waterloo, were also involved.
Wrongful Conviction Day is a worldwide event hosted annually on Oct. 2. Guest speakers are invited to teach about their advocacy, highlight wrongful conviction cases, and talk about the toll a wrongful conviction takes not just on the innocent person, but on their families too.
But Innocence Ryerson's 2021 event proved a catalyst.
Omidshafiei says other universities reached out wanting help starting their own chapters.  
"This group, like a family, has grown so wide since last semester," she said.
Almost every single person in the group got involved in some way during that event, said Sahibjot Bajawa, vice-president of events for Innocence Ryerson.
"Leading up to the day, I made some Instagram posts where I educated the audience about wrongful convictions as well as past cases that weren't just limited to Canada," she said.
Currently, Innocence Ryerson is working on an event in collaboration with Women of Colour in Law, another Ryerson group.
They are hoping to raise awareness for racialized women who are involved in wrongful conviction law, working to exonerate innocent individuals in prison.
Innocence Ryerson is hoping to pack in at least one more event this year, right near the end of December.
"We want to bring different people that are involved with exonerations to speak, like lawyers, professors that can talk about wrongful convictions on the topic of gender and race. We also have an exoneree coming in to talk about her experience as well," Omidshafiei said.
"I am really looking forward to it."