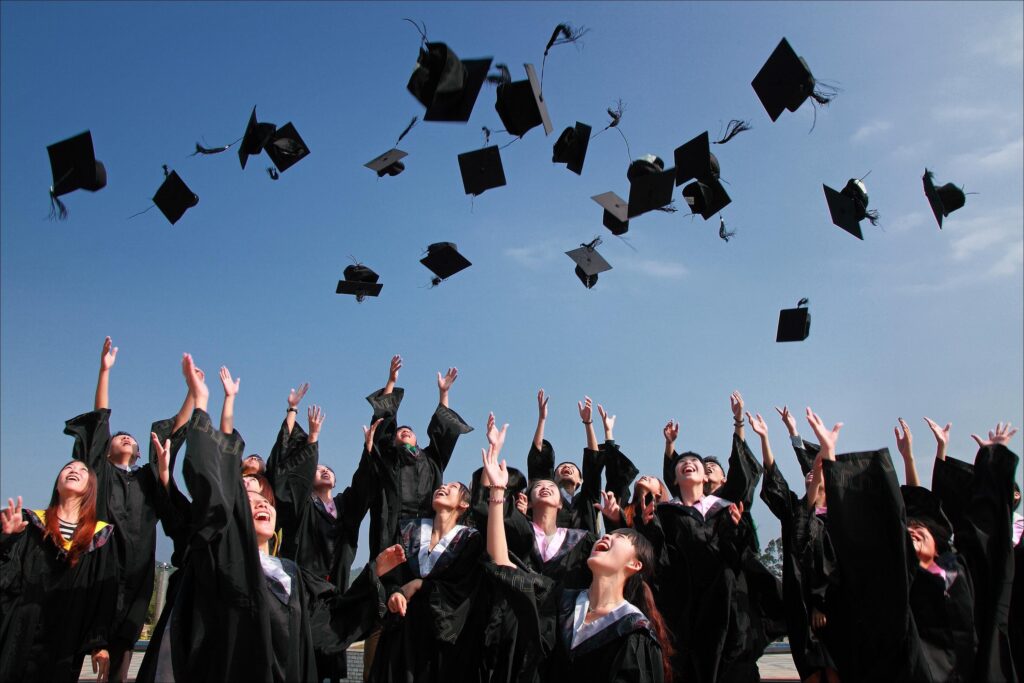 Listen to the story here:
As Jennifer Burke wraps up the last few weeks of her undergraduate degree, she's starting to fret about what the future holds now that internships, going to class, and the other routine aspects of student life are coming to an end.
"I'm nervous as I have to figure out my own life now. I have to get all my stuff together and that's really overwhelming," said the fourth-year child and youth care student at Toronto Metropolitan University (TMU).
After completing her internship for school at the end of March, Burke is unsure of what kind of job she's looking for once she graduates.
Burke is just one of many students dealing with graduation anxiety. In a study published in 2021, researchers at Brown University found that out of 200 students, nearly 61 per cent who were closer to graduating felt more anxious.
Maurice Fernandes, the career education manager for the Career, Co-op and Student Success Centre at TMU, helps students navigate their career paths. He says he speaks with many graduating students who are stressed about finishing their education.
"For the first time in 18 years you don't know what you're doing," he said. "It's a legitimate concern…For the most part, it's elementary school to high school to university or post-secondary. But after that your formalized education ends, so what's next?"
At least when it comes to finding a job, students may not have too much to worry about. Employment rates in Canada suggest there are opportunities out there for young people entering the workforce.
Statistics Canada's latest job market data shows that the unemployment rate for Canadians of all ages held steady at five per cent in February, just shy of the record-low of 4.9 per cent from June and July of 2022. The youth unemployment rate, meanwhile, continues to remain well below the average for the last 40 years
"The unemployment rate among all age groups is very low. The job vacancy rate is very high. Put those two things together and it should be a fairly good time to be graduating university," said Andrew Grantham, a senior economist at CIBC.
Grantham says that even if new graduates decide to take some time off, fears of falling shouldn't be a huge concern.
"It's a good time to be going and looking for a job. I don't believe we're going to see too much of a weakening in the economy in terms of the labour market and in terms of job prospects over the next six months," he said.
He said the market should stay steady going into the early fall months, continuing to keep options open for new graduates.
Burke says she's going to focus on working at summer camp over the next few months while she decides what type of job she wants in her field.
"I need to figure out what I actually want to do because I'm still unsure."
Fernandes says this is not an uncommon realization.
"For a vast majority of students, a lot of them start out on one path…and then they realize someway through their undergrad degree that like, med school, [for example], is not what they want to do," he said.
Lucille Trepanier, a fourth-year graphic communications management student, said securing a position in her field following graduation helps take some of her anxiety and stress away.
"I'm thankful that I do have a job lined up, which has definitely given me a huge stress relief throughout the semester, as this is such a chaotic time."
But Trepanier said she also sees the value in taking some time to herself after graduation.
"They [her employers] were so kind that we've moved it back a bit because they understand that I want my time to myself through the summer," she said. "I feel like all the previous years I'm still grinding through the summer trying to find that end job for graduation."
Fernandes adds that taking a break to travel or just relax is very common for graduates and even encouraged by some employers.
"I actually believe that it adds to your experiences. It builds strengths and skills that employers look for."
He said that employers will be very understanding of a gap in a resume right after graduation and that it's not something that looks bad.
Anxiety surrounding graduation isn't all just about jobs, but also the people and environment students are leaving behind.
Trepanier said she has mixed emotions about graduation and is savouring the last couple of weeks with her roommates being all in the same place.
"I can't imagine my life without waking up with them under the same roof. I think that's going to be the hardest thing about ending my undergrad," she says.
Whether it's stress about not finding a job, or sadness because school is over, Fernandes emphasizes that graduation is a huge accomplishment.
"You've worked so hard to achieve your degree. Go celebrate that. Take a moment."