Warns another provincial lockdown could come, but the numbers don't yet justify it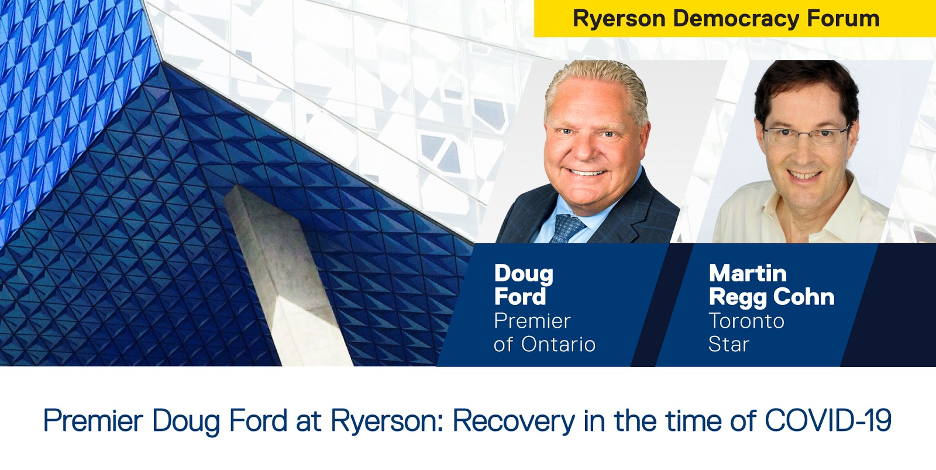 Premier Doug Ford made his first appearance at Ryerson University Tuesday to speak at the Ryerson Democracy Forum hosted by the Faculty of Arts.
The forum came just after Ford contributed to some mixed messaging on the best practices to slow the second wave of the COVID-19 pandemic. In his daily briefing earlier in the day, he suggested families could plan Thanksgiving dinners with a limit of 10 people — the maximum number now permitted for indoor social gatherings. But that appeared to contradict the advice of his public health officials, who are advising that large family gatherings not be held, and that dinners be limited to members of an immediate household.
At the Ryerson event, he was asked how the province is going to protect young workers in the service and restaurant industries. Ford said that people working in those industries should only work in one place.
"These mom and pop restaurants that put their life savings… everything they have into their small businesses, they're following the guidelines," Ford said. "They barely hung on (financially). A lot didn't. They barely hung on last time (during the lockdown). They're barely scraping by."
Ford also said that he won't hesitate to lock down the province again, but he wants to see evidence and consult with his health team before he does.
"We just don't see the numbers to justify a mass closing. When we mean closing, it's putting people out of business," he said.
Ford was asked about financial help for students who are struggling due to COVID-19 and said that he understands students are worried about the economy. He added the government will continue to build an environment that allows companies and businesses to create more jobs for the people.
The premier also explained that he is passionate about providing services to help with students' mental health. He said the Ontario government has put $1.9 billion into mental health and addiction, which is to be matched by the federal government. Ford announced in 2018 that they planned to invest this money over the next 10 years.
"There's no secret, you know my brother had an addiction," Ford said. "Until you live it and a family member has it, you don't realize it's tough. So we are going to really focus on helping people get back on their feet."
The Ryerson Democracy Forum is an event hosted by Toronto Star columnist Martin Regg Cohn. It is sponsored by the university's Faculty of Arts and is held regularly throughout the academic year. The forum aims to discuss issues and challenges facing provincial, national, and international governments, according to a statement on its Eventbrite page. The next event, titled "Donald Trump and Canada: How he changed politics", will be held on Oct. 8 at 3:30 p.m.