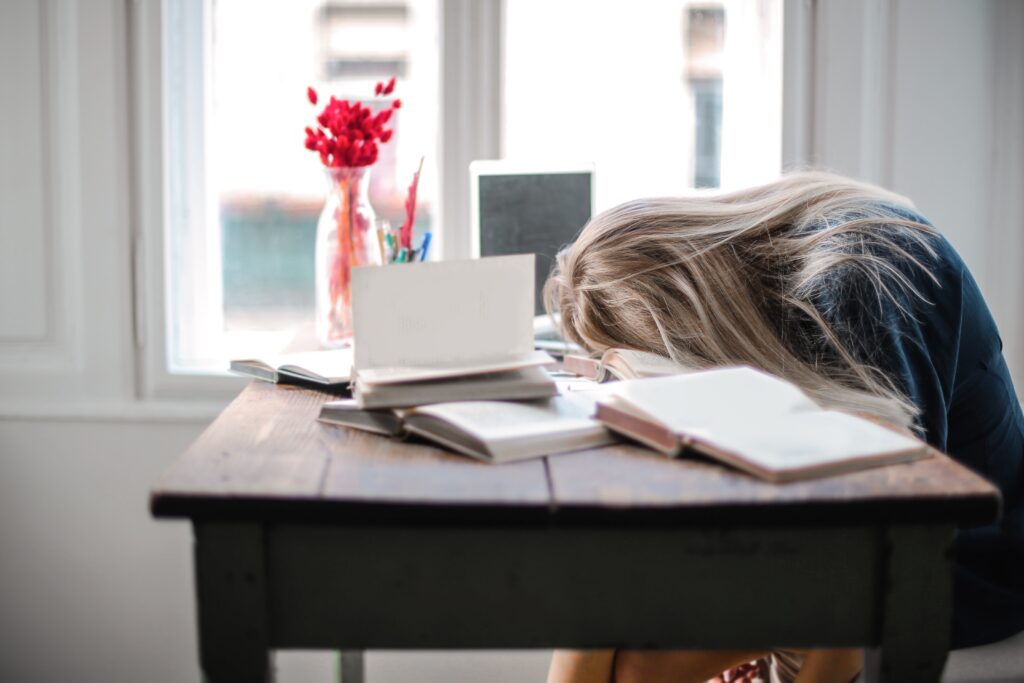 Listen to the audio story here:
As final-year university students count down the days until graduation, some may be finding it increasingly difficult to stay motivated and focused. The cause? 'Senioritis.'
The colloquial term refers to a student's dwindling academic motivation nearing the end of their academic career.
Ian Ingles, an operations manager at the Career, Co-op & Student Success Centre, said senioritis is not uncommon.
People are naturally inclined to feel burned out from all the pressure towards the end of any academic year, he said. "Compounding that with three previous years of school, people just get sick of it and want to move on."
Nearly 33 per cent of working-age Canadians hold a bachelor's degree or higher, according to the 2021 census. Joining their ranks requires one last push in the final term of school, however, and that isn't always easy.
"​​For me, it's been four years of the same course content. So it's kind of like I've already done this," said Strickland Shosenberg, a fourth-year history and philosophy double major student at the University of Toronto.
"I feel like for most people, senioritis is more of a mentality of 'I just need to get through this week.' And once you get through that week, that line of thought repeats," he said.
Diana Brecher, a clinical psychologist at TMU's Centre for Student Development and Counselling, said the amount of effort students put in during their final year depends on their goals after graduation.
"If a student is applying to a graduate or professional school, their application and letters are already in. So their fate is sealed one way or the other. The other thing that can happen is that people are done with school. They're not planning to go back or continue," she said. "They have their career laid out for themselves, and they just want to get through…they're running out of steam."
The final year of university is often stressful and demanding because the courses are challenging.
"Oftentimes, whatever you're studying in the final year has some really tough courses," Brecher said. "They are often like capstone courses, where you pull together all kinds of things you've learned along the way. So it might be the most important course in some departments for the final semester or year."
There are ways students can motivate themselves to keep going.
Meera Govindasamy, an academic engagement specialist at Student Life and Learning Support, said if students reflect on their own journey it can boost morale.
"Do you want to finish off on a strong note, and do justice to how hard you've worked already? Consider what the cause and effect will be, like working hard and seeing it through after all your hard work," Govindasamy said.
Another way to counter senioritis is to keep in mind that poor marks in your final courses might mean having to re-take them again to fix your academic record if you eventually decide to pursue graduate studies.
"A lot of people end up having to do a victory lap. They have to go back and take additional courses to improve their grades," Brecher said "That's a lot of extra effort. Why do you do that if you don't have to? Just get it right the first time."
She also suggests using the metaphor of running a marathon as another approach to dealing with senioritis.
"Not everyone who runs a marathon makes the best time. But for a lot of people, it's just crossing the finish line that is the achievement," Brecher said. "So, is your undergraduate degree like a marathon? You invest your time, it's a long-term project, there are all kinds of obstacles. But the important thing is to cross the finish line, and to do it with a real acknowledgement of the effort and perseverance that you've put into the project."
Keeping a good work-life balance is also helpful because doing activities other than studying can help refresh your mental state.
"For some people, it's maintaining an exercise routine. For others, it's taking some time for socializing or hobbies so that you're not just always studying," Ingles said. "Those are just general things, but they work."
There are resources at TMU such as the Tri Mentoring Program and the Career Centre for students who are struggling with senioritis.
Brecher suggests reaching out for support before it spirals out of control. The help, she said, is there "but not everyone necessarily takes advantage of it, or uses it in a timely way."